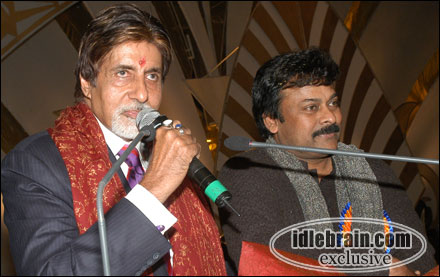 Chiranjeevi's felicitation function was held in a grand style at Gachibowli Indoor stadium on the evening of 23rd April. Telugu film industry organized this function as Zee Telugu bought exclusive telecast rights for the event.
Zee Telugu gets maximum mileage from this event
With in one year of the start of commencing the channel, Zee Telugu got a major breakthrough by grabbing live telecast exclusive rights for this event. In his concluding speech, Chiranjeevi congratulated the Head of Zee Telugu, Mr. Ajay for organizing the event in a grandeur style.
The function was started with a prayer song by singer Sunitha. Suhasini lighted the jyothy.
Two Nandi awards to Chiranjeevi with my films – Edida Nageswara Rao
Edida Nageswara Rao was the first person to speak in this function. He said, "I produced two films – Swayam Krishi and Apadbhandavudu – with Chiranjeevi. Chiranjeevi won two awards through these films. Swayam Krishi was the only film that was screened at Russain Film Festival. Later on, both Swayam Krushi and Apadbandhavudu were dubbed into Russian language."
Actress Sridevi considered Chiranjeevi's felicitation as a proud moment.
Malli Malli Idi Rani Roju – Suhasini
Suhasini said, "I worked with Chiranjeevi as technician first before acting with him as heroine. I am very proud of Chiranjeevi." Suhasini entertained everybody by singing the first three lines of 'Malli Malli Idi Rani Roju' song.
Chiranjeevi will get Bharata Ratna soon - Jayasudha
Actress Jayasudha said, "I met Chiranjeevi for the first time during the time of Pranam Khareedu. I worked in 22 films by then. I observed him during the shot gap and he hardly speaks. I thought that Chiranjeevi was arrogant. I had the same feeling when I met Rajnikant for the first time too. Both of them went on to become superstars. I wish that Chiranjeevi will go further and achieve Bharata Ratna one day."
Chiranjeevi followed ABCDs - Radhika
Radhika said, "Chiranjeevi is not an ordinary man. I met Chiranjeevi for the first time when I was acting with Sudhakar. Chiranjeevi was a shy guy and he was like a kid. His hardworking nature and perseverance made him what he is today. He followed a long journey to become mega star. I think good upbringing by his parents also helped him a lot. He followed the rules of ABCD (A – Ambition, B – Bold, C – Creativity & Confidence and D – Dedication). Chiranjeevi's life so far is just like the first half of a film. You will see much more interesting second half of Chiranjeevi life very soon. I wish that he will win awards like Bharata Ratna and Dada Saheb Falke very soon." Radhika ended her speech by saying 'Jai Chiranjeeva!'
Chiranjeevi is the King of Indian Cinema – Amitab Bachchan
Chief guest Amitab Bachchan said, "I am deeply honored to be present at this function. It is a wonderful celebration for a great actor like Chiranjeevi. I got an invitation for a Chiranjeevi's function for the third time. For the first time I got an invitation for 100 days function. I could not make it. Chiranjeevi invited me for his daughter's wedding. I could not attend because I was ill. A boy from a small village entered the film industry with dreams in his eyes and now he achieved Padma Bhushan. I had very little interaction with Chiranjeevi. Chiranjeevi is man of great humanity. It is very easy to be successful. But it is very difficult to sustain that success consistently. His humility and dedication made him to be on the top of his profession. Once you reach the top in any profession, it becomes an obligation and necessity to serve the society. I am happy that he is doing a lot to the society with a charitable trust. Generally there is a myth that Bollywood is the biggest film industry in India. But the reality is that Telugu film industry is the biggest film industry in Inida. Telugu film industry is commercially much stronger. Chiranjeevi is the reigning hero in Telugu which makes him the king of Indian cinema. I wish Chiranjeevi an everlasting life and success. May he win Bharata Ratna in the future!"
My parents performed Rudrabhishekam for speedy recovery of Amitab Bachchan - Chiranjeevi
Chiranjeevi responded to Amitab, "I would like to express my heartfelt hanks to Amitab Bachchan for gracing this occasion. I would like to read out a small Hindi poem written by Harivamsharai Bachchan (father of Amitab) which explains that people who won the hearts of people are the real achievers. Amitab Bachchan is like a guide and beacon for me. My mother was one of the millions of Indians who prayed for the speedy recovery of Amitab bachchan when he was injured in 1982. My parents went to Shiva temple in Nellore to perform Rudrabhishekam for the recovery of Amitab Bachchan. He is like a big brother to all of us."
Chiranjeevi also felicitated Padmasri Sobhana on this eve and said, "Sobhana is a passionate dancer and she practces her dance 3 hours every day. she did wonderful job as an actress in my Rudraveena film."
Chiranjeevi is an epitome of humility - Sobhana
Sobhana said, "Great artists have one thing in common. That is humility. Chiranjeevi is an epitome of humility. Let me recollect an experience. We were shooting in Kashmir area and somebody from crowd passed on comment on me. Chiranjeevi reacted immediately and sent that guy away."
I came here to see top two superstars of India on same stage - Vikram
National award winning actor Vikram said, "I have come from Chennai to witness India's top two superstars on the same stage here tonight. Chiranjeevi is like demigod to the public. He is a friend, brother and a great source of inspiration to me. He is a good soul. A nice thing about him is that he tells good things about upcoming actors, which makes us feel better."
I do miss crowds here - Radha
Actress Radha said, "I met Chiranjeevi at his house today and he asked me if I regret stopping of acting in films. I don't regret stopping of acting, but I do regret missing the crowds here. I retired from film industry 14 years back. I was always at my best when dancing with Chiranjeevi. Padma Bhushan is a fitting and deserving award for Chiranjeevi."
Spirited performences by handicapped men
The best event of the entire night was the spirited dance by three physically handicapped men. Audience gave standing ovation to these dancers. Lawrence trained them. After their performances were completed, Chiranjeevi came on to the stage and gave flowers to them and said that performances like these prove that physically handicapped people are not unfit in any department.
This function was supposed to be held by MAA – Mohan Babu
MAA President Mohan Babu said, "Initially we wanted to hold this function on behalf of all artists through MAA (Movie Artists Association). Due certain technical issues, the entire Telugu film industry was roped into it. We don't have many local artists present here because the MAA did not get enough passes. I like Chiranjeevi a lot. We did many hit films together like Kirayi Rowdilu, Patnam Vachina Pativratalu, Billa Ranga. After that we did get a communication gap between us because a dance master informed Chiranjeevi that I was drinking and partying at VGP gardens because a Chiranjeevi's film became a flop. Later on Allu Arvind came and offered me a role in Chakravarthy film. I rejected initially and then he forced me to accept. Artists are very sensitive people. We got it sorted out when I went to Chiranjeevi's house. Chiranjeevi never calls me for his functions. This is the first function of Chiranjeevi that I attended. When Jaggayya got Padma Bhushan award, I felicitated him by spending money from my pocket. Chiranjeevi name will be there forever."
Chiranjeevi spreads love even to his haters – Pawan Kalyan
Pawan Kalyan gave an energetic speech, "Power is an amazing thing and with power you can achieve anything. I got my power because of Chiranjeevi. Power has become synonymous to him. I am very fortunate to have observed my brother from the close quarters. He is a kind of person who loves you even when you try to harm him. Chiranjeevi does not know anything other than sharing love to everybody. He cares for poor people and there is an agony in Chiranjeevi. That agony led him to start the blood and eye bank. That same agony will force him do many more things in the future. I would like to assure my brother on behalf of his fans that all of us are ready to give our lives and follow him in whatever path he takes in the future. When I entered film industry, Chiranjeevi asked me to use hard work, honesty and courage as weapons."
"
..........more details in few moments