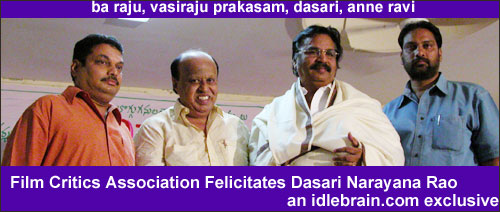 Minister for Coal and Mines - Dasari Narayana Rao - was felicitated on 30th May by Film Critics Association at Film Chambers. BA Raju - the president of Film Critics Association presided over the event. Anne Ravi - General Secretary of Film Critics Association anchored the event. Murali Pendyala - Office In-charge of Film Critics Association - has managed the show. Few veteran journalists spoke on this event and expressed their happiness over Dasari becoming central minister.
BA Raju (Superhit Film Magazine) remembered an incident where he visited Dasari's house in Chennai in 1981 when it was raining. Though he was involved with bigger things at that time, Dasari made sure that BA Raju is given a cloth to dry himself. BA Raju said that Dasari is one film celebrity who cared for well-being of journalists.
Veteran scribe Vasiraju Prakasam (Vaartha news paper) remembered that he is associated with Dasari for his 35-years of career. Mohan Goteti (Sitara film magazine) described Dasari as warrior (Porata Yodhudu). Prabhu (Cinestar film magazine) remembered his long-term association with Dasari and how he helped him and other fellow journalists to establish in this field.
Balreddy (Number One film mag) said that Dasari Narayana Rao worked as a journalist before entering the field of film direction and movie making. Dasari is one person who did not go after money and stick to his basic nature of helping out the needy people. Balreddy also mentioned that it was Dasari Narayana Rao who single-handedly supported and campaigned for Congress when the rest of the film industry was supporting TDP.
Journalist and singer Gangadhar said that it was Dasari who encouraged him when he was working for Eenadu and Sitara. Dasari also encouraged him as playback singer. He urged Dasari Narayana Rao to help journalists who are degraded by certain film personalities. He said that it is Dasari who has massive charisma in Cine-political field after NTR.
Veteran photographer Sai Ramesh (New Indian Express) spoke on behalf of photographers' fraternity. He remembered that Bernardo Bertolucci - the world-renown Italian director who directed award winning 'The Shetlering Sky' - wondered in the last film festival happened in India when he met Dasari and came to know that he directed more than 100 films. Later on he enquired about the productivity and success rate of Dasari and wrote in an Italian tabloid La Stampa and mentioned the greatness of Dasari Narayana Rao. He wrote another article about Indian film celebrities making it in politics and wished that Dasari would shine the way he shined in films.
Suresh Kondeti (Santosham film mag) expressed his happiness over a man from his hometown Palakollu making it big on national arena. He said that he started his film distribution for West Godari area. When every west distributor is having office in Eluru, Kondeti Suresh preferred to have his distribution office in Palakollu. Dasari Narayana Rao has asked him to use 'Dasari Film Complex' as his office.
Other journalists like Lakshmana Rao (Visalandhra), Sarath Kumar, Giridhar, Uma Maheswara Rao, Raja (Hasam) and Narayana (Vaartha) shared their views about Dasari contribution to the society.
Dasari speaks
Dasari thanked all the journalists for sharing their pleasure with him. He said that all the press people are like his family members. He also said that he is averse for these kinds of felicitations, but could not say no to film industry and film press because of which he reached such a position.
He remembered his early days when he used to walk on the roads of Madras without slippers. It is the film industry that made him what he is today. The film industry has changed the destiny of states of Tamil Nadu and Andhra Pradesh by producing charismatic actor-politicians like MGR and NTR respectively. He said that there might be so many 'Bharata Ratnas' in India, but there is only one 'Darsaka Ratna'.
He said that he has tremendous leadership qualities right from his childhood. He was the class leader in his 6th class. Later on he became school leader. He was his college student union president as well. He was also the president of South Indian Directors Association for 13 successive years unanimously.
For the first time, Dasari Narayana Rao has revealed the real reason for him to join the Congress Party. He narrated the series of events and how Telugu cinema suffered/gained under the Governments of various political parties.
In 1989, when Telugu film industry was operating from Chennai, the Congress Government has increased the subsidy from Rs 50,000/- to Rs. 3,00,000/- so that they could shoot in Hyderabad. Then Chenna Reddy called on Dasari and asked about his suggestion. Dasari has asked Chenna Reddy to personally to go Madras and meet Telugu film celebrities and announce them goodies so that they can migrate to Hyderabad and start 100% film production in Hyderabad. Dasari also asked Chenna Reddy to cut down the 24% entertainment tax levied by TDP Government to 8%. Chenna Reddy did reduce the entertainment tax to 8%. With in one year, 90% of filmmakers shifted Hyderabad. It was the Congress Government which is responsible for getting Telugu film industry shifting from Madras to Hyderabad.
Again TDP Government came and killed the future of small Telugu cinema so that it could benefit a few selected big Telugu film producers. Madhava Reddy - cinematography minister - asked Dasari to suggest good scheme and Dasari suggested a few more ideas to improve Telugu film industry. And over night everything changed and Madhava Reddy was forced to announce more strictures on film industry that do more harm than help. TDP government raised the entertainment tax from 8% to 12% for small cinema and kept 14% for big cinema. It was just a meager 2% change between tax rates for small cinema and big cinema. When Dasari contacted CM, he said that he contacted all big wigs of Telugu film industry before taking that decision. When Dasari asked him if he were not a big wig, the CM repeated said that he contacted each and every big wig of Telugu film industry.
It was after that telephonic conversation with CM, Dasari wanted to join Congress Party to see that ousting of TDP, which made the small Telugu cinema collapse. Dasari joined Congress only after he was offered MP (Rajyasabha). It came as a surprise for him. Even the offering of central minister is a cause of surprise for Dasari Narayana Rao.
Dasari reiterated that he would not have become a big director if he were entered the film industry in this present pathetic situation. He said that even K Raghavendra Rao got to fame with a small cinema called 'Jyothi'.
Dasari said that he started a film magazine called 'Cinema Prapancham' in 1966 at Madras before starting filmmaking. He was also the editor of Udayam newspaper that brought a few revolutionary changes in Indian print media. Udayam newspaper had the following credits for the first time
- 1st color printing
- 1st off-set printing
- 1st district edition
- 1st cinema column
- 1st daily serial
Dasari condemned the attitude of few big producers who are trying to suppress the journalistic freedom by imposing stricture against the freedom of press. He termed such producers are pseudo intellectuals and neo riches. He remembered how superstar like Rajnikanth waited in front of his house for many days to get a role in Dasari's film. He criticized the new-age heroes who raise their remuneration to crores after the 1st hit. He also condemned the attitude of certain producers who put board of 'no-entry-to-press' at their shooting locations. He urged press to revolt against such practices.
He said that he gave 12 successive silver jubilees at one point of time, but never raised his remuneration or encouraged producers like sell the film at higher rates.
He also condemned the TDP government for giving crores-worth lands to big producers on the grounds of building studios and infrastructure and ignoring the film workers. He remembered how he fought for 77 acres for labor and got it approved from Congress Government. He said that he would make sure that 77 acres allotted to the film workers.
Before ending his speech, Dasari assured that he would do the following two things on priority basis
1. Land for film workers
2. Construction of a Journalist colony.
Meet the press
Q: What would you do for the survival of small cinema (Bhageeratha)
A: I have asked the Telugu film industry bodies to come up with various options. I would go through it once I get hold of the reports and use my own experience and draft the right measures to implement panacea for survival of small cinema.
Q: NTR deserves a Bharata Ratna. Would you try to get Bharata Ratna to NTR posthumously? (Balreddy)
A: NTR deserves Bharata Ratna. The central and state government made efforts in the past and due to certain reasons they could not award it. I would ask the relevant authorities to go again in to the nitty-gritty and find out exact reason. I would certainly make it possible for NTR who made 'Teluguvaadi Atma Gouravam' stand uo proud on international arena.
Q: Film bodies like FDC (Film Development Corporation) and Film Censoring Board are becoming refuge for political employees. (Sarath Kumar)
A: I would make sure that only film related people occupy those positions.
Q: The previous Government has given lands to few celebrities. Do you stop any of these biased allotments? (Subba Rao)
A: The law would take its own course.
Q: You have become a minister? Do you direct films simultaneously? (Prabhu)
A: I am working full time in politics. I would not direct films. But I would make sure that I am in touch with Telugu film industry whenever it needs me.