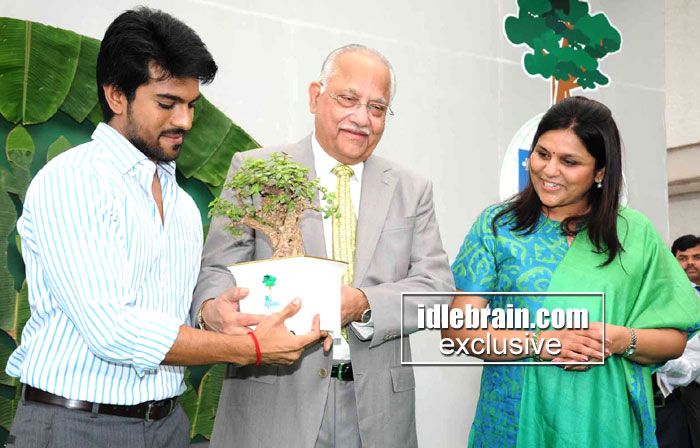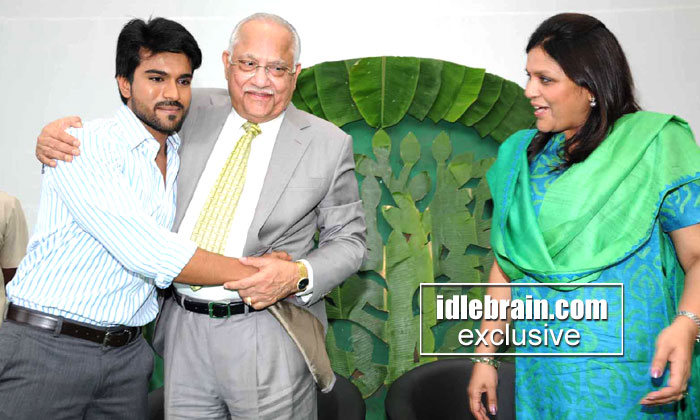 Tollywood star Ram Charan Tej launches 'Apollo Go Green
Initiative' on the 23rd Anniversary of Apollo Hospitals, Hyderabad!
Apollo Hospitals, Hyderabad celebrated the Hospitals' 23rd Anniversary, today at Apollo Health City, Hyderabad. Tollywood star Ram Charan Tej, who was the Chief Guest on occasion joined Dr Prathap C. Reddy, Chairman, Apollo Hospitals Group & Ms. Sangita Reddy, Executive Director, Apollo Hospitals Group in launching the 'APOLLO GO GREEN INITIATIVE' and 'SRI G. SURENDER REDDY HEALING GARDEN.' Winners of various sports events organized as part of the anniversary celebrations were presented the prizes and exemplary employees were felicitated on the occasion by Ram Charan Tej.
Speaking on the occasion Ram Charan Tej said, Dr. Prathap C. Reddy single handedly transformed the face of health care in India. I have seen several hospitals across India but none can match Apollo and its staff in service. Dr Prathap Reddy has showered so much love and affection on me that I don't miss both my grandfathers, who are no more. I am from a Filmi family, but I want to do something to be a part of the healthcare family. Since I can't be a Doctor, Nurse or healthcare worker, I am joing this Go Green Initiative. My contribution will be to take this initiative across the state. By planting more trees, we can do good for our generation and the generations to come. I also request Apollo which has launched the anti malaria drive in Jubilee Hills to extend the service to a larger geography, he added.
Dr. Prathap C. Reddy said, each of the Apollo Hospitals has done something special, we brought our heart by touching lives whiling caring for our patients. We need to do something for the environment. As a hospital we can cure disease, but we want to keep you well through this Go Green Initiative. Speaking on Ram Charan's fiancée and Dr. Prathap Reddy's granddaughter, Upasana, Dr Reddy said she has made significant contribution to many of our projects at the hospital, Ram Charan is the right match for her and can guide her to contribute more to the hospital and society.
Ms. Sangita Reddy addressing the employees said, we have accomplished a lot in the last 23 years, it's no time to rest on our laurels. We have a larger responsibility to the community and the society, Apollo Go Green Initiative is a step in this direction, I want each one of the staff to take a sapling home and plant it. We have been responsive to the community and have recently launched anti mosquito drive, she added.
About Apollo Hospitals : In 1983, Dr Prathap C Reddy, the architect of Indian healthcare, launched the first corporate hospital in India. An integrated healthcare company, the Apollo Hospitals Group has over 8,500 beds across 50 hospitals, more than 1200 pharmacies and 100 diagnostic clinics, medical business process outsourcing services, health insurance services, and clinical research divisions with a focus on epidemiological studies, stem cell research and genetic research. To develop talent for the burgeoning need of superior healthcare delivery, the Apollo Hospitals Group has 11 nursing and hospital management colleges. These accomplishments have earned Apollo Hospitals Group accolades such as the Centre of Excellence from the Government of India and recognition from the Joint Commission International (seven of our hospitals are JCI accredited). In a rare honour, the Government of India issued a commemorative stamp in recognition of Apollo's contribution, the first for a health care organization. Apollo, for over 27 years, has continuously excelled and maintained leadership in medical innovation, world-class clinical services and cutting edge research. Our hospitals are consistently ranked amongst the best hospitals globally for advanced medical services.