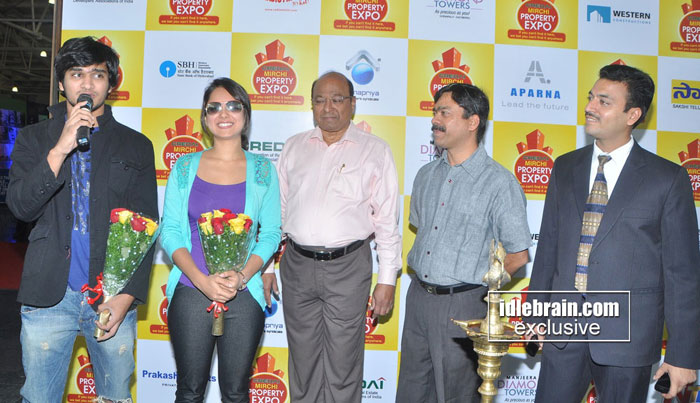 Radio Mirchi in association with CREDAI inaugurated the
'CREDAI MIRCHI PROPERTY EXPO ' on January 7, 2012
~ A one stop destination for all property requirements in Hyderabad ~

Hyderabad, January, 2012: Radio Mirchi - city's leading FM radio station and Confederation of Real Estate Developers Association of India (CREDAI) jointly inaugurated Hyderabad's first ever 'CREDAI Mirchi Property Expo' at the N Convention in the city today. Sri.M Bhagavantha Rao Managing Director – State Bank of Hyderabad, Actor Nikhil and Actress Pooja, of Veedu Theda fame, were present on the occasion.
Radio Mirchi, a pioneer in unleashing path breaking initiatives and a trend setter in conceiving unique events, has stepped in to present Hyderabad and the world the most exclusive and elaborate showcase of available properties. Mirchi Property Expo puts together an ensemble of apartments, open plots, independent houses, villas, commercials spaces and integrated townships from every part of Hyderabad, meeting every budget requirement.
Bringing together over 40 renowned builders in the city, the Expo has been presented by Manjeera Constructions, powered by Western Constructions in association with The State Bank of Hyderabad, Janapriya Engineers Syndicate and APARNA Constructions .
Speaking on the occasion, Mr.Hem Kumar from Radio Mirchi said, "Radio Mirchi of every property i has always kept the city people enthused and has always connected with them making a difference in their day to day lives. Partnering with CREDAI to present the CREDAI Mirchi Property Expo is an extension of our conviction to help Hyderabadis to find a home/property that best suits their requirement and budget. We hope to receive a good response for the property show"
Speaking on the occasion, Mr . M.Bhagavantha Rao, Managing Director – State Bank of Hyderabad said "Investing in property is usually a long term commitment, making it an important decision. There is a huge demand for commercial and domestic properties. Real eastate has boomed in Hyderabad and it is crucial that investors have the right platform to meet their needs. The CREDAI Mirchi Property Expo is one such great initiative and it gives me great pleasure to be associated with such an initiative and extend our support."
Adding to the energy Actors Pooja and Nikhil , "If you're an investor, a multi-national company or purely a home seeker you can be a certain of finding your dream property Mirchi Property Expo. To put it assertively 'if you can't find it here we bet you can't find it anywhere."