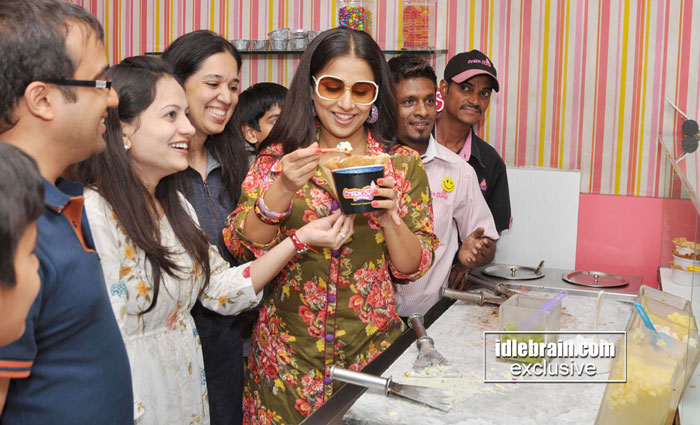 Actress Vidya Balan launches `Creamstone' Flavours
Bollywood Fim Actress Vidya Balangets crazy on Creamstone Concepts Ice cream Store at Jublee Hills in Evening along with her friends, she was very delighted the way Ice cream was made on the Marble Slab chopped and customized the way she wanted, then she herself wanted to make a Ice cream and went inside the counter and selected "Kiwi Pineapple" Ice cream from the range of flavours, then she added fresh liechees, Fresh Pineapples, Fresh Kiwi pieces and she herself took the Choppers and enjoyed the art of making Ice Cream chopping on the Creamstone Counter. "I would love to have this Ice cream whenever I am in Hyderabad, I would love to start with Hyderabadi Veg Biryani and end up with Creamstone Ice cream" Said on this occassion. She launched the first Premium Fresh Strawberry's Ice cream with Cream & Orange rush Flavours.
Creamstone Concepts basically are the interactive and moreover a live Ice cream Station where Customer comes and makes their own Ice cream' said Mr Viren Shaw , Director of Cream Stone. `The concept is FREEZE YOUR IMAGINATION . That means u think u need a ice cream which is chopped with fresh fruits of ur choice u will get it' he told.