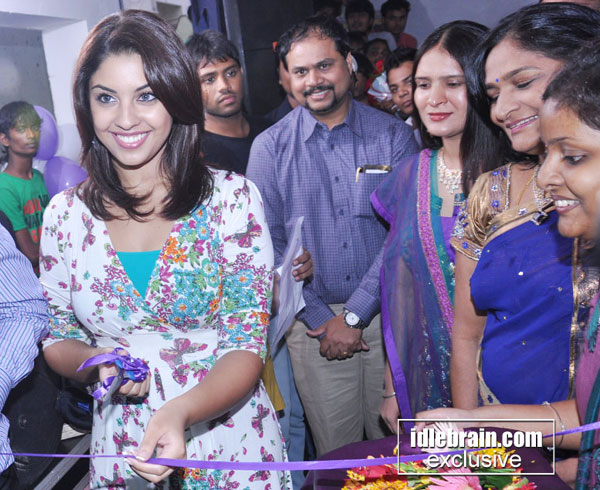 Biggest and fastest growing salons chain of India, Naturals Family Salon & Spa has launched its 151stsalon at Surya Laxmi Complex, kalyan nagar , SR nagar in Hyderabad. The Salon was inagurated by South India actress Ms. Richa Gangopadhaya (Mirpakaya Movie Fame) today . `in fashion trend beauty as become a part of life style, to become more glamours beauty salons & spa playing important role' said Actress Richa.
"Naturals - renowned for offering alluring grooming services to celebrities and tinsel stars, will extend chic and trendy hair care, skin care and body care services' said Mr. C. K. Kumravel, Founder of Naturals Family Salon & Spa. ` offering professional services that will take care of complete personal styling for both women as well as men, including hair forms and hair coloring, grooming services like embellishing bridal makeup, hair styling, manicure, facial, and reflexology treatment services" Mr kumravel 'said on this occasion.
`Naturals Salons today, are well recognized for its hygiene, comfortable and 'feel at home' ambience with internationally trained staff. Its vivacious brand ambassador, Genelia D'Souza is also a patron of the brand for her styling needs' Said Mr Aravind , Regional Manager , Andhra Pradesh. `Company has established its presence in the salon industry with its 150+ salons across the county. This salon is the 15th salon in the city, other salons are located at AS Rao Nagar, Banjara Hills, Gachibowli, Himayat Nagar,Habsiguda, Kondapur, Kothapet, Kukutapally, Madhapur, Miyapur, DD Colony, Kharkhana, Sindhi Colony and now in Kalyan Nagar' Aravind told here.
`The 2600 sq.ft big salon has 5 facial rooms with steam shower facility, massage rooms, hair spa , bridal , vip room etc. To provide privacy to women, the unisex salon has exclusive women zone' Said Mrs. B Vimala , franchisee partner for Naturals salon SR nagar Branch.