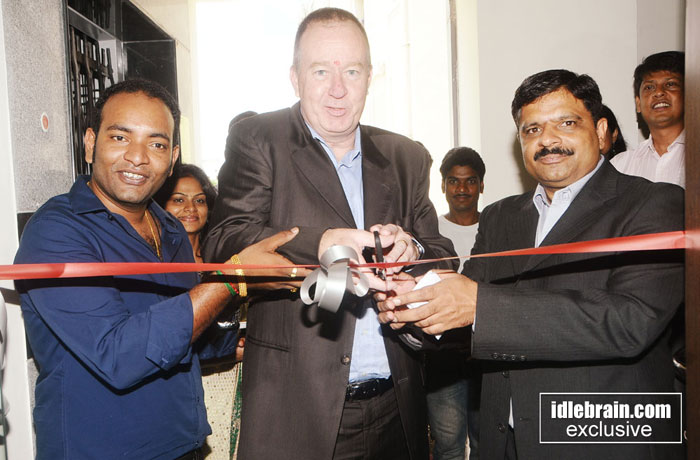 Today Sree Bath Studio had launched a new showroom at Gachbowli area with the world's Best named Brands namely Hansgrohe, Duravit & Gebreit.
The showroom got opened at 11.45AM on the Hands of Dr.Nicholas Matten ,Hansgrohe SE Sales Director of Western Asia/Japan/Oceania.
Hansgrohe is a German company with 111 yrs of rich innovation and superior technology history. Started its own Indian operations in 2008.
The bathroom fittings range from 15,000 to 10 lakhs and caters to the premium taste of the Indian consumers.
The products ranges are Hansgrohe and Axor. The Hansgrohe brand has bathroom fittings catering to entry level range to the designer range Puravida with a beautiful white chrome concept in Bathroom. The Axor is the designer brand where international designers like Phillipe Starck, Antonio citterio, Jean Marie Massaud etc work in collaboration with the company and create full bathroom ranges.
Shree Bath Studio, Hyderabad is the first boutique concept showroom inspired by world class displays, catering to entire bathroom concepts in India. The proud owners Gopi Choudhary and Anupa Choudhary are immensely delighted to introduce their brands as solutions to the customers varying bathroom needs.
Duravit is 193 years old company based at Horn berg Germany .It's a German company having presence in more than 90 countries. Duravit is very well know as the Designer Sanitary Brand and it works with popular Designers like Philip Starck, Sieger Design, Phoenix Designers etc….
Duravit Delivers excellent designs with ultimate quality standards in the Sanitary Industry.
Gebreit Company had established in 1874 and expanded its branches word widely.It provides the best Concealed Tanks systems as well as the Cisterns. More over it gives a guarantee on the products for about 10years and always meets the standard qualities and that's why it persists in the market.
It saves the spacing, uses less water and comes up with an elegant designs with reasonable pricings. It outstands for the quality products and reliable performance.