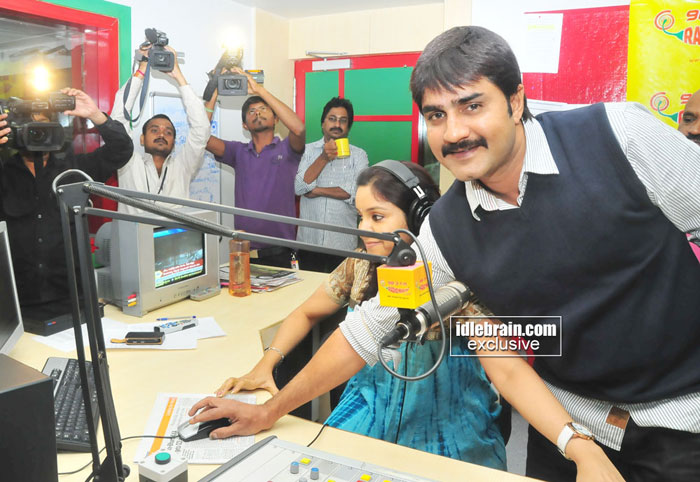 'Sri Rama Rajyam' debuts at Radio Mirchi's "Mirchi Music Premiere"
~ Mirchi listeners treated with the first spell of the music in the presence of Hero Srikanth ~
Sri Rama Rajyam – the most awaited movie of the year debuts its music for the first time on Radio Mirchi 98.3 FM in the presence of the renowned tollywood Star Srikanth. Mirchi listeners were the first to hear the music of 'Sri Rama Rajyam' in an exclusive preview at the Radio Mirchi studios.
The big bang music property by Radio Mirchi is an innovative platform that showcases and brings music of upcoming movies to the audiences. An exclusive to the wide mirchi listeners it releases music in a big way.
The upcoming devotional movie directed by Baapu Garu. The songs are very melifluous with the soul stirring music composition of the maestro Ilyaraja, Sri Rama Rajyam is all set to entertain the Telugu music lovers.
Sri Rama Rajyam Movie is a most awaited mythological Movie directed by the legendary Bapu, produced by Sai Baba.starring Bala Krishna, Nayana Tara, Akkineni Nageswara Rao, and Srikanth in lead roles.
Actor Srikanth, who essays the role of Lakshmana in the movie, also added, "I am doubly blessed in this film. Not only did I get to act with one of my favorite heroes in Telugu, my brother Balayya, but also acted under Bapu garu's tutelage for the second time. The movie is sure to strike a divine chord among telugu movie lovers and the music is both classic and melodious. Thanks to Radio Mirchi for launching the song snippets to so many lakhs of listeners. Its been a fascinating experience"