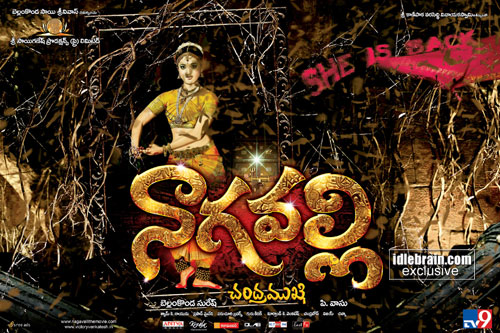 Logo of Venkatesh's latest movie Nagavalli was launched by Venkatesh at a king's durbar set erected for Nagavalli in Rama Naidu Studios, Nanakram Guda, Hyderabad. It was attended by producer Bellamkonda Suresh, Paruchuri brothers, Chandrabose, Priyamani and Vimala Raman. Venkatesh unveiled the digital logo on LCD screen using a big sword.
Nagavalli starts where Chandramukhi ends - Paruchuri Gopala Krishna
Paruchuri Gopala Krishna said, "I am writing for a fictional story like this for the first time. Though it's a story on imagination, the happenings in the film are backed by scientific facts. It's a challenging role for Venkatesh and he gave a thrilling performance in the second half. You should watch the movie to find out how Chandramukhi and Nagavalli are connected. The last frame of Chandramukhi movie is going to be the first frame of Nagavalli. Nagavalli starts where Chandramukhi ends."
Chandrabose said that he is penning all the songs and the songs in this movie help the progression of story.
Audio on 16 Nov and movie on 2 December - Bellamkonda Suresh
Bellamkonda Suresh said, "I am extremely happy to work with Venkatesh and Nagavalli will remain as the most memorable film in my career.There are four heroines (Anushka, Richa Gangopadhyay, Shraddha Das and Kamalinee Mukherjee) and all these characters are important for the movie. We will release the music on 16 November and the film on 2 December."
Loved negative shades in one of the characters - Venkatesh
Venkatesh said, "The logo release event is a simple and effective way to arise the curiosity among the Telugu movie lovers. Nagavalli is not a scary film, it is an universal movie which will be liked by audiences. Vasu came up with a wonderful script and Bellamkonda Suresh produced it well. There will be suspense and interesting formula in the movie. I am playing two roles of psychiatrist and the king. I loved working for this movie as there will be negative shades to one of these characters. It is a sincere and honest attempt by me. None of our Telugu heroes attempted this genre in Telugu in recent times. There are rumors surrounding the movie because of sad demise of Kannada actor Vishnu Vardhan who acted in the Kannada version of Nagavalli (Apta Rakshaka). I am a kind of person with positive vibrations and I am a fearless person. I didn't fear working for this movie. Nagavalli is a veriety film in my career"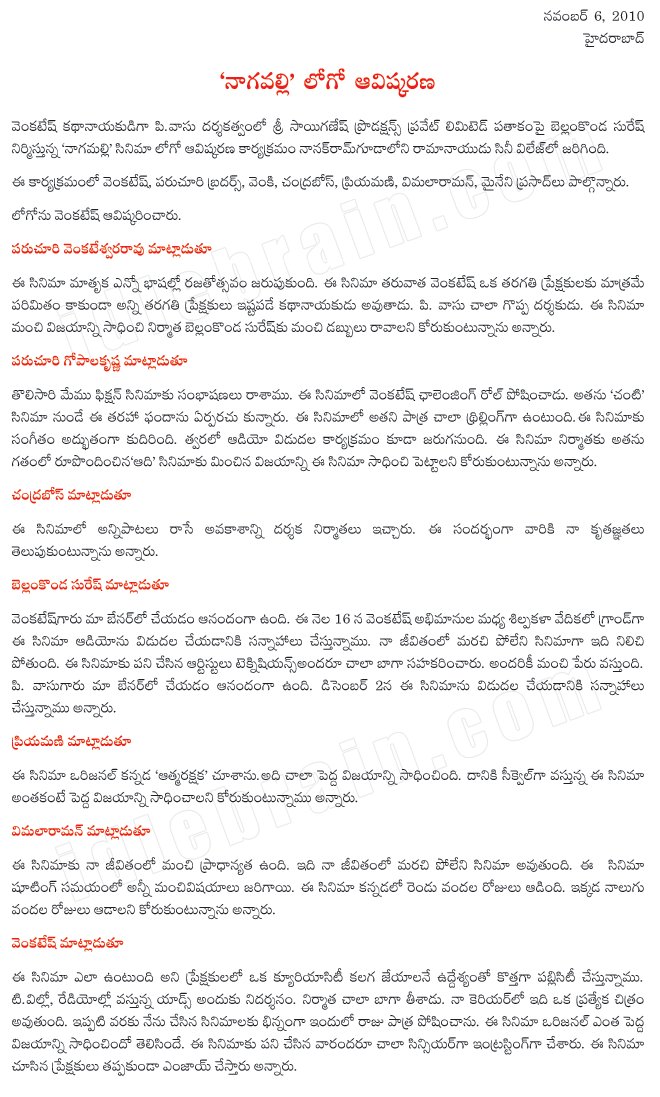 Photo Gallery (photos by G Narasaiah)