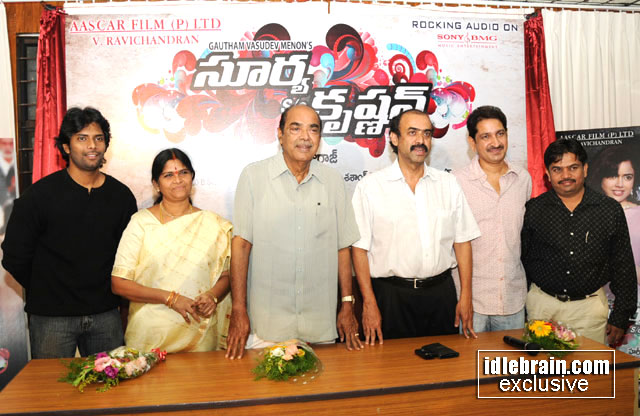 Movie moghal Dr. D. Ramanaidu and D. Suresh Babu unveiled the logo of hero Surya's latest film "Surya s/o Krishnan" (Its Tamil version is Varanam Ayiram) at an impressive function held at the Film Chamber building, Hyderabad, this evening. The film made on the prestigious Aaskar Films Private Limited (of V. Ravichandran) is being directed by South's big league director Gautham Vasudevan Menon, who created stupendous blockbusters like Gharshana and Raghavan. SVR Media, which released and distributed films like Dasavataram and Aparichitudu in Telugu, is the official releaser and distributor for this current film. The audio of this film will be releasing at Prasad IMAX on October 10th. This high-budget film is being shot extensively in Russia and Afghanistan. Sameera Reddy plays the heroine.
Surya's role as 17-year-old is a major highlight: Distributor
Speaking on this occasion, Sobha Rani (proprietor of SVR Media and distributor) said: "I profusely thank Ramanaidu garu and Suresh Babu garu for gracing the occasion. In fact, Surya plays dual role in this film as the father and son. Based on this, our director Gautham Menon personally requested us to see that the logo of this film got released through the father-son duo (DRN and Suresh Babu). A major highlight of the film is that Surya appears in the role of a 17-year-old guy, for which he had restricted his diet purely to fruit and vegetables for about six months. Ravichandran produced this film with a heavy budget with complete belief in the prowess of Goutham garu. We will be releasing the audio in a grand scale at Prasad Imax on October 10th."
Surya, Thandriki thagga thanayudu: Ramanaidu
Ramanaidu said: "The advancement of the SVR Media in the areas of production and film distribution is a welcome sign. I appreciate Sobha Rani for her daring attitude towards film business. Just now I have come from Tirupati. When I was invited to attend along with my son, I didn't think that it was about this film Surya s/o Krishnan. I look at three angles standing here. First of all, director Gowtham Menon directed my son Venkatesh's film Gharshana, which I liked very much. He is an excellent director. Sivakumar, hero's father, worked for about six films under our Suresh Productions banner. I saw Surya in some functions, mostly during the awards presentation events, in Chennai. He just says – Hai uncle – and will be shying away from me. I saw his Ghajini film. He did excellent performance. I even told Sivakumar that his son excelled him as an actor. In fact, Surya proved that he is the best suited son for his dad (Thandriki thagga thanayudu).I once again wish SVR Media all the very best. I also suggest that Smt. Sobha Rani should take up her ventures in systematic and industrious manner."
Bhimineni Srinivasa Rao, senior director, said: "I knew Sobha Rani garu for the last several years. I am happy that she undertook distribution of big films like Dasavataram and made successful mark of her own. I hope Surya s/o Krishnan will also be a blockbuster."
Surya s/o Krishnan links:
Photo gallery