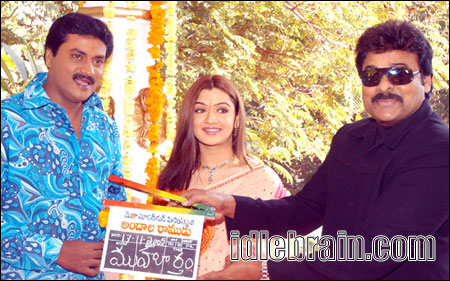 Andala Ramudu - Sunil's debut film as solo hero - was launched at Rama Naidu Studios on the morning of 17th November 2005. Arti Agarwal is the heroine. Chiranjeevi clapped on the lead pair. RB Chowdary switched on the camera. D Rama Naidu performed pooja. This is the production no.1 on Mega Supergood Films Pvt Ltd banner which is formed by RB Chowdary, NV Prasad and Paras Jain. This film is a remake of Tamil blockbuster 'Sundara Purushan'
Producer RB Chowdary said, "We are proud to introduce Sunil as solo hero through this film. Arti Agarwal is playing a powerful role in Andala Ramudu. Deepti (Lakshmi Narayana) is associated with my banner for many films and we are introducing him as director. SA Raj Kumar is our Asthana music director."
Producer NV Prasad said, "I would like to thank RB Chowdary for making us partners. We will make many good films on this banner. We would also encourage new talent."
Hero Sunil said, "So far I have done 10-15 minutes of comedy per film in my previous films. But in Andala Ramudu, I would be during 2-hours comedy. This film has sentiment angle too. To be frank, Arti Agarwal is the hero of this film and I am the heroine."
Heroine Arti Agarwal said, "It is an honor to work with prestigious banner like this. This film is going to be a thorough comedy entertainer with lots of heart touching scenes."
Executive producer Vakada Apparao said, "Like our earlier film Sankranthi, this film too is being remade in the right time. The combination of Sunil and Arti Agarwal is a shocking one. Regular shooting of the film would start on 6th of December."
Director Deepti said, "I am indebted to the producers for introducing me as director. I worked as co-director for Supergood banner from Surya Vamsam to Sankranthi. I am working with good technicians like SA Raj Kumar, Sameer Reddy, Ramesh - Gopi etc. This film would have ingredients of love, sentiment and comedy."