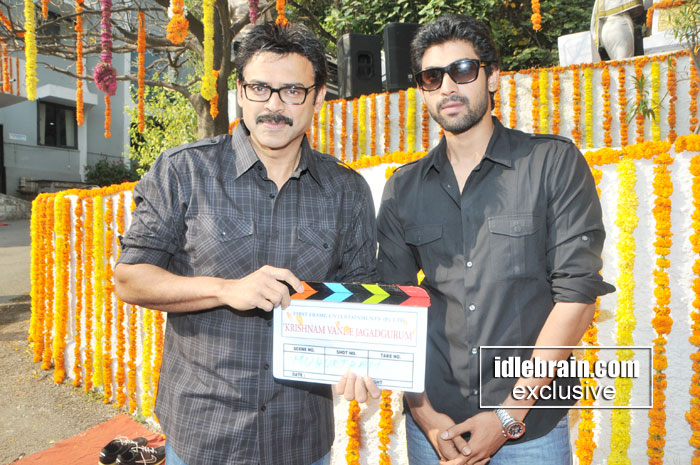 Krishnam Vande Jagadgurum movie launch
Krish's 3rd Telugu directorial venture 'Krishnam Vande Jagadgurum' with Rana playing main lead was launched at Rama Naidu studios on the morning of 14 December on the eve of Rana's birthday. Sai Babu Jagarlamudi and Y Rajeev Reddy are jointly producing KVJ on First Frame Entertainments banner.
Venkatesh Chakravarthy is the script consultant. Sirivennela pens lyrics. Sai Madhav Burra is the dialogue writer. Ram Lakshman compose fights. Gnana Sekhar VS is the cinematographer. MM Keeravani composes music. Sravan K is the editor.
Venkatesh sounded the clapboard. D Rama Naidu switched on the camera and K Raghavendra Rao directed the first shot.
It's an action adventure - Krish
Krish said, "It was Sai Baba Jagarlamudi, Bibo Srinivas and Y Rajeev Reddy who helped me for my debut film Gamyam. I am happy to do KVJ with same team. Y Rajeev Reddy was my roommate in USA. He scarificed his lucrative job to help me out my with debut film. All it takes is two minutes to get a brilliant idea. The moment I go the story idea of KVJ, I called up Rana and narrated it to him. Only Rana can do this role in KVJ. Rana has got a recognition for himself with Leader film. Just like Khaidi for Chiranjeevi, KVJ is going to be a turning point in our careers (Rana and me). I saw the energy and brilliance of Rana when I directed the sangeet of Bunny. Rana in personal life is as spontaneous as Gaali Seenu and Cable Raju. KVJ is an action adventure film and Rana plays the role of Btech Babu. There is a beautiful love story as well. I am going to use the 6 and half feet cutout of Rana fully in KVJ."
KVJ will showcase Rana's talent - Venkatesh Chakravarthy
Script consultant Venkatesh Chakravarthy said, "Script is of vital importance for any film. But unfortunately most of our producers go for combinations and then lookout for script. It is a good collaboration to have with Krish in Vedam and KVJ. There are no ego issues and he has lots of ethics. We have mutual respect for each other. KVJ will showcase the talent of Rana. 90% of script work is complete for KVJ."
Doing the role of BTech Babu - Rana
Rana said, "This is my 6th film. All my previous five films are author backed roles. But the character in KVJ is designed for me. It is an action adventure and I am playing the role of BTech Babu."
Producer Rajeev Reddy said, "Krish has been my friend for the past 12 years. Gamyam gave us a small break. But 2012 is going to be huge for us."