Sri Margabandhu Movies
Lemon
Cast: Sai Kiran, Chaya Singh, Ishaq, Hari Priya, Benarjee, Ramireddy, Costumes Krishna, Tanguturi Ramakrishna, Manoj K Bharati, Richard, Sudha, Manga & Kalai Rani
Crew:
Music: Bharani
Dialogues: Chandra Mohan
Lyrics: Veturi
Cinematographer: Kasi Viswanadh
Art: Prabhakar
Stunts: Kanal Kannan
Choreography: Suchitra, Kalyan
Editing: B Shankar
Story - Screenplay - Director - Producer: Sai Mohan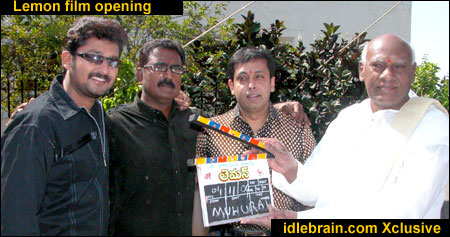 Sai Kiran's latest film 'Lemon' had its muhurat on 4th November at Visweswaraiah Guest House. This film is being produced by Sri Margabandhu movies banner. State Minister Rosaiah clapped on heroes Sai Kiran and Ishaq.
Speaking on the occasion director cum producer Sai Mohan said that 'Lemon' film has the backdrop of terrorism. This film narrates how peace was disturbed due to terrorists' activities in the post 1971 war era. This film attempts to provide solutions to the existing terrorism.
Sai Kiran is doing the role of a tough cop for the first time in his career. Ishaq is doing the role of a pro-terrorist. Benerjee is doing a powerful role. Chaya Singh is paired up with Sai Kiran where as Hari Priya is paired up with Ishaq.
This film would be shot in Hyderabad, Kashmir, Delhi, Rishikesh etc. This film is being simultaneously made in Tamil language.