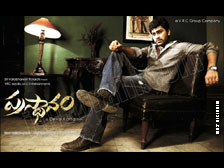 Muhurat of Deva Katta's (Vennela fame) Prasthanam was held at dilapidated aluminum factory in Gachibowli today morning. This film features Sharwanand and Ruby as main leads. Sai Kumar, Vennela Kishore and Sandeep Kishan are playing important roles.
MRV Prasad Rao sounded the clapboard and Dasaradha Rama Rao switched on the camera.
Prasthanam is a human drama with soul – Deva Katta
Speaking on the occasion Deva Katta said, "I took a lot of gap after Vennela movie due to personal reasons. Vennela film was a comedy entertainer where as Prasthanam is a drama with soul. It is about the rise and fall of a person. There is a lot of depth in the subject. It is an intense character drama. Sai Kumar plays a pivotal role and Sandeep Kishan will do an explosive character. I don't want to stick to any genre and will do films of all kinds. Prasthanam is a character based movie unlike routine hero Vs villain kind of movie. All characters in this movie are going to be realistic with no cinematic feel to it. Shooting will start from today. We are shooting a song in Aluminum factory in night effect. We plan to shoot the movie in Hyderabad, Badami (Karnataka) and Vijayawada. We are aiming for Deepavali release. Though it is a moderate budgeted movie, we have decided not to compromise on technical and postproduction aspects of the movie. That is the reason why we hired acclaimed technicians like Savita Singh (Phoonk fame) and Mahesh Shankar (Vennela and Prayanam fame). We are going to have DI (Digital Intermediate) for the entire movie. We asked the actors to cut on their remuneration so that more funds could be allocated to make this movie technically glossy."
Sai Kumar said, "Deva Katta is a passionate director. I found that the script of Prasthanam has lot of depth and detailing. It is a mind-blowing story about human emotions and relationships. Working in such a realistic set-up is going to be a challenge for all us actors. I feel that Prasthanam will be my third best character in my career after Police Story and Samanyudu.
Sharwanand said, "I got my first break through Deva Katta with Vennela film. Prasthanam is a script with good emotions. Deva worked over two years on this script. Prasthanam is going to be technically superior movie with good content. And it is going to be entirely different character for me."
Sandeep Kishan said, "Sneha Geetam is my debut movie which is going to release in a month. I would like to thank Deva for giving a challenging role in Prasthanam. My character requires lots of versatility."
Vanamali said that he is penning four lyrics in this movie. Sagar who worked for many Bollywood projects including Chak De India is choreographing for a song in this movie.
Prasthanam links:
Deva Katta interview
Wallpapers