Launch of Sai Dharan Tej's debut vehicle REY was held at Rama Naidu studios on the auspicious day of Vijaya Dasami (17 Oct 2010) at 8:41 am. This function was graced by the members of mega family (Chiranjeevi, Naga Babu, Pawan Kalyan and Allu Arvind), ANR, Nandamuri Hari Krishna, Kalyan Ram, D Rama Naidu and K Raghavendra Rao. This film is directed and produced by YVS Chowdary. YVS is introducing two heroines - Shubra Aiyappa and Amruta Patki.
Chiranjeevi switched on the camera, ANR sounded the clapboard and K Raghavendra Rao directed the first shot. Nandamuri Hari Krishna did pooja ceremony. Script is given by Chiranjeevi, Pawan Kalyan and Allu Arvind to the director YVS Chowdary. Ram Charan Tej and Allu Arjun couldn't make it because they are away in shoot.
2011 summer release - YVS Chowdary
YVS Chowdary said, "This is my fifth production venture and I would like to thank everybody who graced this occasion. Rey is a musical film where the hero based in Carribean fights it out his way up. First half of the movie will take place in West Indies and the second half will take place in USA. I was supposed to work with Mega family long back, but didn't materialise. Pawan Kalyan was supposed to my debut film Sri Seeta Ramula Kalyanam Chootanu Raarandi. Allu Arjun was supposed to star in my Devadas. I was also supposed to a big budgeted film with Chiranjeevi as hero. When I spotted Sai Dharam Tej for the first time I didn't know that he is from Chiranjeevi's family. Sai Dharam Tej got trained in various department for the last one year. Pawan Kalyan ecouraged me to do this project with the blessings of Chiranjeevi. I am introducing a new cinematographer Gunasekharan. Since it is a musical, Ganesh Swamy is going to do choreography. For the first time in Telugu film industry, I have printed a 52 page invitation (12 inch x 12 inch size) for the muhurat. It impressed everybody. We are going to regular shoot in 15 days. This film will release for the summer of 2011."
Script consultant and dialogue writer Rajasimha said, "The hero character is like fire and heroine is that of ice. We worked over the script for the past 8 months."
Stun Siva said, "There is lot of importance for action sequences in this movie. I am composed the fights to suit the body language of Sai Dharam Tej."
Sai Dharam Tej said, "I feel fortunate to work in this movie. This is my most memorable day. I want thank all my uncles and aunts for blessing. I hope that Rey will give good foundation to my career."
Rey links:
• Rey brochure photos
• Rey brochure wallpapers
• Brochure launch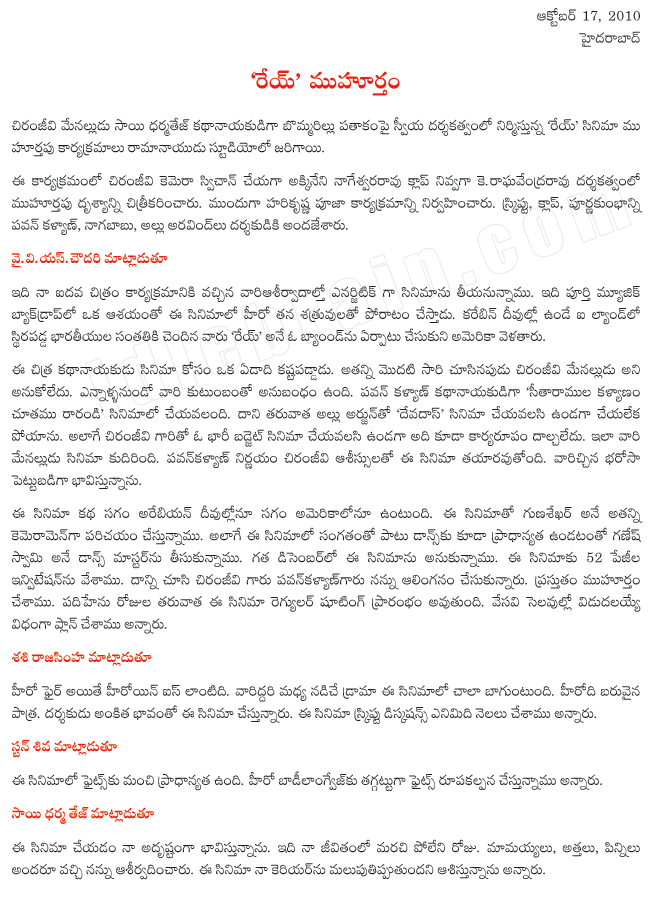 Photo Gallery (photos by G Narasaiah)