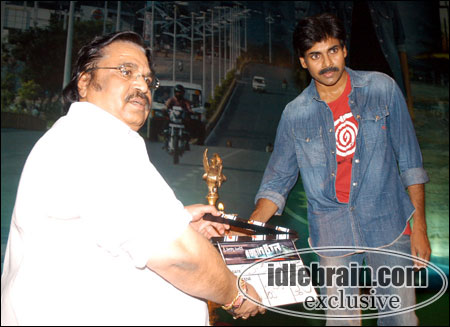 Watch high resolution videos of Satyagrahi film launch by clicking the links belows
Video 1 (5 mb - 0.58 seconds) Venue and Akira (son of Pawan Kalyan) dance
Video 2 (10.99 mb - 2.07 minutes) Launch ceremony
Video 3 (4.34 mb - 50 seconds) VV Vinayak speech
Video 4 (19.76 mb - 3.51 minutes) Pawan Kalyan speech
Video 5 (11.07 mb - 2.08 minutes) Allu Arvind speech
Video 6 (25.06 mb - 4.53 minutes) AM Ratnam speech
Pawan Kalyan's second directorial venture 'Satyagrahi' (tagline: Satyame Naa Ayudham) was launched at a high profile event at Annapurna studios in the afternoon of 25th March. Dasari Narayana Rao sounded the clapboard and Allu Arvind switched on the camera. The other guests include Venkatesh, VV Vinayak, Allu Arjun and Nitin.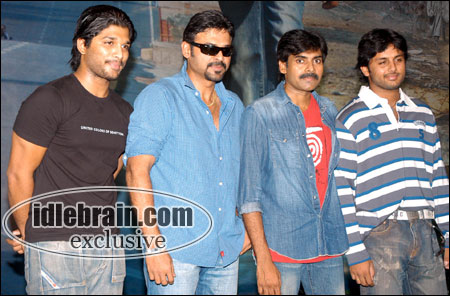 Chief guest Dasari said that Pawan Kalyan has always kept low profile for his films and for the first time he did a high profile launch. He wished that Pawan Kalyan would prove himself as director with Satyagrahi film.
Hero Venkatesh said that he is a very good friend of Pawan Kalyan and wished that Satyagrahi will become a super hit.
VV Vinayak said, "Pawan Kalyan is known for thinking differently. The photos of Che and Jaya Prakash Narayan on the poster will only demonstrate that fact. I am interested in directing a film with Pawan Kalyan."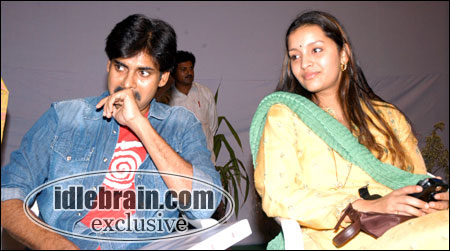 Satyagrahi questions atrocities in the society - Pawan Kalyan
Pawan Kalyan addressed his fans by saying affectionately 'dear brothers'. Pawan Kalyan said, "I never had such a high profile launch for my films in the past. I always thought that my work should speak for myself. But I am launching this film with huge publicity as this kind of subject demands it. Our country's social and economical status is heavily influenced by the politics. Let me illustrate my first experience about politics. I was studying my 7th class at that time and a group of students asked me to vote for a guy as class leader. But that guy used to behave like rowdy by bashing the people around. I asked those guys how a rowdy is qualified to be the leader. My friends told me that politics are like that. For the next 10 years I saw many such incidents around me in the society. Even after I became an actor, I was frustrated at looking the happenings in our society. I wanted to do something about it, but I was helpless. I created some songs like Ye Mera Jahan (Kushi) and Le le (Gudumba Shankar) to highlight the atrocities in the society. Those songs were very much appreciated. For the first time, I am doing a film to highlight those social atrocities. I am also making sure that Satyagrahi will not be like documentary, but will be like a commercial film that is liked by one and all. Satyagrahi film questions the atrocities in the society. I am doing the role of student union leader. I chose AM Ratnam as producer because he made very good films on social awareness. Allu Arvind is the one person who makes me feel guilty every time I look at him. I am indebted to him. Chiranjeevi could not attend this function as he is in Chennai now. But I am happy to see all his brothers (fans) here in my function. That is the reason why I call you as brothers instead of fans. My introvert attitude makes my brother Chiranjeevi feel little uncomfortable. I have become a kind of painless burden to him. Jai Chiranjeevi! Jai Hind!!"
Tidbit: Pawan Kalyan's son Akira was the center of attraction in this event.
I knew that Pawan Kalyan will make this film - Allu Arvind
Allu Arvind said, "I have seen first half of Bangaram and I can confidently say that it will become a super hit. I have personally seen the anguish in Pawan Kalyan for not being able to fight the atrocities in society for the past one decade. I knew it seven years back that Pawan Kalyan would do a film about social awareness in future. I am happy that he is converting his excellent thoughts into celluloid through Satyagrahi."
We are doing Satyagrahi in Telugu and Hindi - AM Ratnam
Producer AM Ratnam said, "Kushi has become the biggest commercial hit in the career of Pawan Kalyan. He wanted to do another film on our banner. We waited for the right subjects. That is when Pawan Kalyan saw films like Dil and Dhool in Tamil. He liked Dharani's work and asked him to narrate the script. Recently I make a Tamil blockbuster titled Sivakasi. Pawan Kalyan wanted to do the remake of that film. During the climax shooting of Bangaram he narrated me the subject of Satyagrahi. If Bharateeyudu and Oke Okkadu exposed corruption and politics respectively, Satyagrahi talks about social awareness. We are going to do this film simultaneously in Telugu and Hindi. We will also dub this film in Bengali language. If you notice the leaders on the poster - Che and Jaya Prakash - both of them served the society selflessly. Pawan Kalyan."