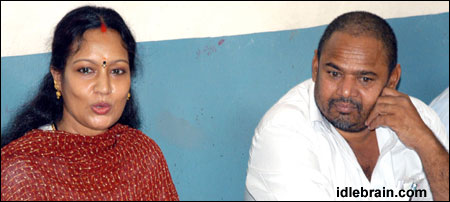 After Gangamma Jatara, R Narayana Murthy will be directing his next film, Ammameeda Vottu. The film co-stars Prabha who had earlier done his film Veguchukalu and received a Nandi award.
Talking at the press meet R Narayana Murthy said, "This the 18 picture on my banner Sneha Chitra, I am hoping it will be as big a hit as my earlier films. Prabha who had earlier done my film Veguchukalu plays a pivotal role in this film. She plays my mother who sells in me during my childhood."
"Telangana Shakuntala plays the character of the women who raises me. The film is basically about mother sentiment set in a village. The music of the film has also come out well and I am confident that it is going to be a plus point for the success of the film. The film is currently in dubbing stages and will be released in the month of July."
Prabha said, "I was really impressed by the story told by R Narayana Murthy. I am always open for good character and film and when he told me the story I wanted to do the film immediately. The film is totally different from the usual Narayana Murthy films, the image he carries will change from this film. Music of the film is also a great plus point for the film, Jesudas has sung a great song in the film that is really impressive."
The audio of the film is going to be released soon by Maruti Music.
- Aditya
Also read chitchat with R Narayanamurthy about Amma Meda Ottu.