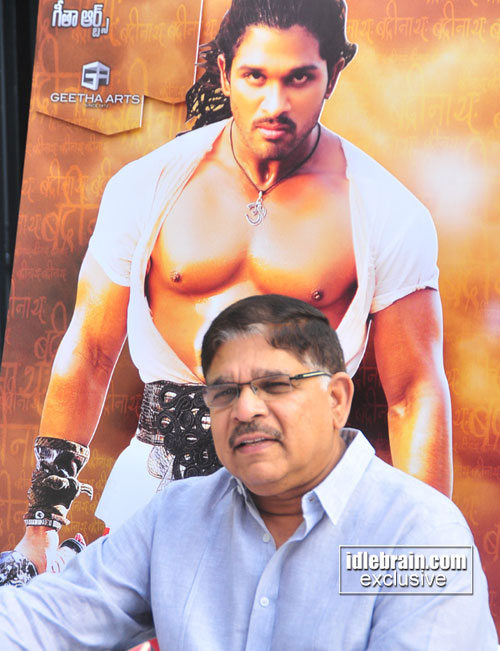 Despite starting off with a mixed talk, Allu Arjun's Badrinath turned out to be a quite a good opener by collecting huge amounts in the first three days. Producer Allu Arvind arranged a press meet at his office to announce the same. Here are the excerpts -
Badrinath collects 16.5 crores gross in 3 days in India
Geeta Arts latest production Badrinath has collected a gross of 16.5 crores in 3 days in India. It has collected 14.1 crores in AP (Nizam - 5 crores, Ceded - Rs 3.5 crores, Andhra - Rs 5.6 crores), 1.6 crores in Karnataka and 0.75 crores in Kerala. The gauging factor for any blockbuster film is the collection of morning shows on Monday. The collections are very strong all over AP today morning. The mixed talk on the day one is generated due to the mismatch between expectations and deliverables. People expected it to be a mythological like Magadheera and it turned out to be a contemporary love story with temple backdrop. I am happy that Telugu movie lovers have accepted the theme and encouraged the movie.
Allu Arjun's connection with Himalayas
Allu Arjun has an amazing connection with Himalayas. His debut film Gangotri was shot in Himalayas. His other blockbuster Desa Muduru was shot for 25 days in Himalayas. Badrinath film has the backdrop of Himalayas. Instead of making matching sets, we decided to use the infrastructure over there to shoot the film. It's not possible for everybody to travel to Badrinath which is one of the most famous holy shrine in India. By watching Badrinath, audiences are feeling like they are visiting Badrinath shrine.
Contest and Badrinath tour
We are going to have a contest and the winners will get free tour to Badrinath temple.