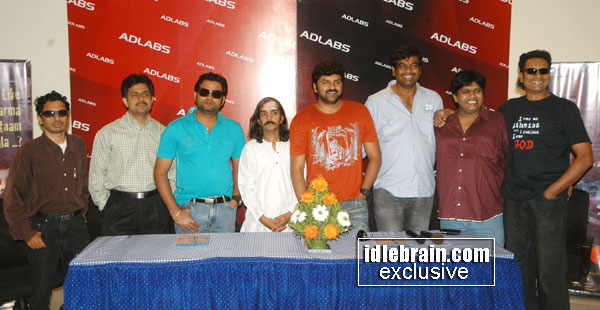 Cell, starring all male characters and made on the "reverse screenplay", will be releasing all over the state on August 15th. Made on Sravani Media Communications, the film has TV personalities Prabhakar and Sameer in the lead. A press meet was held today at the premises of Adlabs at Ameerpet, Hyderabad. Director Venkatanarayana, the mentioned cast, music director Mahi-Sridhar, cinematographer Sd. John and Adlabs representative Sanjay addressed the media.
Cell will rock: Director
Director Venkatanarayana said: "The film has no songs, but for theme music. The film begins with climax and ends with climax that is what we call reverse screenplay. All the characters are apt to the story. Screenplay and cinematography are going to play key roles. I am not exaggerating. But, the movie will sure rock. Our confidence on the film got trebled with Adlabs agreeing to distribute it." A flex displayed read: Like Ramgopal Varma, Manirathnam and Sekhar Khammula, the movie – Cell – is a different movie. "Our film will match the expectations of the audience, technically and content-wise," the director added.
Multiple color shades: Cinematographer
Cinematographer Sd. John said: "I followed ultimate care in shooting the film in some of the difficult light shades and backdrops. To tell the truth, it gives me utmost satisfaction that the audience will sure find the quality of a Hollywood film. Multiple color shades in Cell will impress one and all. In fact, the main reason behind Adlabs distributing the film is because of its technical richness."
Silence is Music: Music Director
Music director said that Cell being a suspense thriller, music is given a lot of importance. "In some sequences, silence itself becomes music. We don't need to give earsplitting sounds to enhance the thriller effect, but mere silence and slow beats orchestrated in tune with the mood and subject. This you will see in this film."
Wider release: Adlabs
Adlabs representative Sanjay said: "We are satisfied with the rich cinematography and technical values and the scary entertainment of the movie Cell. We have decided to release the film in all major towns and cities in Andhra Pradesh on August 15th. Based on its success rate, we will plan releasing it (probably in dubbed versions) all over India." Interestingly, Cell happens to be the first Telugu film coming under release through Adlabs in Nizam area.
A highlight of Cell is that you don't have a female character in the film. Story is provided by Som Kolluri and Venkatanarayana. Sound effect is handled by Sagar and DTS is by Madhusudhan Reddy.