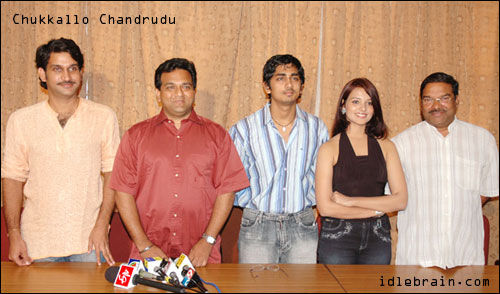 First schedule of Siddardha's latest film Chukkallo Chandrudu in the direction of Siva Kumar on Creative Commercial banner is completed. KS Rama Rao and his team members (Siddardha, Siva Kumar, Vallabha and Saloni) met with this press this afternoon share the news. Here are the excerpts -
Presenter KS Rama Rao said, "We started the film on 24th of August with a grand gala opening. We completed the first schedule of 8 days that had scenes with the combination of Siddardha and Sada. The second schedule which would last for two months would start tomorrow. Saloni and Charmme enter the film in this schedule. Director Siva Kumar is working like an experienced hand."
Hero Siddardha termed Chukkallo Chandrudu as a family entertainer. He commended the director Siva Kumar for dealing the film with ample confidence.
Producer Vallabha said that he is feeling extremely confident because his father KS Rama Rao is taking care of all important things in a smooth manner. Heroine Saloni said that she is excited to work with Siddardha whom she liked immense in NVNV film.
The producer is aiming for January 2006 release.
Chukkallo Chandrudu Links:
Muhurat function coverage
Charmme special photos