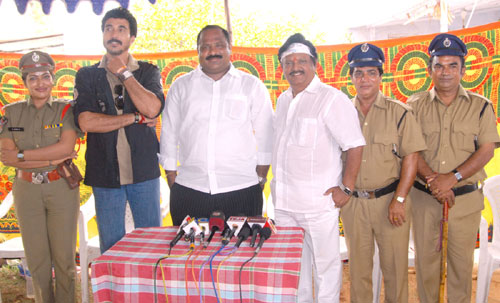 Shoot of Ek Police, starring Nagababu in the title role in the direction of Kodi Ramakrishna, is finished today. Made on NH Rushya Productions banner, the film is produced by NH Bhaskar Reddy and Krishna Prasad. The film is set for release next month. The film unit today arranged a press meet at the premises of Aluminum factory, outskirts of Hyderabad. Kodi Ramakrishna, Nagababu, Bhaskar Reddy, Satyaprakash and others took part in the meet.
Kodi Ramakrishna, whose 137th film is Ek Police, said that the film is a tribute to the power of police, who can change the society and its rottenness altogether. "The movie has created great expectations. It is the movie which is direly wanted by the current society. It is full of novelty and difference. Producer Bhaskar Reddy got into film production with lot of guts. We badly require such daring producers, who alone could make the film industry viable and vibrant, paving way for the entry of new comers in all segments like direction, artistes and technicians. The characterization of Nagababu as Ek Police resulted in a terrific output. Samrat, Bhushan, Surya Charan and Dheeraj are a four-member gang of youth. Satyaprakash plays the villain with entertainment values. Though a villain, he has a song and dance. Upcoming actress Jhansi has done well as cop. Gayatri (of Happy Days fame) represents the youthful air in the film. Heroine Lakshana from Kerala performed extremely well with big glamour portion. Koti music is additional asset to the film. In fact, he studied the script thoroughly before venturing into tunes and composing. Cameraman Srinivasa Reddy took this as a challenge and gave superb cinematography. Coming to the quality of the film, I am my own competitor."
Nagababu said: "The film is nearer to the real life incidents. I thank producer and director for encouraging the new talent in this film. Kodi Ramkrishna is known for his unique style and skill in dealing with the police stories. He really chiseled a good police officer role out of mine. The film deals with how a cop deals bad with bad to produce good."
Producer Bhaskar Reddy said he held sea of confidence in the capabilities of Kodi Ramakrishna as a successful director. He announced that he would be soon making yet another film with the director, besides planning two more films in the coming months. He further maintained that he would continue to give chances to the new comers with talent in them.