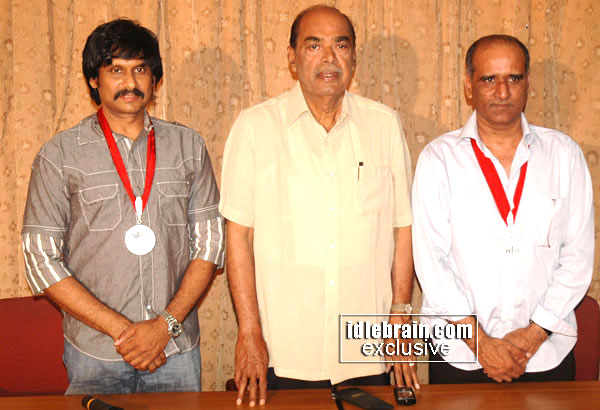 Unit members of the film Hope (which won the Best Feature Film on Social issues at 54th National Awards ceremony) today held a press met at Film Chamber, Hyderabad, post receiving the award from Her Excellency the President of India, at New Delhi yesterday. The film was produced by doctor-turned actor Haranath Policherla, with movie moghal D. Ramanaidu starring the frontal role and Satish directing it.
Satish said: "Hope was a big dream of mine. That dream resulted in the film Hope. When I readied the script and narrated it producer Haranath Policherla, he was thrilled. I told him that as and when Hope would hit the screens, it would be red carpet welcome for us at the Goa film festival. My prediction became a reality in 2007. My dream is fulfilled with the National Award for Hope. But for the cooperation of Dr. Ramanaidu garu, this award wouldn't have been possible. My sincere thanks are to my producer and artiste."
Ramanaidu said: "Though I have done about 130 films, this particular film Hope gives me immense happiness, as it's the one that got National Award. Incidentally, I happened to do the lead role. When Satish approached me with the script, I told him he could get somebody else, airing doubts that I might not do perfectly. But, he insisted that I should do it. He got the best out of me in tune with his requirements. A Telugu film winning the National Award does enhance the prestige of Telugu film industry. Producers like Haranath Policherla should come in big numbers for the good of the Telugu film industry and for sustenance of the artistes and technicians. Away from the commercial path, Mr. Policherla does dare to make art films for the sake of societal good. I wholeheartedly appreciate him."
Haranath Policherla said: "Telugu film industry always fascinated me. When Satish narrated the script to me, I felt that I would be making a wonderful film on social issues. I am happy that my film Hope could generate a good amount of social awareness. Being a Telugu man, it's my honor to receive the National Award for a Telugu film. I sincerely thank Ramanaidu garu for his role in the film. Without his cooperation, this glowing moment wouldn't have been a reality."