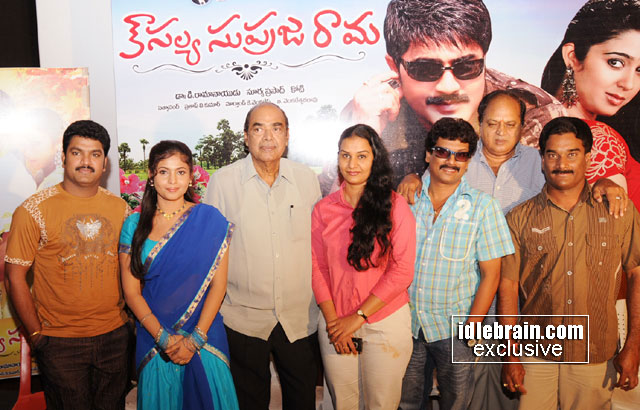 Kausalya Supraja Rama, the movie starring Srikanth, Charmme, Sivaji, Gowri Mumjal in the lead roles, is going to release on October 9th. This is Suresh Productions film produced by D. Ramanaidu and directed by Surya Prasad. The film unit today held a press meet at Ramanaidu Studios, Hyderabad, and spoke about the film.
D. Ramanaidu said: "The film Kausalya Suprarja Rama (KSR) is like my pet project. I thought of making a pucca family entertainer for the last couple of years. I found the script of this KSR very much apt to make a cool film that could cater to the taste of all sections of the audience. Having put in decades of experience in this film industry, I have reached a state where neither success nor flop can change my attitude. I am ever happy with film production. I have to make a special mention to the music of KSR by Koti. It received very good response not only in our state (AP) but also in the overseas. We have taken Telugu/Telugu speaking girls and artistes for this film. Charmme, Gowri Mumjal could well understand and speak Telugu, while Sairabhanu is a Telugu girl. Almost all the technicians are Telugu people. You all know that Srikanth gave consecutive hits with Suresh Productions. I appreciate director Suryaprasad for his commitment in executing the film in tune with the script which he narrated to me."
Suryaprasad said: "I am thankful to Ramanaidu garu for his patronage to me. I have done my best with all the cooperation and guidance of him. This film has wonderful entertainment and healthy comedy apart from good music and commercial values."
Chalapati Rao, senior artiste, said: "Suresh Productions and Dr. Ramanaidu are synonymous with clean entertainers. Our Telugu film industry is proud to have a great filmmaker like Ramanaidu. Kausalya Supraja Rama came out well with clean and healthy ingredients thanks to the involvement of Ramanaidu."
Siva Reddy, Apoorva and Sairabhanu were also present.