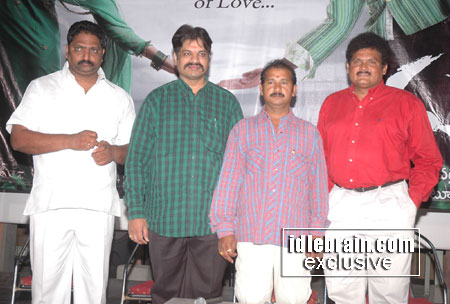 Mallepuvvu, starring Bhumika Chawla and new comer Muralikrishna, directed by V. Samudra gets ready for release in August. Made on Samudra Silver Screen, it is produced by an NRI Ramesh Vadlapatla. For the first time, a press meet was arranged today morning at Prasad Labs, Hyderabad, to detail about the movie's progress. The film's audio will be released in the third week of July. But for one song, the shoot of the film is complete. Cinematography is by Anil Bhandari. Music is by Ilayaraja, and lyrics are penned by Veturu. The first poster displayed at the venue presented the hero and heroine leaning towards each other holding their hands high – forming the symbol of heart in green ambience – and it instantly attracted one and all.
Extraordinary love story - Samudra
Samudra said: "The story of Mallepuvvu is extraordinary it is a moving love story. I am known for making pucca commercial films with big heroes and most of my films were hits. When I was searching for good stories to make a really different film, I happened to hear one from Ramesh Varma, the best friend of mine. I liked it instantly. On my request, he gave the story and I got ready to make the film on my newly floated banner. I narrated the story to producer Ramesh Vadlapatla and he too liked it very much and said a ready OK. Next, we searched for the right hero and he is new comer Muralikrishna.
Hindi rights to Bhumka; Tamil to Ilayaraja
"When we approached Bhumika, she felt excited about the story. From 4.00 p.m. to 10. p.m, she was engrossed in the subject. She agreed to do the film provided the Hindi remake rights of Mallepuvvu should be given to her. We did it. We thought only Ilayaraja could do justice to the film's music. He patiently sat on music discussions for about six months and gave excellent music. Each of the song is going to be a chartbuster. There are seven songs in all. Ilayaraja too took the Tamil remake rights of the film. That is the power of the story. After a long time, Ilayaraja sang one song for this film."
Mallepuvvu dedicated to Sobhan Babu
"Andhra Andhagadu Sobhan Babu got my mobile number through a friend of him and appreciated me very much. He said that he loved the film Mallepuvvu (starred by Sobhan Babu). He said that he saw the news pertaining to the launch of Mallepuvvu and got thrilled. He assured us that he would grace not only the audio function, but also the songs recording sessions. Unfortunately, he left the world. As a mark of respect to him, this movie Mallepuvvu is being dedicated to Sobhan Babu. At the forthcoming Audio release function, we will be inviting the heroines of yesteryears Mallepuvvu and honor them," Samudra said.
Producer Ramesh Vadlapatla said: "When I heard the story, I got stunned at the freshness in it. I am sure the film is going to be thoroughly different from all other films on romantic subject so far. I thank Ilayaraja for his benevolence in providing the music for us."
Malle Poovu links:
• Photo gallery