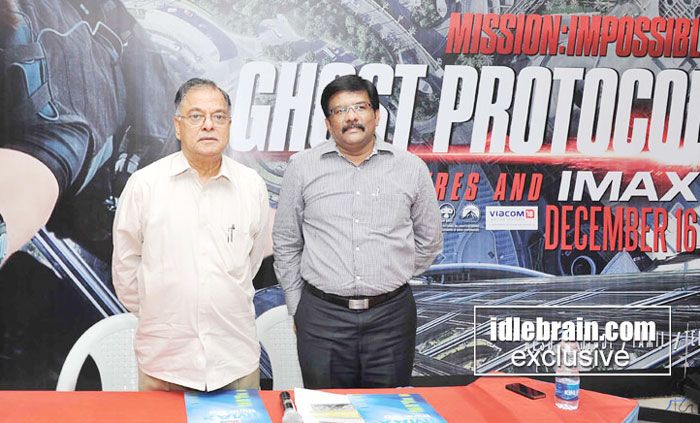 Mission: Impossible - Ghost Protocol The IMAX Experience
Previews 14th December at PRASADS IMAX THEATRE
Film Opens Worldwide on December 21
PRASADS, South India's first IMAX theatre has thrilled audiences from all over with such excellent DMR Movies like The Avatar, Harry potter series, Spider Man series, Batman series etc. Moviegoers will be able to experience the Mission: Impossible - Ghost Protocol, the highly anticipated fourth installment of the action epic Mission: Impossible franchise from Paramount Pictures begins previews on 14-12-11 at PRASADS IMAX THEATRE and opens worldwide on December 21, 2011. Through proprietary IMAX® DMR technology, Mission: Impossible - Ghost Protocol The IMAX Experience has been digitally re-mastered into the unparalleled image and sound quality of The IMAX Experience®. With crystal-clear images, laser-aligned digital sound and maximized field of view, IMAX provides the world's most immersive movie experience.
The film also features approximately 30 minutes of scenes shot with IMAX cameras. These specific sequences will expand to fill the entire screen, exclusively in IMAX, and further immerse the audience in the explosive action and vast scope of the film. One featured sequence includes the unbelievable stunt performed by Tom Cruise as he scaled the world's tallest building, the Burj Khalifa Tower in Dubai, providing an up-close, you-are-there experience as only IMAX can.

About Mission: Impossible – Ghost Protocol
This holiday season, two-time Academy Award®-winner Brad Bird directs, with producers Tom Cruise and J.J. Abrams, the action-packed spy adventure Mission: Impossible - Ghost Protocol.
Blamed for the terrorist bombing of the Kremlin, IMF operative Ethan Hunt is disavowed along with the rest of the agency when the President initiates "Ghost Protocol." Left without any resources or backup, Ethan must find a way to clear his agency's name and prevent another attack. To complicate matters further, Ethan is forced to embark on this mission with a team of fellow IMF fugitives whose personal motives he does not fully know.
Tom Cruise returns in the starring role as Ethan Hunt and is joined by an international cast that includes Jeremy Renner, Simon Pegg, Paula Patton, Michael Nyqvist, Vladimir Mashkov, Josh Holloway, Anil Kapoor and Léa Seydoux. Mission: Impossible - Ghost Protocol is directed by Brad Bird, in his live action film debut, and written by Josh Appelbaum & André Nemec. Cruise, who produces the Mission: Impossible films, is joined by producers J.J. Abrams and Bryan Burk.