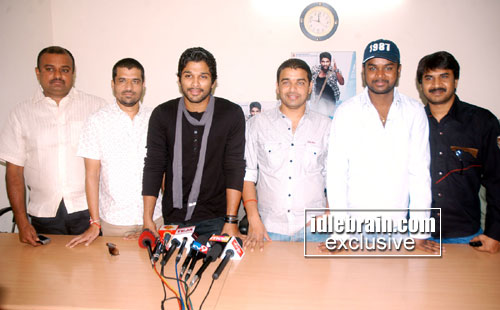 Come June 19th. Stylish Star Allu Arjun's film Parugu will turn 50 days in 175 centers. The unit of Sree Venkateswara Creations of Dil Raju is getting ready to celebrate the event in Vizag, the same day. The reason for selection of Vizag is that Parugu will also be crossing the business records of Pokiri in North Andhra region, claimed the producer. A press meet was arranged at the producer's office in Hyderabad to announce ongoing success of the film. Hero Allu Arjun (fresh from his US trip), director Bommarillu Bhaskar, Dil Raju, comedian Srinivasa Reddy took part in the media briefing.
Foreign trips bring me luck: Hero
Allu Arjun said: "Each time I go on a foreign visit, my movie will become a super hit. This time also, I went abroad a few days after the release of Parugu. I am coming today to find the movie running excellently well. I admit that along with me, the entire unit of the film was in tension about the success of the film. But, Dil Raju's word proved correct. The film picked up unbelievably in the second week. I always kept asking Dil Raju to do a film on the lines of Arya. He went on assuring me that he would do even a better film. Now, that is Parugu."
Parugu is not of fan's genre
"This film showed me in a different angle, away from big stunts. I knew that this is not a Fan's genre film. They (fans) asked me whether Parugu had Bunny-style of stunts and dances. I said, no. They said they would definitely make the film a success, if they liked it. But for their support, our success of 50 days in 175 Centers is not possible. I thank each and every artiste and technician who worked for the film. I extend special thanks to Prakash Raj, who enhanced the richness of the sentiments in the film. I enjoyed outdoor shootings along with my friends (co-artistes), who made me homesick-less. I am also happy that the film not only touched the distributors figure, but also crossed it, when business matters," the hero claimed.
Parugu rewriting Tollywood record: Director Bhaskar
Bommarillu Bhaskar said: "I am happy to announce that 50-days function will be celebrated in Vizag, which brought an all-time record in Uttarandhara region. This business record is said to be first of its kind in 75 years of Telugu film industry. We will come out with exact figures soon."
Parugu collections are going to beat that of Pokiri in Uttarandhra: Dil Raju
Dil Raju said: "I always make films with complete dependence on the story. All my films come under this category. During the making of Parugu, our unit members frequently were in doubt about the film's success. My belief never went waste. Parugu is going to finish it 50 days in 175 centers. Parugu collections are going to beat that of Pokiri records.