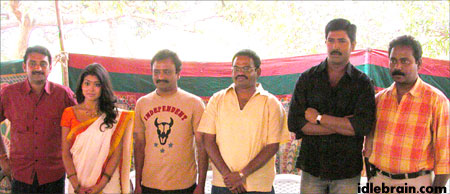 Neelakanta who got national award as best screenplay wright through Show film and won Nandi for best screenplay 'Missamma' film is making film titled 'Sada Mee Sevalo'. This film is being produced on SP Entertainments banner that produced creative blockbusters like Swayamvaram & Chirunavvuto. A press meet was arranged today to inform the progress. Here are the excerpts -
Film release in 1st week of Feb 2005 - Venkata Shyam Prasad
Producer Venkata Shyam Prasad said that 'Sada Mee sevalo' is the 5th film by SP Entertainments banner. Shooting of the film is complete but for 2 days. Vandemataram provided good music. This film would reap good returns at box office and also win awards. Audio of 'Sada Mee sevalo' would be released in the 2nd week of January. 'Sada Mee sevalo' would hit the marquee in the 1st week of February 2005.
It's about responsibly towards society - Neelakanta
Neelakanta said that he enjoyed working with quality banner like SP Entertainments. Like Show and Missamma, this film too has different style and provides good emotional experience. This film deals with the relationship between us and our responsibility towards society. This film is being narrated in entertaining style with ample humor.
I have different look and wardrobe - Shriya
Shriya is impressed with Missamma film and longed to work with director Neelakanta. She even went to the extent of calling us SP Entertainment banner and expressed her desire to work with 'Sada Mee Sevalo'. She is doing the role of a middle class girl. She has different looks and wardrobe.
Subbaraju said that he worked for this film for 4 days and playing an important character. Cinematographer Prasad said that he working for all the five films produced by SP Entertainments banner.
Venu who worked for 15 films so far said that Shriya is the best among the heroines he worked with. He is feeling great working with an acclaimed director like Neelakanta.
Other Sada Mee Sevalo Links:
Movie stills
Muhurat Function