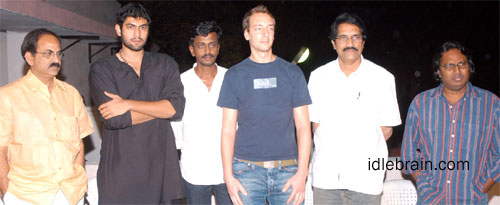 Mahesh Babu's latest film Sainikudu film is all set for the release on 30th of November all over the world.
Producer Aswini Dutt said, "Sainikudu is all set to release on 30th of November in India, USA, UK, Australia, New Zealand, Singapore and Gulf with 270 prints. Music of Sainikudu got terrific applause. I am seeing this kind of applause after Indra in our banner. Harris Jayaraj is putting his best efforts for rerecording and background music. Sainikudu is the first film which is color graded using ARRIscan in India. Incidentally Choodalani Vundi was the first film that had DTS done in Rama Naidu mixing theater and Sainikudu is the first film to be done digital intermediate. Hollywood technician Utsi had to opt out of three films to work for Sainikudu. Great technicians like Peter Hyne and Srikar Prasad contributed their fabulous work for Sainikudu."
Director Guna Sekhar said, "When we have graphics work in a scene, the advanced technique of DI helps in making the natural scenes and graphics scenes appear seamless. Sainikudu is made on a grand scale, hence went to greater heights to make sure that the final product is extravagant. We flew in Utsi from Germany to work for color correction of Sainikudu film. Utsi worked for all three films of Lords of The Rings series. I am also happy to work with cinematographer Bala Subramanyam (Pithamagan fame) who is a protégé of PC Sreeram. There is a floods scene in Sainikudu and it is extremely important to get the feel to the film with visuals. The color grading helped in enhancing the visual splendor of the film. When hero rescues the villages, the audience would get involved in the film very much."
RaNa (Jr. Rama Naidu Daggubati) said, "We established SPIRIT for the purpose of doing graphics related postproduction work. I am happy to bring ARRIscan technology in India. Sainikudu film is going to be a visual treat. This technology will be affordable for all the producers. I would like to thank C Aswini Dutt for giving Sainikudu as our first project."
Hollywood technician Utsi also shared his experiences on this occasion.
Sainikudu links:
• USA Premier details
• Audio Launch
• Photo Gallery
• Working stills
• Wallpapers