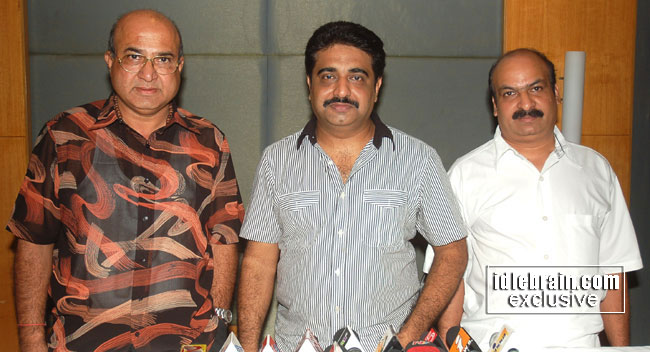 Raju Harwani (Supreme music and Supreme movies) held press meet today to announce his foray into overseas distribution with Ram Charan Teja's Magadheera.
5 lac units of Magadheera audio on day 1
I have stopped buying big films for my audio company after Okka Magadu last year. We have taken a break and re-entering into audio business in a big way by buying Ram Charan Teja's latest film Magadheera. Since the piracy is rampant and mp3 music is being flooded into the market by pirates in just a few hours of music launch, we have decided to come out with an attractive marketing plan that compels all the music lovers into buying the original music. Like Chiranjeevi and Pawan Kalyan's film music, we will be dumping 5 lacs of units of Magadheera in the market on the day one. We are going to launch Magadheera music in the first week of March.
Overseas distribution of Magadheera film
We entered into overseas distribution through Magadheera film. We will be releasing Magadheera with 21 prints in 21 centers for the first time in USA. We will be doing business in USA on Blue Sky Cinema Inc banner in a corporate style. We are also going to release many more big and small films and promoting them aggressively in USA. Magadheera film will be releasing in the month of April.
Tarun film in March
We are going to produce a film with Tarun as hero in the direction of Raj Aditya. The script work is in the stage of completion now. Most of the film will be shot abroad. We are going to introduce a new music director with lot of potential through this film.