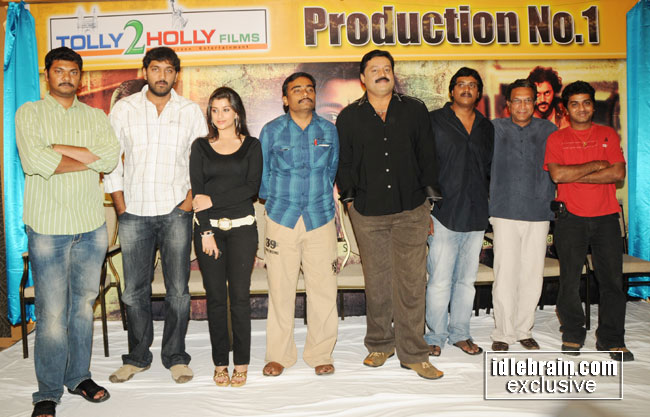 Press meet of Tolly 2 Holly banner's first production venture was held today. Ajay, Suresh Gopi and Madhumita play main leads. This press meet is attended by Ajay, Suresh Gopi, Madhumita, Sunil, Nassar, Sudhakar Chaganti, Surendra Krishna and director Murthy.
Speaking on the occasion co-producer Sudhakar Chaganti said, "Tolly 2 Holly had been distributing films in USA for the past four years and we distributed several blockbusters. We are planning to produce many films in corporate style. Ajay and Madhurima are playing main leads. Suresh Gopi does an important role. MS Murthy worked over this script for over a year."
Actor Ajay said, "This film has 6-7 interesting characters. It boasts a good screenplay. I hope that Tolly 2 Holly will be successful in making films as well."
Actor Nassar said, "It is nice to see new banners and new talents coming ahead. This film is a suspense thriller. The director has good psychological understanding. He handled the film like a veteran."
Writer Surendra Krishna said that this film is going to get best screenplay award.
Actor Sunil said, "Producer Ganesh Indukuri is brother of my classmate in Bhimavaram. Co-producer Sudhakar is also my friend. This film is produced by my friends. They started USA distribution with my film Andala Ramudu. They distributed several hit films in USA. It is a nice story with unexpected twists. It has suspense as well as comedy. I am doing a good comedy role. Director Murthy is a well-prepared director."
Suresh Gopi said, "I acted in a straight Telugu film titled Antima Teerpu 20 years back. I am acting again in a straight Telugu film after 20 years because I liked the the script so much. Director Murthy is knows for sharpness in his work and for his sharp cuts. I wish the producers all the best."
Mani Sharma composes music. Ganapati Raju Indukuri is the producer.