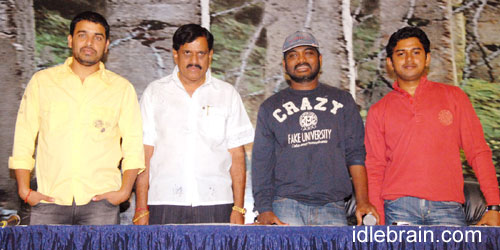 Ullasanga Utsahanga, directed by A. Karunakaran directed film, is going to release all over the state on July 18th through Dil Raju-owned Sri Venkateswara Creations. The flick touted to be a romantic entertainer is starring debutants Yasho Sagar and Sneha Ullal. Producers are BP Somu and GS Ranganath. The unit today arranged a press meet to announce the release date of the film and details about its distribution. Dil Raju, Karunakaran and the producers were present. Its music scored by GV Prakash (nephew of AR Rehman) released recently and is doing considerably good.
Jolly first half; Fantastic climax: Dil Raju
"I turned into film distributor with Pelli Pandiri. I knew Karunakaran since the shoot of Tholi Prema (Pawan Kalyan film). He has been a very committed director. Actually I should have become a producer with Karunakaran as director, but it didn't materialize. Now, he came to me with a request that I should watch the first copy of Ullasanga Utsahanga. When I watched it the first half is found to be a lighter vein entertainer. Coming to the second half, I couldn't grasp till the climax. But, the last few minutes are gripping and fantastic. Everything went beyond my expectation with a great twist. It is a beautiful love story after Tholiprema. Karunakaran not only introduced new lead pair, but also all key technicians like music director and cameraman."
Sea of sympathy for Hero
"To be frank, when I saw the hero on the screen, he looked very raw and we would get a sort of feeling as to "we are booked." But, as the film progresses, the audience will pour our sympathy for the hero's characterization. He did a fantastic job with good emotions. I am confident that he holds excellent future in Telugu film industry. Next, Karunakaran asked me to release the film through our distribution network. I said OK. The movie is really a good watch." Dil Raju added.
Karunakaran said: "Words of Dil Raju makes me even more confident of my film. When I approached him to watch the first copy, he readily did it and also agreed to distribute the film through Sri Venkateswara Creations. I thank him for his gesture."
Ullasamga Utsahamgaa links:
• Yasho Sagar interview
• Music launch
• Photo gallery
• Wallpapers
• Trailers