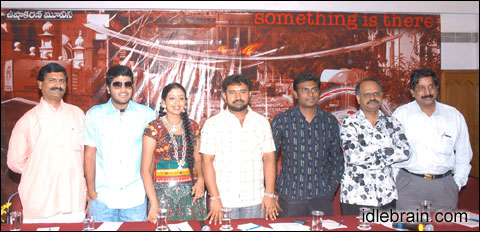 Usha Kiron Movies Production no. 80 was titled as 'Veedhi' (The Street). V Dorairaj (erstwhile known as Raja Voopati of Dham fame) is directing the film with Sharvanand and Gopika in the main leads. The unit has arranged a press meet in Ramoji film city to explain the progress. This meet was attended by Sharvanand, Gopika, director V Dorai Raj, Ajay Santhi (story department) music director Anoop Rubens, Ram Gopal (Nirvahana) and Sudhakar (Mayuri Distributors GM).
Veedhi is based on real incident
Veedhi is a story oriented film in the lines of realistic films from Usha Kiron banner like Prati Ghatana, Mouna Poratam and Aswini. The story of the film is based on a real incident that happened in Bihar. The story is about a girl and four guys. Audio of the film will be released in the second week of June and the film will hit marquee by this month end. Shooting of the film is completed today. There will be seven songs (5 full song and 2 bit songs) in this film. Though the subject did not give much scope for music, there is terrific opportunity to music director Anoop Rubens to scored good background score.
Music director Anoop Rubens said that he made his debut as key board player with Chitram film on Usha Kiron banner. He expressed his happiness over scoring music for another film by Usha Kiron. On the personal front, he got married recently.
Ram Gopal (Nirvahana) said, "We started the shooting of this film in November 2005 and completed the shoot in 4 schedules. Postproduction is being simultaneously done. We are planning to release the film in the last week of this month."
Hero Sharvanand said, "I am feeling glad to work with such a prestigious banner like Usha Kiron movies. Though I have done many roles so far, for the first time I am doing a character with comic tinge to it. I am playing the role of a wayward guy who becomes serious in the middle to chase an objective."
Heroine Gopika said that she is playing the role of Seeta Maha Lakshmi.
Director V Dorairaj said that he impressed Ramoji Rao with the story and story of the film is going to be the driving factor. The story revolves around 4 guys and a mysterious girl. The main story of the film revolves around a street. The villain angle is going to be an interesting factor as nobody in the film knows how the villain looks like.
Veedhi links:
Photo Gallery
On the sets