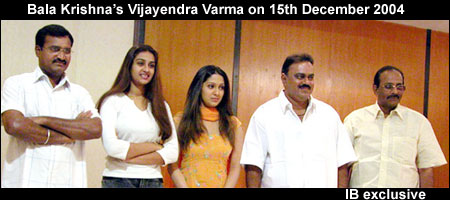 A press meet was held by Konda Krishnam Raju to announce the release date of Vijayendra Varma. Story writer Vijayendra Prasad, heroines Laya and Ankita and Swarna Subba Rao also participated in this press meet.
9:35am release on 15th December 2004
Bala Krishna's Vijayendra Varma would be releasing on 15th December 2004 at 9:35 am in all centers with highest number of prints. Audio of this film has already become a big hit. Konda Krishnam Raju said that Vijayendra Varma would exceed all the expectations Telugu film lovers have on the film. They did not include the patriotic song in the audio album, as releasing that song would skyrocket the expectations of the film. That song would be added in audio album and would be released again after the film's release.
Nobody can dare to attempt Vijayendra Varma - Vijayendra Prasad
Script writer Vijayendra Prasad said that there is powerful characterization for Bala Krishna in this film. Likewise, the heroines Laya and Ankita too have very important characters. Though this film has patriotic backdrop, there is ample family drama as well.
Laya said that she is playing the role of Bala Krishna's wife on the screen. She is playing heroine for any top heroes for the first time with Vijayendra Varma. She said that she is playing a sentimental role. She has two songs in this film - O Manmadha (melody) and Mandapeta (folk song).
Heroine Ankita said that she is doing her 3rd film with Nandamuri heroes. She worked for Lahiri Lahiri Lahirilo (Hari Krishna) and Simhadri (NTR) in the past. Director Swarna Subba Rao said that he worked hard for Vijayendra Varma for 30 months and he is happy to that the film is releasing on 15th November.
Note: Checkout the photo gallery later.