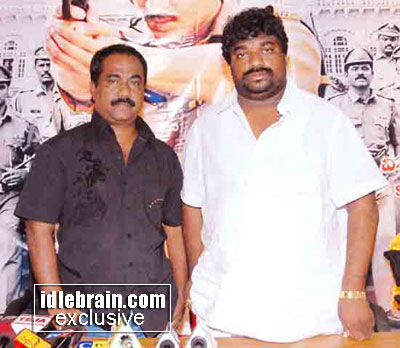 After many years of delay, Sumanth's action film with political backdrop titled "Vijay IPS" is set for release on October 31. The release is through Visakha Talkies banner. A press meet was held at Film Chamber, Hyderabad, today.
Nattikumar (producer) said: "Actually, this film was launched by producer Jayakrishna, but the release was delayed for all these years due to financial constraints. I took over the project from him during its final stages and finished the remaining part. This film will show Sumanth in the best of his energy levels as a police officer. We are releasing the film on October 31st. Though it's a delayed film, it will entertain the audience with latest subject."
K. Hanumantha Reddy (Story, Dialogues, Screenplay & Direction) said: "The film has a very strong political backdrop. It is also a complete action film, showing Sumanth as a powerful cop. The concept of this film is this: Without temple there is no Hindu. Without church, there is no Christian. Without maszid, there is no Muslim. Our hero believes that without India, there is no Indian. There is also a message about love. When the heroine is after the hero, he tells her that it is mere waste of time falling in love and demanding the government for 33% reservation after getting aged. There are no songs in this film. Stunts are by Kanal Kannan and Stun Shiva. I hope I will get a good break with this film."
Cast: Sumanth, Chandini, Jhansi, Kaikala Satyanarayana, Jayaprakash Reddy, Chandramohan, Vijay Kumar, MS Narayana, LB Sriram, GV, Vijaychander, Prasad Babu, Naveen, Ramaraju, Annapurna, Jayalalitha and others.
Crew: Editing – Gowtham Raju; Stunts – Kanal Kannan and Stun Shiva; Cinematography – A. Raja; Music – Lalith Suresh; Art – Shankar Reddy; Producer – Nattikumar; Story, Screenplay, Dialogues & Direction – K. Hanumantha Reddy.