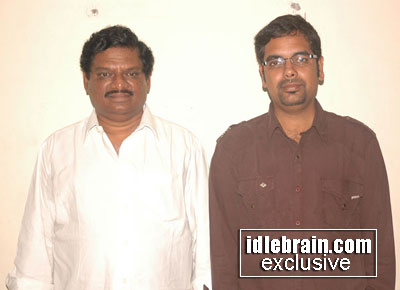 Vinayakudu, starring Happy Days girl Sonia and debutant Krishnudu, is going to have its music launch in the first week of September and its screen hit is planned early October. Made on Prem Movies banner, it is produced by Prem Kumar Patra (who made critically acclaimed film Aa Naluguru). Direction is by Saikiran Adivi, who earlier worked in the direction department along with Sekhar Kammula for the film Happy Days. The duo has today arranged a press meet at their production house at Film Nagar, Hyderabad.
Vinayakudu – making of an unforgettable film
Producer Prem Kumar Patra said: "The shoot of Vinayakudu is complete and dubbing work has commenced at Annapoorna Studios. Recording of one song with Kunal Ganjawala will be done in a few days. Editing is finished, but for simple patch works. The film's output thrills me very much because it surpassed my expectations. I can say confidently – that my director Saikiran is going to give the audience an unforgettable film through Vinayakudu. Seeing his creativity, I never interfered into his work. The budget swelled as against our previous expectation, touching double the figure. We too thought it was necessary. Editor Marthand Venkatesh, who saw the rushes, said that the film would definitely touch the youth segment."
Anticipating good business
"We are getting good offers for the satellite rights. But, we want to wait till the dubbing is over. National Award winning PG Vinda's cinematography and Shyam Prasan's music are assets to the film. Happy Days heroine Sonia performed extraordinarily. She is a natural actress. The girl is going to win a permanent place in the hearts of Andhra Pradesh youth with this film. I also did a key role in the film. When I saw the rushes, I was stunned that I too looked handsome. Yesteryears actress Tulasi (of Sankarabharanam fame), who is now in Bangalore, is making her second inning into Tollywood with Vinayakudu. Anikata's role will provide a turning point in the film. We preferred own dubbing for all the artists to retain the original feel," Prem Kumar added.
A commercial crossover film
Saikiran Adivi said: "Though Vinayakudu began as a small budget film, it received much media hype thanks to our combination. I think it is due to our track record … the producer earlier made hit film Aa Naluguru; and myself associated with Sekhar Kammula for Happy Days. Now, the film is considered one of the most anticipated films. It is a crossover film. You can say it is a commercial crossover film. A fresh feel with a romantic comedy with all matured characters. The film's budget got doubled because of our commitment to execute the film without any compromise."
Sekhar Kammula's influence a privilege
Replying to a question, he said: "As I am from the school of Sekhar Kammula, you will definitely see his influence on me. But, going by the script of Vinayakudu, I have tried my level best to stop the influence catching me to a great extent. However, I feel it a privilege to be influenced by Sekhar Kammula's direction and reflecting it in my films." To another question: "So far, we have not introduced our hero Krishnudu. He will be introduced to the media and the guests at the audio release function."
Vinayakudu links:
Announcement
Photo gallery
Prem Patra Interview
Wallpapers