Siri Venkateswara Films
Production No.1
Cast: Vishnu, Genelia, Srihari (special role), Chandramohan, Brahmanandam, Sunil, Ravi Kale, Jayaprakash Reddy, Brahmaji, Master Bharat (Venky fame), Narsing Yadav, Shafi, Srinivas Reddy, Giridhar, Ramachandra, Prema, Delhi Rajeswari & Santoshini
Crew:
Story - dialogues: Kona Venkat
Story development: Gopi Mohan
Cinematography: Prasad Murella
Rachana Sahakaram: Gopi Mohan
Music: Chakri
Editing: Marthand K Venkatesh
Art: Narayana Reddy
Screenplay - Direction: Seenu Vytla
Producer: Mallidi Satyanarayana Reddy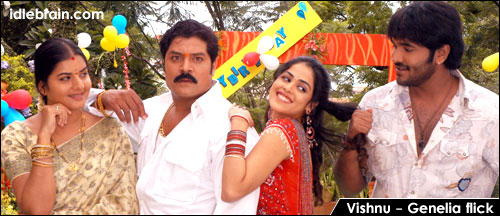 Shooting of Seenu Vytla's latest film with Vishnu and Genelia in the main leads is currently going on in an old bungalow on Road No. 3 Banjara Hills. The birthday song of heroine is going on in the dance direction of Santhi. Srihari is playing a vital role in this film. Mallidi Satyanarayana Reddy (Bunny fame) is producing this film.
Milestone in Vishnu's career - Srihari
Srihari said, "I am playing the Godfather kind of character called Shankar Goud. I am playing big brother to the heroine Genelia. The director Seenu Vytla is executing the film beyond my expectations. This film is being made with solid script by incorporating good technical values. This film would be a milestone in the career of Vishnu."
Hero uses brain rather than brawn - Seenu Vytla
Director Seenu Vytla said, "This film is a love story with action backdrop. The characterization of Vishnu is going to be lively. The gist of his character is in this dialogue - 'Preminchatakini manasu kavali. Premanu Sadhinchukovadaniki thelivi kavali'. Hero would be using brain rather than brawn in winning over others in this film."
Dec last week release - Producer
Producer Satyanarayana Reddy said, "The second schedule of this film is nearing completion. Third schedule would start on 3rd of September and it would continue till the shooting is over. There are seven terrific action sequences in this film. We are aiming the release of this film for the last week of December 2005."
I aped Seenu Vytla - Vishnu
Hero Vishnu said, "It is a pleasure to work with such a good producer like M Satyanarayana Reddy. Director Seenu Vytla is a close buddy of me. He is a brilliant actor and he can give lots of expressions. I am aping his expressions and body language for my character in this film. The total credit of this film should go to Seenu Vytla. Srihari is like our family member. My father Mohan Babu and Srihari have done innumerable films together."