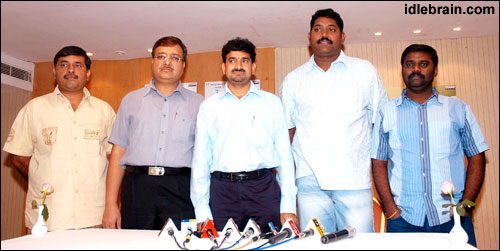 Venkat Kuchipudi's Modati Cinema is shaping up for the release. Here are the excerpts of the press meet held today -
Audio on 30th Sep and film on 28th Oct - Producer
Producer Kunduru Ramana Reddy said, "There are six full songs and six bit songs in this film. Aditya music grabbed audio rights outright by paying handsome amount. Audio of this film would be released on 30th September. Modati Cinema would be releasing on 28th of October."
Audio maker Umesh Gupta (Aditya Music) said that he liked all the songs - penned by Sirivennela and composed by Swaraj. Popular singers like Shankar Mahadevan, Sonu Nigam, Shreya Ghoshal etc rendered the songs.
Middle-class girl chasing her dream - Director Venkat Kuchipudi
Debutant director Venkat Kuchipudi said, "We recently shot two songs in Skill. It was a risky proposition to work in Sikkim. We shot the film in a few edge-of-the-cliff locations. We explored the China border as well. Weather changes over there for every 15 minutes. And cinematographer Sameer Reddy did an excellent work. When we saw the output here, we feel that it is worth every risk we have taken. We are going to shoot a song in Hyderabad in the choreography of Raju Sundaram. This song comes during the titles and the lyrics penned by Sirivennela represent the entire story of the film. Modati Cinema is a feel-good film about a middle-class girl realizing her dream. There are very good comedy episodes interwoven with the story of the film."
Took 4 months to record the songs - Music director Swaraj
Debutant music director Swaraj said, "We started recording of the songs on 5th May and delivered the DAT on 10th September. After listening to the songs, everybody agreed that the songs of this quality need 4 months of recording. Worked with eminent instrument players for this album. Sonu Nigam felt that he is doing a well-orchestrated Telugu song after a long gap. Shankar Mahadevan made me meet Karan Johar in Mumbai during the recording of the song and everybody gave encouraging words about this music."
Modati Cinema links:
Press Meet 1
Photo Gallery