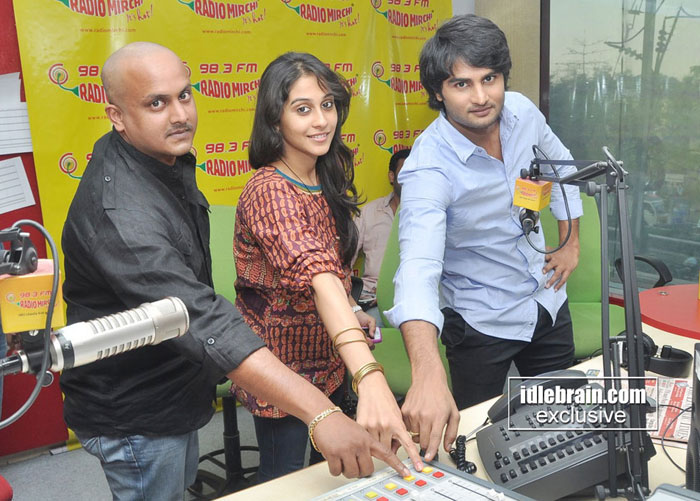 'SMS' music premiers for the first time at Radio Mirchi 98.3

~ Hero-Sudheer, Heroine-Rezina and Director Tatineni Satya were present at the during the
audio launch at Mirchi studio ~
SMS – the most awaited movie of the year premiered its music for the first time on Radio Mirchi 98.3 FM in the presence of the seasoned director Satya, actors Sudheer and Rezina.

With the peppy music composition of the famous music directors Selva Ganesh, SMS is all set to entertain the Telugu music lovers. Sharing his views on the music Tatineni Satya said, "SMS has some lively songs that are sure to win the hearts of Telugu music lovers. Its a film for the youth. It's a love story and the music perfectly complements the movie. It is a sweet revenge story. Radio Mirchi has provided this music premier with an unique platform. It's very interesting and engaging."

"SMS is a short-form for 'Siva Manasulo Sruthi'. It is a love story. The love in this story is generated out of a fight. There is no villain in this movie. This is the first ever time that the music of my film is launched on-air, it's amazing to receive such encouraging words from the audience instantaneously! Thanks to Radio Mirchi for facilitating this." Said Sudheer on the occasion.
Radio Mirchi RJ also spread the excitement to the listeners by running an on-air contest. Radio Mirchi offered ten lucky listeners a chance to interact with the stars of 'SMS'. One of the eager listeners commented, "I'm love Sudheer and have been waiting to watch his upcoming movie SMS. It's so exciting to be able to talk to him, Rezina and Satya. I am planning to watch his movie first day first show. Thank you Radio Mirchi, for this once in a life time opportunity."