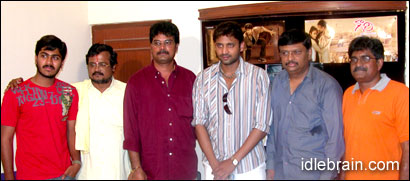 Sravanthi Ravi Kishore organized a press meet to share the success of his latest film 'Gowri' with Sumanth as hero. Here are the excerpts …..
Gowri collected 1.6 crores share in 1st week - Sravanthi Ravi Kishore
Sravanthi Ravi Kishore said that Gowri film has become a good success by releasing on 3rd September. He informed that Gowri collected a big share of 1.6 crores in 1st week by releasing with 68 prints, which made 1st week share per print as 2.35 lakhs. Gowri is expected collect a share of more than 10 crores in long run. Sravanthi Ravi Kishore did not get offers from distributors that match his expectation before the release of the film. Hence he had to release the film on his own for all territories. He took a risk for an amount of more than 5 crores by not selling it. Sravanthi Ravi Kishore feels that video piracy is one thing that should be eradicated right away.
Unexpected fantastic openings - Sumanth
Sumanth thanked Telugu film lovers for blessing Gowri with fantastic openings. He opined that Gowri is a treat to fans as there are many moments that would regale fans. At present, Gowri is very steady with collections and the film would become a big hit if this trend continues. Sumanth said that females like the good action sequences in Gowri a lot. Sumanth concluded that Gowri is a mass film that caters to all classes of audiences.
Lots of claps for Gowri - Ramana BV
Budding director Ramana BV whom success was eluding for the past 4 years is finally ecstatic about his film generating positive talk all over. He thanked everybody for generating unanimous good talk in all quarters. He said that he observed the most powerful dialogues ever written in Telugu screen in Gowri after Prati Ghatana. He also opined that good music played positive role. Ramana BV declared that 'Gowri' is one film that received most number of claps in the past 3 years.
No scope for music in a mass film - Koti
Music director Koti opined that there is less scope for music in mass films like Gowri. Even then the music of the film has become a big hit. He opined that Sumanth is the main highlight of this film.