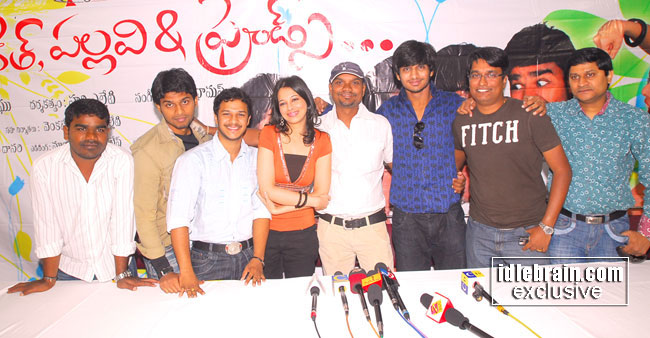 Unit members of the film Ankith Pallavi & Friends today expressed their excitement at the "stupendous audience response" the film in all the released centers. A "Thanks Meet" was organized at Hampi Restaurant, Hyderabad. Director Hari Yelleti, producer Kishore Ganji, hero Nikhil, heroine Megha Burman, supporting actors Venu and Pradeep, cinematographer Dasari Malini were present.
Hari Yelleti said: "Response in the theatres is mind-blowing. The surging crowds, claps and rib-splitting laughter is all about the feedback to APF. I am thrilled at the audience who cheered my dialogues in the film. Director Krishh (Gamyam) called me at 1.00 A.M. (today) and said that I did a wonderful film. He said that the film had moved him like anything. He furthered complimented the sensibilities shown in the film. Krishh even conducted an appreciation meet through TV Channels without my knowledge. This is the first time that a director complementing the other director with passionate zeal. I thank him for his magnanimous gesture. What is a movie actually? It should be entertaining and APF brought full justice to the expectations. It is a tribute to friendship. I am going to do more and more films to provide genuine and healthy entertainment to Telugu people."
Nikhil said: "A number of girls called me to say that they enjoyed the film very much. Wherever we went we found great crowds at the theatres in all the areas. I thank the audiences who accepted me as a hero in the film industry. APF is not a big film with big star cast and crew. It is a simple small film with great response from the audience."
Kishore Ganji said: "I am happy that the audience started calling Nikhil as Ankith when we reached the theatres to thank them. That is the registration of the film. I extend my sincere thanks to the audience for their big support."
Megha Burman said: "I am thrilled at the response to my debut film in Telugu film industry. This is a cute film on friendship with a very decent story. I look forward to long innings here."