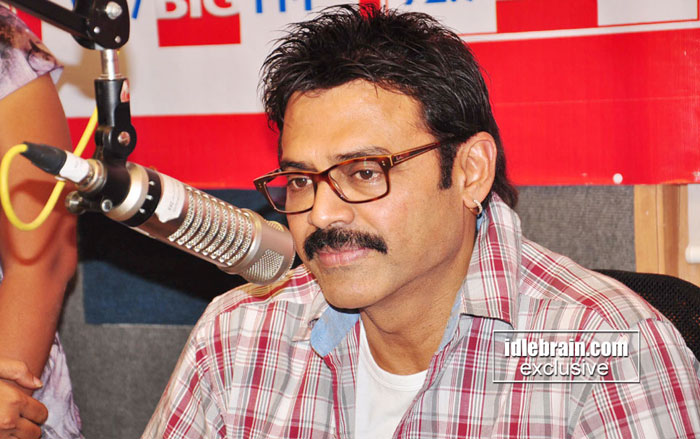 92.7 BIG FM and actor Venkatesh promotes eco-friendly Rangoli, appoints 'Nature Ki Bodyguards'

Hyderabad, 10 th January, 2012: 92.7 BIG FM , Hyderabad's favourite radio station and exclusive radio partners of actor Venkatesh's forthcoming flick 'Bodyguard' today launched a one-of-its-kind initiative on the occasion of Sankranthi aptly titled as 'Nature Ki Bodyguards', this is in synch with the title of the movie- Bodyguard. Renowned actor Venkatesh marked the launch by inaugurating and judging the eco-friendly Rangoli curved out by BIG FM's selected women listeners. The Tollywood heartthrob then selected 4 best contestants as 'Nature Ki Bodyguards' - Ms.Padmavati, Ms. Srilatha, Ms. Mahalakshmi & Ms. Swathi. The selected women bodyguards appointed by Venkatesh will move across the city in different localities to create awareness on eco-friendly Rangoli this Sankranthi.
Continuing its entertaining and wholesome programming, BIG FM initiated an on-air contest wherein women listeners were asked questions related to environment, they were asked by BIG RJ's as to why they should be called as 'Nature ki bodyguards', based on different parameters and screening finally selected women listeners were short-listed to curve out Rangoli today. Singers and celebrities were taken on-air to inspire people to celebrate festival joyfully but also care for the nature.
Speaking on the occasion, Company spokesperson, 92.7 BIG FM , said "We are thankful to Mr.Venkatesh in supporting this initiative. BIG FM strives to positively impact the lives of its listeners by entertaining them holistically. 'Nature ki Bodyguards' is a unique concept to promote the movie Bodyguard and to build awareness on eco-friendliness. The concept is a perfect fitment to the vibe and festive mood, BIG FM listeners are sure to experience compounded celebrations this Sankranthi"