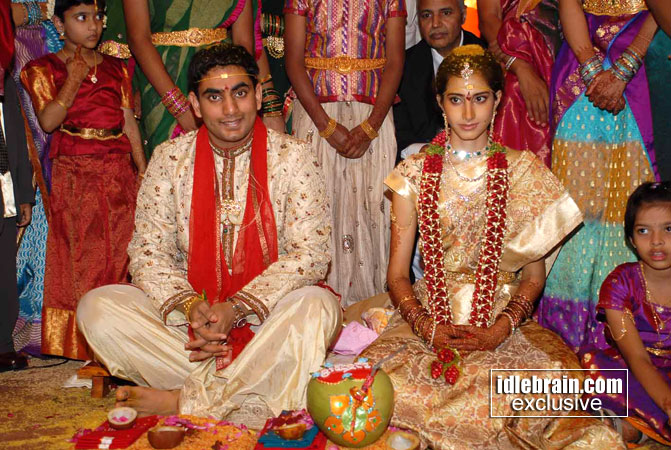 The wedding of Brahmini (d/o Bala Krishna Nandamuri) and Lokesh (s/o Nara Chandrababu Naidu) was held at Hitex today morning in a grand style. The wedding is termed as the wedding of the century. Both the bride and groom are grandchildren of the legendary actor and politician NT Rama Rao.
The marriage took place on the muhurat which is said to be rarest and precious moment.
Only few film and political celebrities were invited for this event. ANR, Rajnikant, Nagarjuna, Mohan Babu and Venkatesh attended from the film fraternity. YSR could not make it because he had to oversee the relief activities of bomb blasts happened yesterday. Suresh Reddy (speaker) attended the event on behalf of the chief minister. Chiranjeevi could not make it as he is out of country.
Idlebrain.com on behalf of its visitors wishes this couple a great future
Other wedding functions:
• Ravali weds Neeli Krishna
• Vidya Rekha weds Sudeep
• Deepthi (d/o KVR) weds Saharsh
• Chandana (d/o Sagar) weds Raghavender Reddy
• Taher Ali weds Uzma
• Surya weds Jyothika
• Lakshmi Prasanna (d/o Mohan Babu)
• Satya Prabhas wedding (s/o Raviraja pInisetty)
• Padma wedding (d/o Bhogavally Prasad)
• Laya wedding
• Padmini Priya Darshini (d/o Krishna) wedding
• Sushmita (d/o Chiranjeevi) wedding
• Ramesh (s/o RB Chowdary) wedding
• AS Ravi Kumar Chowdary wedding
• Dasaradh wedding
• Allu Venkatesh wedding
• Playback singer Usha
• Sumanth weds Keerti Reddy
• VN Aditya wedding