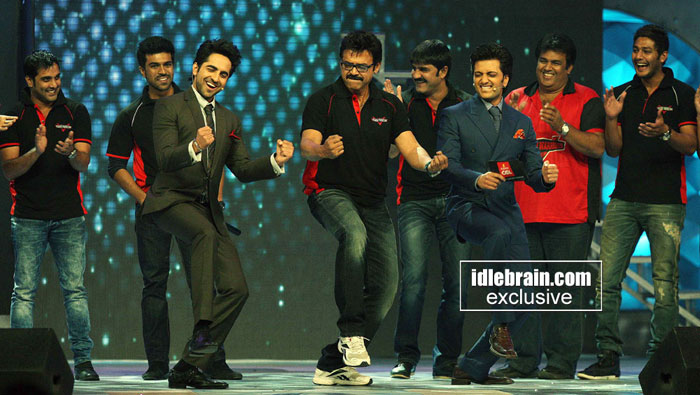 The curtains went up on the third season of Celebrity Cricket League with a star studded curtain raiser event which saw performances by Salman Khan, Katrina Kaif , Bipasha Basu and hosted by the super witty and humourous Ritesh Deshmukh and Ayushman Khurana. The event was attended by the stalwarts of eight different film industries . With the celeb quotient being high the cricketers were not too far behind as cricketer Sanath Jaysurya along with Chitrangdha Singh tested his knowledge on Indian cinema and Bipasha Basu made Andrew Symonds dance to her tunes.
The event also saw the captains of all the eight teams i.e Venkatesh, Mohanlal, Vishal ,Suniel Shetty, Ritesh Deshmukh, Manoj Tiwari, Jeet and Sudeep. The third season has added two new teams and the season begins on 9th Feb with the first match being held in Kochi.Salman Khan who seemed super enthusiastic about the upcoming season said, "CCL is family to me and I am proud that the property has grown beyond our expectations".
Venkatesh, Mohanlal, Vishal,Suniel Shetty, Ritesh Deshmukh, Manoj Tiwari, Jeet and Sudeep, the captains of the eight participating teams came together on stage and regional movies of India could not have been more representedThe founder and M.D of CCL Mr.Vishnu Induri said, "CCL3 is going to be more entertaining with more focus on the right mix of glamour and serious cricket."The other celebs present at the event were Sohail Khan,Kangana Ranaut, Boney Kapoor and Sreedevi, Shruti Hasan,Genelia d souza, Rana and Ram Charan Tej who was also announced as the icon player for Telugu warriors. The matches will be broadcasted on star network.