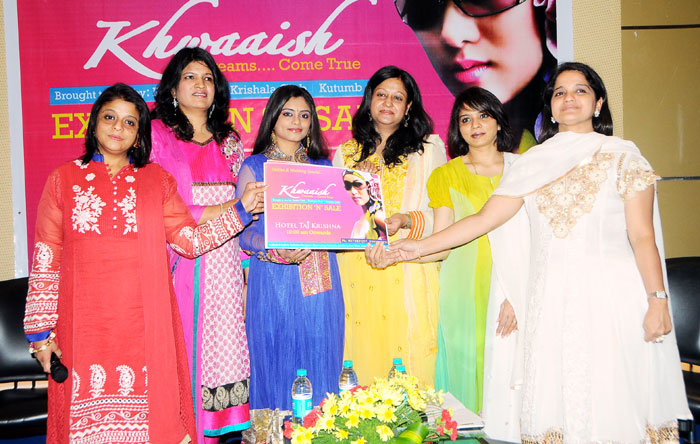 Khwaaish Exhibition N Sale is all set to featurefrom 4th to 5th Januaary, 2013 at Hotel Taj Krishna.Khwwaish -a symbolic name for dreams is all geared up to host a first designer weekend of 2013 for Hyderabad on 4th & 5th January at Hotel Taj Krishna. Khwaaish is renowned for its exqisite designs and will bring back forth the fahsion fervour in the city yet again. The people in Hyderabd will witness the much awaited expo, where gamut of diverse

collection by exclusive designers across the country will be displayed arraying from traditional to contemporary, Indian to Western, Jeweellery to home décor, shoes to bags and a variety of other products. The entire ensemble would be elegant yet simple with a hint of extraordinary class. Each design is exquisite in uits own and the little intricacies are well woven with its delicate pattern and stupendous creativity. The designs are inique, and with the blend of different hues it creates an aura of mystical beauty which every woman desires to be.

The Curtain Raiser of the Event saw Modles showcasing the diversified collection of Jewellery and disigner dresses from prolific designer's, which will be featured in Exhibition. Organizers with their social clubs like Kashti, Krshala, Kutumb will be undetaking many socia activities like educating children etc. Khwaaish is here to create a first of its kind social awareness activity through this designer exhibition.

The inaugural event will be graced by ace Badminton player, Jwala Gutta, and the inaguration wll take place in Hotel Taj Krishna on 4th January at 11 AM. It's a place where dreams come true, a Utopian land of ace designers.

The Women behing Khwaaish are – Archana Dalmia, Namita Kanodia, Ritu Dalmia, Savita Bansal & Vanita Kanodia.