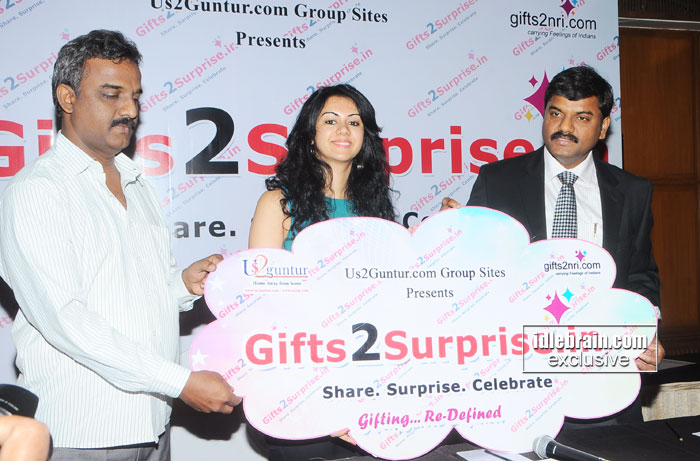 Hyderabad, December, 2012: Kireeti Soft Technologies Ltd. a well known software company has launched a new Gift Portal by the name and style as www.Gifts2surprise.in aiming at Indian customers to send gifts with in India. Gifts2surprise.in has been launched by Actress Ms. Kamna Jethmalani, during the inauguration function held at Kohinoor2, Taj Deccan, Hyderabad to day.

`A Gift which creates surprise, will make anyone remember for long long time. It is not just sending gift, but, it is the gestures and feelings that matters. When gifts are delivered to the right person on the right time like Birthday / Wedding anniversary, it makes them feel really exited and becomes a memory' said Actres Kamna.` gifting is also her hobby and love to surprise friends on their occasions. Due to hectic schedules, it is becoming tough to be there at occasions and I am sure gifts2suprise.in will bridge the gap and help all of us to enjoy every occasion of our friends' she commented on this occasion.

Mr. Sridhar Narra, CEO of Gifts2surprise.in shared that the main aim is to provide the comfort zone and present new style of gifting to Indian customers. Gifting process has been re-defined and it will give a new experience for senders and recipients, with quality services. In the Present scenario, not only people who are staying abroad are missing the occasions of their Dear one's but also who are staying within India due to busy schedules. Customers can place the order on just a single Click. Gifts2surprise.in made the process very fast and saves the time of Customers. Gifts will be delivered at their door steps. Customers can surprise their dear one's by sending gifts within same location, he added.

`Ordering process has been made very simple and faster. It has been offered with various payment options like Net Banking, debit card, credit card etc. and Order through Phone options has also been provided.`On the occasion of 11 successful years of Us2guntur.com group sites . a Bumper Draw is also conducted and customers can win excited prizes Bike, 32 inches LCD, and Gold Coins. Customers avail these coupons for every multiple of 500 worth gifts. And Keeping in view New year season, gifts2surprise.in is offering assuring gifts based on order value. These gifts includes USB Drive, Passport Holder' he added.