31st July 2003
Compromise on Mohan Babu issue
The news that created a sensation was the alleged complaint of Silpa Sivanand that Mohan Babu assaulted her. Mohan Babu made a counter allegation that Silpa Sivanand was blackmailing him. Whatever might be the truth, it looks like both the parties came to a compromise to continue the remaining shooting of the film 'Vishnu'. A mutually agreeable gentleman would escort Silpa Sivanand and her mother from Hyderabad airport and he would make sure that Silpa is safe through out her stay in Hyderabad. Incidentally that mutually agreeable gentleman is going to be an ex Rajya Sabha member as per the sources of idlebrain.com. It's good to know that all ended well!! --- in place of this use -- Thats why it is said, all's well that ends well.
Simhadri 50 days function at Dubai & Kuwait
It is learnt that producer of Simhadri is planning to conduct a 50 days function of Simhadri in Dubai and Kuwait very soon. Producer MS Raju is also planning to conduct the 175 days function of Okkadu in abroad. UK that is.
Yerram Naidu in film production?
Yerram Naidu - TDP Party leader in Parliament - is going to enter Telugu film production soon. He would be producing a film with another TDP parliamentarian member Ghanta Srinivas. They recently rented a plush office in Film Nagar. It is rumored that Raja Sekhar may star in their maiden venture.
30th July 2003
Producer's clean chit to Arti Agarwal
Looks like heroine Arti Agarwal has taken good precautions to make her producers feel proud about casting her. She has recently shifted to an apartment from Suresh Guesthouse. While speaking to idlebrain.com, one of the current producers of films starring Arti Agarwal said that she saves lots of money to producer on two counts. One is that she has her own accommodation. For the heroines of Mumbai and Delhi, the producer has to put them up in 5 star hotels. The second factor is conveyance. The producer need not burn hole in his pocket by flying two persons (heroine and her attendant) in the 1st class section from places afar.
Liquids pub lures filmy celebrities
Most of the guys in Hyderabad come across a situation where their NRI friends who just land up in Hyderabad with plush money ask them to show the most happening places (especially pubs) in town. Here is one pub that is luring the best of the filmy celebrities. This pub is called 'Liquids' which is situated near Care Hospital (which was formally called as Hotel Bhaskara Palace). Is there a hidden cause for keeping a pub beside a hospital. Hmm. Are you getting any ideas?
Nehas confusion in Tollywood
There are three Neha's who made their debut in this year as heroines in Telugu films. One Neha made her debut through the film Dil. Another Neha (Dhupia) did an item song as the danseuse at bachelor party in 'Ninne Istapaddanu'. Another Neha (Mehta) debuted through the recently released Dham.
28th July 2003
Uday Kiran sings for N4
Uday Kiran has sung a song titled 'Life is beautiful' in Holi film under the baton of RP Patnaik. Now he sang again for RP Patnaik for Suresh Productions latest offing 'Neeku Nenu Naaku Nuvvu' (N4) directed by Raja Sekhar. This song is titled as 'Goal Goal Goal' which comes as a backdrop to a playful song with little kids in the film. RP Patnaik provided music for this film.
Chaitanya Krishna scenes deleted
It may be learnt that Chaitanya Krishna - another heir from Nandamuri vamsam - debuted through Dham film which was released on 25th of July. After seeing a negative reaction in theaters for the scenes comprising of Chaitanya Krishna, the exhibitors are taking out the scenes in second half that had Chitanya Krishna uttering few dialogues.
Shriya's DVD player hadavidi
Shriya returned from Germany on 23rd July after shooting for Sravanthi Ravi Kishore's film with Tarun as hero. When her luggage was scanned by the customs division, they found a brand new DVD player. They asked her about the cost of it and being an innocuous girl who does not know how to deal these issues she replied as Rs. 40,000/-. Music director Koti tried to intervene into this matter to help Shirya out but the custom officers did not succumb dancing to Koti's tunes unlike Shriya. In fact, they immediately charged Rs. 6,000 as fine and made her pay for it.
Inspiration behind paper balls scene
The film Nijam made more news for the paper balls scene than anything else. It is also learnt that there is a similar paper balls episode in a Tamil film that was release around 7-8 years back. That film is 'Vanna Vanna Pukal' starring Prasanth and Mounika and directed by Balu Mahendra. Talk about originality in our films and you would find an inspiring answer on getting "inspired". Beauty should be appreciated. But should art be duplicated?
16th July 2003
Rapid Rumors on Venky
Film Nagar has witnessed an influx of rapid rumor that hero Venkatesh suffered a cardiac arrest. The press members and Suresh Productions staff received continuous phone calls about the same. In an interview given to Andhrajyoti today morning, Venkatesh laughed off at the question related to that rumor and clarified that he is safe and thoroughly enjoying the success of his latest blockbuster 'Vasantham'.
Nitin's own costumes for a song
Nitin's costumes in the film Sambaram - directed by Dasarath - consists of mostly checked cotton shirts. Most of the songs in Sambaram are melodies and situation based songs. However there is one hero's introduction song in this film. Nitin is said to have used his personal costumes for that song for a rich look. This film Sambaram is all set for a release on 1st of August 2003. Nikita is paired up with Nitin in this film.
Amala inspires Nagarjuna
In a recent article written by Chiranjeevi, he spoke about working smart and he attributed the change of his thinking process for a suggestion given by Nagarjuna. The sources close to Nagarjuna revealed that Amala has influenced Nagarjuna in a positive way about positive thinking and working smart.
14th July 2003
Simhadri writer had a last laugh
Long back, we carried a scoop saying that the story of the film Simhadri belongs to a budding writer called GS Rao and it was plagiarized by the writer Vijayendra Prasad. GS Rao - who registered his story with AP Film Writers Associations long back - has fought for his cause. Idlebrain.com had been the only news media that brought some awareness in the film industry about it. Finally GS Rao has got his due and credit back when the producer of Simhadri paid him Rs 2 lakhs before the release of the film. GS Rao was also given credit in title cards of Simhadri. His name appears just after the censor certificate is displayed. Idlebrain.com wishes GS Rao a bright future ahead.
Supergood turns lucky for 3rd time
Supergood distribution agency in Nizam has been accused of hyping the rate of Nizam rights for various films to make sure that they get most of the films for Nizam distribution. However, after several setbacks in the last year, Supergood banner had turned lucky this year with three of the big blockbusters being distributed by them. These films are 'Okkadu', 'Amma Nanna O Tamil Ammai' and 'Vasantham'.
TV tear-jerkers give heart aches to women?
In a recently held survey by an independent agency, it is revealed that watching the Telugu TV serials is increasing the chances of heart attacks for women in AP. As most of the serials revolve around crying scenes and tension building episodes, the women who watch these serials think about these serials more than their own family problems. Now a days, a few psychiatrists are advising women to avoid watching TV serials. Anybody listening?
3rd July 2003
Too many Magaadu's in industry
It is revealed that the title 'Athanu Magaadu' for Nagarjuna's film in the direction of VN Aditya was dropped and they are now on the hunt for another attractive title. It is learnt that too many similar names popping up for other film has forced VN Aditya to drop the title. Taaraka Rathnaa's latest film is titled as 'Magaadu'. YVS Chowdary has also announced a titled called 'Okka Magaadu'.
Heroine's father troubles the producers
There is a hotshot heroine in Telugu film industry who has Gujarathi origins. The talk of the industry is that the producers are really getting irked by the greed of that heroine's father. He is charging Rs 1200/- per day as food allowance for himself to the producers as long as the heroine is acting in those particular films. He stated the reason for charging that much amount as lack of Gujarathi food in the meals provided by the shooting unit. How can anybody expect Gujarathi food to be served on the sets of Telugu films in Hyderabad? No wonder they say there are many ways to make money. Isn't it?
27th June 2003
Uday Kiran as Alludu?
Prior to the engagement of Uday Kiran with Chiranjeevi's daughter, his youth co-heroes used to tease Uday as 'Alludu'. Now it is rumored that Uday Kiran's next film to go on floors is expected to be titled as 'Alludu'. Ramya who acted in Kannada hit film 'Abhi' is going to be paired up with Uday in that film. Ravi - the manager of Uday Kiran - would be making his debut as director with this film. Visalakshmi banner would produce this film.
Two more TV channels to flood Telugu market
When we attended a pressmeet of Ninne Istapaddanu recently, we noticed 9 TV (E TV, Gemini TV, MAA TV, Vissa, In Cable, C Channel, Siti Cable, SS Music, Sneha) channels covering it. In addition to these channels, two more channels are expected to be launched by this year's end. One among those channels is expected to be 'S TV' from the media man Girish Sanghi of Vaartha newspaper. Another channel is expected to be the Telugu version of Zee TV. Zee TV has got Alpha series channels in all languages. But in Telugu they are expected to launch with a different name.
Print seized as surety
Recent a film starring a popular Telugu singer was released in a theater in Hyderabad. The collections of that film are so pathetic that after one week's run, the theater manager decided to sieze the print of the film and keep it as surety for the Rs 50,000/- loss he incurred. And it is rumored that the music director did not bother to take that print, as it does not have any demand for the second week.
17th June 2003
Story changed for Pawan Kalyan's film
The basic storyline of 'Tiger Seetaramudu' is changed to a new one with the inclusion of Bhupati Raja in the story section. The title of the film is not going to be 'Tiger Seetaramudu' anymore. The heroine is changed from Shirya to Sada. The music director is changed from Mani Sharma to RP Patnaik. The unit has recently traveled to Kula Manali for story sittings and selection of locales. But they have returned back as it was raining heavily in Kulu Manali. The unit would be going to shoot in Kulumanali from 20th July 2003 onwards.
Teja to introduce a new Music Director Anup
Hotshot director Teja is going to introduce a new music director Anup with his new film 'Dhairyam'. Anup worked as a keyboard player with RP Patnaik right from the film 'Chitram'. RP Patnaik has been recommending Anup to various producers for a while. Finally Anup got a break through Teja.
1 crore remuneration for Jagapati Babu
It is reliably learnt that Jagapati Babu is charging a remuneration of 1 crore for the Aditya Ram's latest film which is going to be remade from Malayalam hit 'Chronic Bachelor'. The producer Aditya Ram delivered a hit in the form of 'Sandade Sandadi' in the combination of Jagapati Babu, which is also a remake of Kannada film 'Kothigallo Sir Kathigallu'. Incidentally, VB Rajendra Prasad (father of Jagapati Babu) is also a partner in this film.
14th June 2003
Shivamani film based on an English novel?
Poori Jagan has a different style of preparing storylines for his films. The character of Ravi Teja in Idiot film is inspired by his friend's antics. The character of Prakash Raj in ANOTA is also based on a person's life story Puri knew when he was a kid. Likewise, the basic storyline of 'Shivamani 98480 22338' is based on a theme from an English novel Puri has come across four years back. Nagarjuna is playing cop on help line. Just dial 98480 22338, and Shivamani would be there to save you.
Mahesh Babu's humble gesture
Mahesh Babu shown his simplicity and broadmindedness when he gave a couple of interviews to local film magazines. In Superhit magazine when he was asked to comment on the debacle of Johnny film, he said that he is not qualified to comment on Pawan Kalyan's failure in one film, as Mahesh himself had 2-3 flops. In Santosham magazine, Mahesh mentioned that number one position is not prevalent in industry anymore and certified that Chiranjeevi is the last number one hero.
Peddamma Gudi pledges
Peddamma Gudi is the most revered temple for the filmy people in Hyderabad. On 8th June 2003, this temple witnessed pledging by two producers. A distributor of Guntur and Krishna area (who also produced blockbusters) has taken distribution rights of a film released last year. The distributor now claims that the rights of that film were taken on recoverable basis and asks the producer to pay back the losses. And the producer contradicts it by saying that film was sold on non-recoverable basis. Since the agreement was done on oral basis, there is no proof now. Hence both these people have taken pledge in Peddamma Gudi on 8th of this month. However the both parties settled the matter later.
10th June 2003
Ilayaraja experiments with Sambhu
The director Suresh Varma recorded entire songs of Sambhu film with a music director and shot the songs. After the entire episode is over, the director felt that music is not good. He approached maestro Ilayaraja and showed him the film and requested him to compose music for this film. Impressed by Suresh Varma's work, the maestro has agreed to do the music. Now for the first time in the history, Ilayaraja has composed new tunes by looking at the visuals of songs of a film. It's a pretty difficult task as the mood and lip-sync of the artists has to be taken care of while weaving tunes. Aryan acts as hero in this film. Incidentally maestro and his son Yavan Shankar Raja are composing music for a film each of Aryan (Sambhu and Aadanthe Ado Type).
Why Kousalya is missing in Chakri's album?
Most of songs in Chakri's album are being sung by the female singer Kousalya. Interestingly Chakri's latest album 'Donga Ramudu and Party' did not have any song sung by Kousalya. Out of six songs, 5 are sung by Sujatha and one by Sunitha. As per the insider information, it is learnt that the director Vamsy instructed music director Chakri to restrict Kousalya to a couple of songs in the album. But, Chakri is supposed to have made Kousalya sing all the songs. Irked by this, Vamsy has asked Chakri to redo all the tracks with Sujatha and Sunita. If you observe, initial trailers on TV, you could listen to Kousalya's voice singing those songs. Incidentally, the songs of 'Donga Ramudu and Party' hit off well and they have topped the charts for the past two weeks in in idlebrain.com top 10.
Failed audio available for Rs 20/-
The audiocassettes of failed movies are being offloaded officially in all music stores for just Rs. 20/-, which is almost half of the MRP printed on the cassettes. This decision is taken for crazy films that have bombed recently for which audio companies manufactured lakhs of units.
Why CDs are not releasing simultaneously
When we asked the music makers why the CD's of the film are simultaneously releasing along with audiocassettes, we are told that the profit margin for audiocassette is almost 3 times to that of a CD. The average market price of a recorded audiocassette and CD is Rs 38/- and Rs. 55/- respectively. Whoever has the facility of a CD player, they go for a CD as the price difference is not too much. Hence the audio makers keep a gap of at least a week between the release of audiocassette and music CDs.
9th June 2003
Is Palanati Brahmanaidu a remake?
It is found that Palanati Brahma Naidu that was released on 5th of this month is having the same storyline of a Kannada's flop film 'Raja Narasimha'. Incidentally Medikonda Murali Krishna also produced this kannada film 'Raja Narasimha' with the story given by Posani Krishna Murali in the direction of Muthyala Subbayya with Vishnu Vardhan, Raasi and Ramya Krishna in the main leads. Posani Krishna Murali is said to have added Palnadu color to this story and narrated it to Balayya. At that time, the Kannada version was under production.
Johnny exhibitors to meet on 11th June
The exhibitors of Johnny in Nizam have announced a meeting at Savera Hotel, Hyderabad on 11th of this month to discuss certain things about Johnny. It is reliably learnt that it has something to do with the 15% refund the producer has offered to the distributor of this film in Nizam.
Balayya dates for Bellamkonda?
It is reliably learnt that Bala Krishna has offered dates to Bellamkonda Suresh, the producer of Chennakesava Reddy. Bellamkonda Suresh is having solo remake rights of the most happening Tamil film Saami. Bala Krishna is said to have got impressed by the storyline. If Balayya starts this project, this film is going to be official remake of Balayya film after a gap of 14 years.
4th June 2003
Duel role for NTR in Simhadri
As per the latest buzz in film nagar, mass star and the latest box office sensation NTR is going to play a duel role in Raja Mouli directed film 'Simhadri'. NTR appears in Simhadri role as the young lad. But there is said to be a small flashback episode where NTR appears in elderly role ala Rajnikanth in Peddarayudu. Audio of this film was received very well. This film is expected to release on 19th of June 2003.
Clean Venky
Venkatesh is not only known as a clean man on the screen bue he is a pretty good man off screen too. Venkatesh makes sure that there is very good transparency when it comes to financial transactions. He accepts his remuneration in the form of cheque only. He adapted this transparency from his legendry father Rama Naidu, who is also well known for transparency in financial transactions.
2.7 lakhs calls for Gemini live
The audio release through live programs on Gemini TV has become the latest fad among the producers. The latest audio that was released through Gemini live was that of 'Aadanthe Ado type'. In this program, the organizers invited the viewers to call on a certain number so that they can release a song from the film. As per the unconfirmed sources, 2.7 lakhs of callers said to have tried to get in an opportunity to release the song. Only 7 out of these callers got a chance to release a song each.
3rd June 2003
Would Rajni accept Teja's story?
Teja flew to Bangalore on 24th of May (a day after the release of 'Nijam') to meet Rajnikant and narrate the story of 'Raithu'. Teja wants to make Raithu as a bilingual film (as Raithu in Telugu and as Vyavasaayi in Tamil) with Rajni as hero. Rajnikant is said to have expressed his satisfaction about the story and asked Teja to give some time for him to decide if he could do 'Raithu' or not. Rajni also said that his daughters are the fans of Mahesh Babu and they liked the latest film of Mahesh-Teja 'Nijam'.
Lawrence step for 'New'
Lawrence did a variety step in the song of 'Harerama Harekrishna' (click here for the step) in the 100 days function of Okkadu. When idlebrain.com complimented him about this step, he added that he is planning to make Mahesh Babu dance this step for a tune of AR Rehman in Mahesh's forth coming film 'New'.
Will Krishna join TDP?
Superstar Krishna was in all praises for the Chief Minister of AP Chandra Babu Naidu in the 100 days function of Okkadu. After the function ended, Vijayawada press asked Krishna if he was planning to join TDP. Krishna categorically denied saying that he is a fan of Rajiv Gandhi who prompted him to join politics and now he has no interest in politics.
NTR car used in Brahmanidu
The vintage car of legend NTR (click here for the history of this car) is used in the film of Palanati Brahmanidu starring his son Bala Krishna. Click here to see the photograph of NTR's car in this film.
Palanati Brahmanaidu 100 days function in Guntur
Looks like the producer Medikonda Murali Krishna is pretty sure about the success of his forthcoming film 'Palanati Brahmanaidu'. As per the inside sources, the producer is planning to arrange the 100 days function of this film in Guntur as the capital of Palanadu region is Guntur.
30th May 2003
Teja to present Benz to Mahesh
Teja is said to have given the entire remuneration of Mahesh Babu for 'Nijam' film after watching the preview show at RFC a day before the release of the film. Mahesh is said to have called up Teja to appreciate him by saying that he is the only producer who paid the promised amount in single lot. Teja - who felt that Mahesh Babu's histrionics have reached the maturity level that could only be expected from the likes of Amitab and Sharukh - announced that he would be presenting a brand new model of Benz car worth 90 lakhs to Mahesh Babu on the 100th day of Nijam's run.
Brahma Naidu releasing in small centers
Palanati Brahma Naidu - Balayya's latest flick in the combination of mass director B Gopal - is getting ready for the release on 5th of June. There is so much of craze on this film that buyers from small centers are coming forward by paying exorbitant prices. A small village called Tangutur (near Ongole) in Prakasam district is going to have its first direct release in the form of Palanati Brahmanaidu. The buyers out there are said to have paid 2.5 lakhs for theatrical rights. Another center Gurajala (Palnadu area) is also confirmed as a release center for a much higher amount.
DC ad helps Katrina Kaif
If you speed through the corridors of Hyderabad, you are bound to encounter Deccan Chronicle's Vinyl Hoarding that sports a princely looking female model. One such advertisement apposite Times of India office at Banjara Hills is said to have prompted the makers of 'Malliswari' select Katrina Kaif (the model on those ads) as heroine for this film. Incidentally, Katrina Kaif is unceremoniously dropped from a couple of Hindi films produced by the likes of Mahesh Bhat for some unknown reasons. But the 'Malliswari' director K Vijaya Bhaskar is confident that he can make her act like the pure Telugu princely girl Malliswari with his characterization.
15th May 2003
Vijaya Shanti's Nizam politics
Earlier there used to be a saying that politics is the ultimate destination of the rogues. In Telugu field, it might be changed as the 'ultimate destination of cinema stars'. Vijaya Shanti opened the Pandora box the other day by speaking about the separate Telangana state during the opening shot of her latest film on the floors. It is reliably learnt that she is trying to play Telangana card and join the TRS (Telangana Rashtra Samithi) party and get closer to the people. She has a new found mantra now. She says that her native place is a village near Warangal town. The buzz in film nagar says that she is aiming for Deputy Chief Minister post when a separate state is formed for Telangana and when TRS wins the elections. That's quite a long-term plan. But what the common man can't understand is why should she stay in Chennai if she wants to serve the Telugu people. She attained stardom through Telugu film industry with the help of Telugu people. Isn't it?
Nijam ads for Siatara mag
Director Teja has two lists of people. The people who helped him and the people who damaged him! And he is always in look out for an opportunity to help the people who helped him in the past. Ramoji Rao comes as the first person in Teja's list of people who helped him. Now its payback time! When no other film producer is willing/daring to put an advertisement on Sitara film magazine run by Ramoji Rao (because he produced Teja's debut film 'Chitram'), Teja has taken a bold step by booking the back cover page for Nijam film for 15 weeks starting from today.
Rambha's face + Asha's body
The designers of 'Srirama Chandrulu' used some creativity while designing the invitation card of that film's muhurat. This film's story is based on three happily married husbands (Rajendra Prasad, Bramhanamdam & Sivaji) going in search for film star Rambha as they admire her a lot. In the pictures gathered by the designers, they could not find a sexy (sexy = revealing most of the body) photograph of Rambha, hence they took the head of Rambha and joined it to the body of Asha Saini. Watch out this space for that image!!
14th May 2003
Chiranjeevi is back
Chiranjeevi is going to come back to India without undergoing any surgery, as the doctors advised him that taking medicine would help him recover from the back pain he is undergoing through. Chiranjeevi is currently in UK now. The original plan is to travel to USA from UK to undergo surgery. But for now, Chiranjeevi would be returning to India from UK very soon. He would resume his shoot for 'Tagore' film as soon as he reverts to India.
Bala Krishna in Rajahmundry
Balayya is currently shooting for 'Palanati Brahma Naidu' in Rajahmundry. The director B Gopal felt that there should be more punch in the boat chase episode shot in Godavari River. Bala Krishna - who is making sure that everything is perfect for this film - is giving his fullest cooperation for the re-shoot of boat chase episode in Rajahmundry now. Audio of this film would be released in this week only (most probably 16th May). This film is tentatively slated for the release on 5th of June, as per the inside sources.
Ramya Krishna with NTR
The unit of 'Simhadri' preferred the dancing damsel Simran for an 'item' song. Since Simran is getting ready to quit the industry by getting married she preferred not to accept any more new assignments. Hence, the producer has approached Ramya Krishna to that item song.
7th May 2003
Irony in colas sponsorship
In our gossip, we mentioned that cola war is getting ready in the form of Pepsi and Thumpsup through the films Johnny and Nijam respectively. Like pepsi logo is printed on all Johnny posters, thumpsup logo is also going to be sported on all Nijam's poster. However the irony is that not all theaters playing Johnny have Pepsi in their stalls, as they have long-term deal with Thumpsup for selling soft drinks. Likewise, not all 'Nijam' playing theaters would be selling Thumpsup in their stalls. What an irony!
5th May 2003
Venky cares for Chiru
The readers of idlebrain.com might be aware that Chiranjeevi is currently suffering with back pain. In spite of the nagging health problem, Chiru came to 100 days function of 'Pellam Voorelithe'. Chiranjeevi found an understanding companion in the form of Venkatesh. Venky patted the back of Chiranjeevi and gave words of courage by saying that everything would be all right and wished him a good luck. It's really nice to see such a healthy atmosphere and caring attitude between two top stars of Telugu cinema.
3rd May 2003
Why producer GV committed suicide
As per our Chennai sources, it is revealed that the high amount of debts resulted in Tamil producer GV (brother of Mani Rathnam) to go for suicide. He used a rope and hanged himself to a fan (vuri vesukovadam). The entire Tamil film industry observed sadness today during the performance of last rites of producer GV.
2nd May 2003
Titles for Balayya's film?
The publicity designers of Balayya- B Gopal film in making are asked to do title logo design for the titled 'Brahma Naidu' and 'Bhavani Shankar'. As per the grapevine, the producer prefers 'Brahma Naidu' as the title at present. However, the official announcement of the same is expected in a couple of days. Balayya plays the characters of Brahma Naidu and Bhavani Shankar in this film. In the recently shot Palnadu scene in Chennakesava temple at Macherla, Balayya appeared in Brahma Naidu getup. The character of Bhavani Shankar is a soft one. We have to wait and see if the character of Brahma Naidu and Bhavani Shankar are same or they are different.

Heavy budget for Chiru's Tagore
As per the news from the producer's circle in Chennai, Tagore - starring Chiranjeevi, Shriya & Jyotika - is going to have a budget that is 2-3 times higher than what is spent for Tamil original film Ramana. For example, in the climax lead scene where hero gets arrested - the students make an agitation by coming in loads of buses. The producer used 10 buses and showed the scene repeatedly for glorifying effect in Tamil version. But in Telugu - where richness means blasting 10 sumos and chasing 100 vehicles - director VV Vinayak is thinking of using around 100 buses for the same scene. The producer, however, is not bothered about the budget as it stars Chiranjeevi in the main lead and he would have a greater profit margin when he sells this film.
Compromise on Teja-MM issue
The bigwigs of Telugu film industry had a lengthy meeting at Film Nagar today to sort out the issue of Teja and Murali Mohan and to set up a truce between them. The results of the same would be known tomorrow.
30th April 2003
15% refund for Johnny buyers
It is reliably learnt that Pawan Kalyan had refunded the 4-crore remuneration he has taken for Johnny film to Allu Arvind - the producer of Johnny. The producer is calling the distributors and reimbursing 15% of their investment. It is also learnt that Pawan Kalyan has left to UK (United Kingdom). It is a noble gesture from Pawan Kalyan who followed the imperial gesture that of Rajnikant after Baba's failure. Pawan Kalyan felt that he is responsible for the fate of the film, as he has taken the entire responsibility of making 'Johnny' in his hands by not allowing any others in making of this film.

Newspapers to play a role in Nijam
A bundle of newspapers like Eenadu and Vaartha are going to play a major role for a naughty effect in the film Nijam. To know how these Telugu newspapers added some romantic touch to the film Nijam, one has to wait for the release of the Nijam.
Puri's forbidden desire
Every person has a forbidden desire in one's life. If one has to go by his/her heart, most of the people would not be doing what they are doing at present. Likewise. Puri Jagannath gave an answer in an interview to MAA TV that he would have become a hotel server if he were not a film director.
29th April 2003
Chinni Krishna's story for Pawan Kalyan
As per the sources close to Chinni Krishna, it is revealed that Pawan Kalyan recently summoned hotshot storywriter Chinni Krishna to narrate a story to him. Chinni Krishna is said to have prepared a tailor-made script called 'Genius' for Pawan Kalyan. We have to wait and see if this project materializes.

Balayya film on 28th May?
The buzz from the distributors of Nandamuri films is that the Balayya's film in the direction of B Gopal is expected to release on 28th of May on the eve of the birthday of doyen NTR. The release of Seetayya - which was slated for the release on 28th of May - is postponed due to some unknown reasons. NTR's Simhadri is expected to release on 19th of June 2003.
26th April 2003
Murali Mohan dropped from Nijam
Actor Murali Mohan had a bitter experience recently when Teja unceremoniously dropped him from the film Nijam. As per the unconfirmed sources, Murali Mohan has done a role of powerful police officer in Nijam film. Murali Mohan worked for 4 days. After seeing the rushes, Teja felt that the force is missing in the action of Murali Mohan. It is also rumored that Teja had decided to replace Murali Mohan with Prakah Raj and retake those 4 days of work. Murali Mohan is planning to bring this incident to the notice of Movie Artists Association (He is also the president of MAA).

Sivaji boycotted by scribes
Actor Sivaji is said to have commented that there is no point in entertaining the film magazines and the film industry itself can float a couple of magazines and feed them rather than depending on the journalists. These comments were made to support Pawan Kalyan regarding the '18 April Crisis'. Sivaji participated in the pressmeet of Raja Sekhar's in the pressmeet of 'Ayudham' that was held recently. When Sivaji turn came to speak in the pressmeet, all the journalists got up and left the pressmeet to show their displeasure about Sivaji's comments.
Over enthusiasm by TV channels
The TV channels are leaving no stone unturned to cover the post events of '18 April Crisis'. The other day, the TV channels reached the court premises near Assembly when they heard a rumor that Pawan Kalyan came there. The TV channels came running to the Deccan office again today evening, when they head a freak rumor that there is another Dharna at DC office.
21st April 2003
Audio sales - hype crosses the limit
Glamour and glitz are very much associated with hype. Hence the newsmakers -either directly or indirectly -try to hype their products with unbelievable figures. Lets talk about the audio of much awaited film in the recently times. The information 'leaked' to the press is that 6 lakhs of audio units were released for the audio of that crazy product. But a big guy from that audio company told idlebrain.com sources that the initial bunch of that audio has only 4.5 lakhs of units. Not to be outdone, the newsmaker of other rival film said that 10 lakhs of audio units are released for the audio launch. But the key person from audio company - under the condition of anonymity - told idlebrain.com sources that the first bunch does not exceed 3-4 lakhs. Even hyping has a limit. If one crosses that hyping limits, the common man would stop believing things.

Dr. Rama Naidu gets upset
Dr. Rama Naidu organized the audio function of his film Vijayam recently at Rama Naidu studios. He invited Vijaya Shanti as chief guest for this function. In an address to the audience, Dr. Rama Naidu expressed his displeasure about the absence of key members like Gajala, Sunil and Hari naumolu (cameraman). He said that he does not need to organize functions for publicity sake. He is conducting functions for the team members to meet and enjoy the success. He also reiterated that he releases all his films through Suresh distributors and he does not need to hype any of his films by conducting audio functions. Dr Rama Naidu seems to have got hurt a lot!
Teja's film with Rajnikanth?
As per the rumors from Chennai, it is said that hotshot director Teja is planning to do his much talked about 'Raithu' with Rajnikanth in Tamil and Telugu. In Tamil, this film would be called as 'Vyavasaayi'. It may be recalled that the legend MGR delivered a blockbuster called 'Vyavasaayi' in black and white era. However, director Teja is not available for his ' no comments' on this gossip.
17th April 2003
Cola war for Nijam & Johnny
The cola war in this summer is extended from the hoardings and TV commercials to the media of cinema. As per the unconfirmed sources, Pepsi is sponsoring Pawan Kalyan's movie 'Johnny'. You can find the Pepsi logo in most of the Johnny related ad publicity. It is rumored that Thums Up - not to be left behind - has approached Teja and signed a multi-crore deal to promote Thums Up through the publicity of Nijam. And Teja grabbed the offer with both hands.

Permanent Interests
There is a popular proverb related to business that goes like - 'There are no permanent friends or permanent enemies in business. There are only permanent interests'. JD Chakravarthy and Arjun Reddy share the same sentiment. Arjun Reddy produced 'Navvutu Bratakaaliraa' with Chakri as hero. That film became a disaster. Later on Chakri and Arjun Reddy had differences to such an extent that Arjun Reddy filed a case against Chakri in the court. Now they became friends again and started a movie called 'Kaasi'.
Ali's comedy in Idiot
The comedy bit of Ali in Idiot film was received very well by everybody including the police on whom it makes a dig at. It is recently revealed that the same comedy bit was used by the director Poori Jagannath 10 years back for a TV serial on DD. It went unnoticed at that time.
15th April 2003
When the silence slide made sense
When we watched 'Ottesi Cheputunna' in Satyam theater, Ameerpet on 11th April 2003 - the slide of Pawan Kalyan's Johnny was shown before the movie was started. The entire theater went into ruptures with whistles and shouts for a couple of seconds. Immediately, the 'silence please' slide was put up and the crowd clamed down. After seeing this, we heard somebody commenting in theater that 'silence please' slide in a cinema hall seems have made some sense finally! Such is the craze for Pawan Kalyan's flick!!

Shakeela's surprise in Nijam
The course of direction for Shakeela's acting career took a U turn with Teja's Jayam. Now she is also acting in another role in Mahesh Babu - Teja's Nijam. As per the insider sources, Shakeela is going to spring a surprise to audiences through her character in this film.
Sorry fate of Dhanush's producer
The making of Naveen's latest film 'Dhanush' cost the producers 1.5 crores. There are no buyers for this film. The producer has spend another 15 lakhs on their own and made a few prints of Dhanush and released it on 11th of this month. This movie was, however, was not released in lots of areas due to some unknown reasons.
10th April 2003
Nagarjuna injury details
Nagarjuna was slightly injured on his leg during the shooting of his first film 'Vikram'. Since then it was slightly troubling him. But during the Tollywood trophy match on 2nd February 2003, it got aggravated when hordes of crowds fell on him. Doctors has adviced him that he can continue acting in films without any surgery. But Nagarjuna wanted to make sure that he is 100% physically fit for the action-oriented character of Shivamani for Puri Jagannath directed film. Hence, he took off from the shoot last month and went to USA to undergo the knee surgery. Currently Nagarjuna is recuperating from the surgery. He is expected to participate in the shooting of Shivamani by this month end. Lets wish Nagarjuna a happy recovery!!

Fancy package for KVB-Trivikram combo
K Vijaya Bhaskar and Trivikram are branded as the most successful director - writer combination in the recent times. And they are at their best when they work together. Do you want to how much they are being paid for the Venky's next venture 'Malliswari? Hold your breath! As per the latest film nagar buzz, K Vijaya Bhaskar and Trivikram are being paid 1.5 crores and 1.3 crores respectively. A director and writer getting such a huge remuneration is very rare. And the best part of these two guys is that they are down to earth and don't talk much about themselves. They hate publicity for themselves.
3 different labs for 3 summer releases
Signing up with a lab for getting the final prints ready is a major deal for any lab owner. The summer hot releases Johnny, Balayya - B Gopal film (Palnadu) and Nijam are going to use Rama Naidu Labs, Prasad Labs and Rainbow Labs (Ramoji Film City) respectively. The expected prints for all the three films are expected to be around 200.
9th April 2003
Johnny Trailer's details
Here are the details of the first trailer of Pawan Kalyan's Johnny that is going to be aired on the local TV channels soon. The trailer starts with 'twinkle twinkle little star' music. A red basketball starts rolling towards right. And Renu Desai (wearing a green dress) is shown from the back. Then Pawan Kalyan is shown sitting on a perch. Then the whole music changes to the action oriented sticks music. A series of action (fight-oriented) scenes of Johnny are shown at rapid pace, with each scene lasting for just 2-seconds. Then comes the logo of the followed by a text of 'audio released'. This 30-second duration trailer is going to be aired soon! Pawan Kalyan himself edited and made this trailer! Do we have to say it explicitly that trailer is simply superb?

Khadir exposes 32k feet raw film for 'Mustafa' song
As per the Chennai sources, director Khadir of 'Premadesam' fame is known for expensive taking when it comes to exposing the raw film. For a 5-minute duration 'Mustafa' song in Premadesam, he exposed 32,000 feet worth raw film. With 32,000 feet raw film, one can produce a small budget film. For big heroes, the ratio between the raw film exposed and the final cut is 5:1, which means its takes around 60,000 to 70,000 feet of raw film for a final cut of 14000 feet of a big hero.
Varsha changes her name back to Madhavi Sri
Varsha, who made an impression with her role of innocent girl in Nuvve Kavali, seems to be going through bad phase now. She acted as heroine in one film, which went unnoticed. She stopped getting good roles after Vasu and Naaga. So changed her name back to Madhavi Sri (that is her original name) and trying her luck as sister of Ravi Teja in Dongodu film. We have to wait and see if it changes her fortunes.
8th April 2003
Arti Agarwal - highest paid actress
Arti Agarwal is the highest paid actress in Telugu films. As per the current buzz, she charges a cool 40 lakhs per film. And there would be miscellaneous expenses around 10 lakhs on her (in terms of hotel bills + beta for her personals etc). She is currently acting in a film each with Bala Krishna and Venkatesh. She would be acting in Chiru's film in VN Aditya's direction. Her dairy is full for the next one and half year. Interestingly she is starring in 4 continuous films by B Gopal. She acted in Indra. She is currently acting in B Gopal - Balayya film. She would be acting with Prabhas in next B Gopal's venture. She would also star as heroine in NTR - B Gopal film to be produced by Chengala Venkat Rao in this yearend.

Shankar charges 2.5 crores
As per the latest buzz from Chennai, Shankar of Gentleman fame is charging a cool 2.5 crores per movie as remuneration. The producers who made films with Shankar feel that a movie in single language would not be enough to support the budget. Hence they prefer bilingual film in Telugu and Tamil when making films in Shankar's direction. Shankar is also known for his extravagant spending in terms of budget for the richness of the film. It also rumored that he is been approached by MS Raju to direct his next movie with Mahesh Babu as hero.
Prabhas charges 50 - 60 lakhs
Prabhas worked for peanuts in his debut film Eeswar. It was also rumored that the heroine Sridevi in that film was paid more than what producer has paid to Prabhas. For the second film, Prabhas charged 30 lakhs. Now, the market price of Prabhas varies from 50 lakhs to 60 lakhs. If he gets a resounding hit, Prabhas would be having a phenomenal rise.
7th April 2003
Teja's Sudi
If there is a big hit in Telugu film industry this year, that film is going to directly help Teja amass more craze and fortune. When Okkadu became a big blockbuster, the immediate beneficiary was Teja as Mahesh Babu's next project Nijam is being directed by Teja. Dil - the next biggest hit of the year so far - is also helping Teja in a direct way. Nitin's next two projects are from Chitram movies (the home banner of Teja). Sambaram - the next release of Nitin - is directed by Dasarath and produced by Teja. Teja's Dhairyam would also sport Nitin. With the instant success of Dil, Teja's film 'Sambaram' got a lot of craze among the business circles.

Brahmaji's major role in Johnny
During the muhurat function of Anjana banner's film with Chiru as hero, Allu Arvind had lots of praises for Brahmaji. In an informal chat with the scribes, Allu Arvind said that Brahmaji is paid ¼ of what Pawan Kalyan is paid as remuneration. That shows the kind of weight Brahmaji's role in "Johnny". Brahmaji is also doing a cop's role in Teja's Nijam. Looks like good days are ahead for Brahmaji.
VN Aditya has the last laugh
In an interview given to idlebrain.com on 17th of May 2002, young director VN Aditya said that he would marry only after he completes directing a Chiranjeevi's film. Since then his problems have started. His film Sreeram did not yield expected results. He had to wait for almost one year to get the film started with Chiranjeevi as hero. When we met him at the muhurat, he was very happy with Chiranjeevi acting in his film. He said that he had got a lot of mails from friends after reading IB interview regarding his marriage. Aditya told us that he would reply all his friends that he is now eligible for marriage.
5th April 2003
Celeb singers for Nijam
Hold your breath! The following celebrities are being introduced as crooners through a couple of songs in Teja's Nijam film. These celebrities are Mahesh Babu, Teja, Raasi and Mani Chandana. Raasi is going to croon a background bit for the snake song. Teja, Mahesh Babu and Mani Chandana have added their voice to already-famous 'Rathaalu' song. Audio of this film is expected to be launched on 11th of April.

Chota K Naidu for Johnny
As per the unconfirmed reports, Chota K Naidu worked as cinematographer for the climax and patchwork of Pawan Kalyan's Johnny. Shyam Palav - the official cinematographer of Johnny - had to leave because of the prior commitments and Chota K Naidu worked for Johnny for the last month (March 2003) on the request from Geeta Arts. Having multiple cinematographers is not a new thing in film industry. For the film Takkari Donga, six guest cinematographers worked as the official cameraman Jayanan went to France for a film project.
Chicken chase for Balayya film
'Chase is the Catchphrase' for the current Balayya's film under production. As per the latest news in addition to the 'kodi pandelu' the unit has picturised a chase on chickens in Kotappakonda. The shooting of a couple of songs and lead scenes to climax is pending now. The film is expected to release in the month of May as summer special.
2nd April 2003
What happened to Nijam audio?
Teja is doing something first of its kind with Nijam audio this time. He announced the venue of Sharjah and release date of audio in February 2003 without finalizing the audio producer. After that he confirmed Sohan Music's name just 3 days before audio release. Since, it's just an official audio release, what industry people do is that they take dummy cassettes (wrapped cassette boxes without any audiocassette inside it) and release them. After a couple of days, the real audiocassettes would hit the market. It's been almost 20 days since the audio function was held and there is no audiocassette available in the market. The 'audio released' posters are out. But there is no cassette in audio shops. As per the unofficial reports, the audio may hit the market on 11th of April 2003. The gap between official audio release and real audio release is almost a month. And its possible only for Teja!

MS Raju's cell phone story
If you had seen the film Okkadu, Dharmavarapu Subramanyam had a comedy bit in it in which he reveals his cell number as 98480 32919. Actually that cell number belongs to the producer MS Raju. Somebody in the Rama Krishna Theater in Tenali during the benefit show of Okkadu mentioned that the number belongs to MS Raju. With in a week, MS Raju was forced to drop that number and take a new one because he was flooded with phone calls from fans.
Doctor's Own treatment (Sontha Vaidyam)
There is a doctor turned actor in Telugu film industry. Recently his wife complained of stomachache and the hero gave his own medicine and it reacted negatively. Finally the wife of hero had to be admitted in hospital for the treatment. She is fine now.
26th March 2003
Dil and Run with same point?
As per the gossip that is making rounds in the film nagar, the films Dil (Nitin, Neha - VV Vinayak) and Run (Madhavan, Meera Jasmin - AM Ratnam) have stories revolving around the same point. Run was released in Tamilnadu during Dasara 2002 and now it is being dubbed in to Telugu. Dil was started in December 2002 and is also releasing on the same day of Telugu Run. That is on 4th April 2003. We have to wait and see if these two films have same central point or not!!

Prabhas missed fools
Prabhas was approached by Dasari for the lead role in fools. But at that time Prabhas was having 3 commitments. Hence he told Dasari that he would do Fools film after completing those 3 assignments. An angry Dasari selected a hero who acted with a screen name of Amar and changed his name to Srinadh and relaunched him with Fools. Lucky Prabhas .. he missed it!
Chicken phobia for Gajala
Gajala is a non-veg freak. She eats it a lot. But she is very afraid of the chicken. Recently she is seen getting scared when a chicken came near her. She is also very much scared of rabbit but she doesn't mind eating it though! Strange. Is not it?
18th March 2003
Fraud on Lawrence's name
Somebody has started a dance school a month back on the name of Raghavendra Lawrence by claiming that the choreographer Lawrence would come and take special class for dances. They collected a fee that ranges between Rs. 10,000/- to Rs 25,000/- depending on the course and disappeared in a jiff. Later it is revealed that the total cost for this fraud is amounting up to 60 lakhs. It is also said that Lawrence is not aware of the whole incident. In a recent interview given to idlebrain.com, Lawrence told that there is no need for new dancers in the film industry, as the movies that are being made are not able to accommodate the existing dancers.
Row over Amrutham serial
Amrutam - a TV sitcom (Situational Comedy) that made splashes last year - is facing a row now. Jhansi and Sivaji - who starred in that serial - came out and joined hands with Jogi brothers and Naresh (senior) to start a clone called 'Alasyam Amrutham Vishaam' AAV). Now AAV is being telecasted on MAA TV as a competition to Amrutham on Gemini TV.
Teja's terror for artists
Teja is like a Hitler when he is on the shooting spot while doing direction. The artists make sure that nothing goes wrong from their side when Teja is at the helm. It is reliably learnt that Lakshmana Rao - who made splashes through his role (aithe OK) in AVI - is also acting in Teja's Nijam. It is rumored that Lakshmana Rao suffered High-BP and was admitted in hospital when he got delayed to the shooting of 'Nijam', because he was held up in shooting of some other film. Such is terror Teja created in the minds of the artists.
12th March 2003
No big audio release during world cup?
If you think Cricket world cup is scaring the movie producers only, then you are mistaken. Even the audio makers are gripping under the fear of world cup to release their big audios. As per idlebrain.com sources, none of the audios of Johnny, Nijam and NBK- Balayya films would be released before 23rd March 2003. Speaking to idlebrain.com, RP Patnaik confirmed that Nijam audio would hit the stores only on 2nd April 2003. Since, the producers prefer an ideal gap of a month's between audio release and movie release can we expect 2 of these three major releases release on 2nd May and 9th of May respectively?
Who would direct Mahesh- MS Raju's film?
As per the industry buzz two of the hotshot directors are being considered for the ambitious project of Okkadu combination - Mahesh Babu and MS Raju. These two directors are none but Shankar of Gentleman fame and Krishna Vamsi. We would come to know about the final chosen director as the count down has begun for the muhurat shot of this film - that's on 10th May 2003.
Raasi buys a flat
Raasi - who is currently staying in Prasanth Kuteer has recently bought a flat near Annapurna studios. It is not known if she bought it for own use or to rent it out. Comedy artist LB Sriram also bought a flat in the same apartment. But LB Sriram has moved into that apartment along with his family.
5th March 2003
Balayya film to be titled as 'Palnadu'?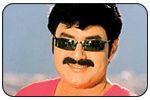 As per the unconfirmed reports, the title under consideration for Balayya's film in the direction of B Gopal is 'Palnadu'. Unlike earlier B Gopal - Bala Krishna combination films (Lorry Driver, Rowdy Inspector, Samarasimha Reddy and Narasimha Naidu) where the titles were hero centered, this film would focus on the region and might be titled as 'Palnadu'. Balayya is playing the character of 'Bhavani Prasad' in this film.
Udaya Shankar for Uday Kiran's film?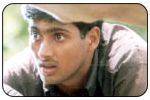 If the grapevine is to be believed, Uday Shankar (the director of 'Kalisundam Raa') is providing a helping hand (could be called as Ghost direction if he involves more than that) to the director Rajasekhar for the Suresh Productions film with Uday Kiran and Shriya in the main leads. Adbhutan, who is directing Uday Kiran on Supergood banner, has provided story for Suresh Production's film.
Devi Sri Prasad's bad luck
Devi Sri Prasad gave music for three consecutive hit films - Khadgam, Thottigang and Manmadhudu. In spite of being very much successful, Devi Sri Prasad is not having any of Telugu projects on the floor now. Seenu Vytla, who gave break to Devi Sri Prasad with Anandam preferred Koti for his 'Anandamanandamaye'. We hope that Devi Sri Prasad gets good break soon.
Is Kamal's story an inspired one?

A visitor of Idlebrain mailed us saying that the basic plot of Kamal Hassan's film 'Sathyame Sivam' was inspired by the Hollywood flick 'Planes Trains and Automobiles'. Susequently, the IBDB (idlebrain discussion board) participants also opened a thread regarding the same. The reviews of 'Planes Trains and Automobiles' suggest that the basic plot of two strangers of contrasting personalities forced to travel for days together is same in both the films. Sathame Sivam was released in Tamil on 21st January where as the film 'Planes Trains and Automobiles' was released in 1987. Kamal Hassan takes the credit of story for 'Sathyame Sivam'.
26th February 2003
Balayya film: Watch n buy
Giving test drives to the buyers is the best form providing right kind of 'assurance and expected value for money'. This kind of service was offered for the film Chennakesava Reddy earlier. All the buyers were shown some exciting scenes from the movie before they bought it. Medikonda Murali Krishna is said to be quoting the highest rates for all the areas by claming that the budget of the film is touching 17 crores. Hence, he is showing the glimpses of best scenes from the film to the buyers to enhance their confidence levels on the film. As per the producer, this film would have such a mind-blowing chases that no other Telugu film maker would dare to have any chases in their future films as this film would show the zenith of chasing in all forms (Sumos, bikes, helicopters, boats, trains etc).
Hot proposal by SVK
SV Krishna Reddy has recently proposed an exciting combination to the ace producer MS Raju. He narrated a powerful story, which is prepared by keeping Venky and Hari Krishna in the main leads. As per the rumor mills, MS Raju is said to have accepted the proposal and the subsequent casting activity is under progress for this film to be produced in the year of 2004.
Why is Chinna missing in Kadabbi climax?
The people who saw the film 'Kabaddi Kabaddi' would end up in complaining about not-so-exciting climax game of Kabaddi. As per the insiders, Chinna - who acted as a mad guy in that film - is supposed to play an important role in the victory of hero's team. But the climax of the film does not sport Chinna playing any vital role. The real story is that Chinna was terribly injured while doing practice for the Tollywood trophy that was held on 2nd February of 2003. He was bed ridden due to that injury. Hence the director of 'Kabaddi Kabaddi' film had to compromise.
20th February 2003
Allu Arjun as a drag?
Lots of people got confused when the song 'Mavayyadi Mogalturu .. Maa Nannadi Palakollu' (Listen here) was sung by the female voice in the audio of Gangotri film. Mogalturu is the birthplace of Allu Arjun's uncle (mavayya) Chiranjeevi. Palakollu is the birthplace of Allu Arjun's father (nanna) Allu Arvind. This Smita sung song has become a rage among the masses with its catchy lyrics and racy beats. As per the grapevine, Allu Arjun - who proved himself as a wonderful dancer through his cameo in Daddy film - acted in this song as a drag. This song comes during the sequence where he (in a girl getup) seduces comedian Sunil
Pawan Kalyan's editing prowess
Pawan Kalyan is said to have mastered the act of scissoring (no pun intended). He is extremely good at cutting the reel (i.e. editing). The director suryah himself admitted in an interview given to idlebrain.com that it was all Pawan's creativity when it comes to the fights in Kushi. As per the grapevine, the last fight of the film which was shot on the sticks-flashing men was an absolute let down. But however, Pawan Kalyan took it as a challenge and sat on the editing table. He cut the frames so fast that people would not really understand what's happening on the screen. The extraordinary background score also dominated the screen. One could put the video on mute mode and observe that fight to know the real secret. This is a classic example of how a good editing can make the bad fight into a good one. As per the grapevine, Pawan Kalyan is also taking keen interest in editing the entire Johnny film as well.
Kalyani occupies homely heroine niche
The homely heroine position is vacant after the exit of Aamani few years back. Soundarya filled that place and faded out. With the success of Avunu Valliddaru Ista Paddaaru film, Kalyani grabbed occupied that niche. She consolidated her position with 'Kabaddi kabaddi' film. She is currently acting in a homely role in Venky's film 'Vasantham'. SV Krishna Reddy also signed her for the film to be directed with Venu as hero.
18th February 2003
Chiru's secret meeting with Rajni
When Vishnu Vardhan was launched in a grand way on 6th of this month, Rajnikanth was supposed to grace the occasion. But due to the delay in flight, he could not make it to the function. During that night, Mohan Babu has arranged a private party for the near and dear in Holiday Inn hotel. As the guests are taking their time off by enjoying the party, Rajnikanth preferred to be invisible by idling in his room on the first floor. Chiranjeevi is said to have visited Rajnikanth and some confidential issues related politics are said to have been discussed during that occasion.
RP Patnaik to stop making music?
RP Patnaik had a long cherished dream of becoming a film director. How RP has become music director is pure coincidence. Though he loves doing music, he is much more interested in entering the movie direction. If the sources close to RP are to be believed, RP would stop making music after a couple of years and start directing main stream films on full scale.
Caste color for movie promotion
The days have gone where Naidus and Reddys are the most-preferred titles for movies. Now the caste color has taken a new hue with the films 'Fools' and 'Bheemudu'. The caste related organizations are patronizing the movies. Ranga and Radha Mitra Mandali had given an advertisement in Andhrajyothy news paper on Sunday (15th February 2003) by pleading the junta to watch 'Fools'. The 'Dalitha Sangham' requested all the Dalits through 'Vaartha' newspaper to watch 'Bheemudu'. Its reasonable for 'Bheemudu' film as this film shows how the lower castes are being exploited by higher castes. But what is the intention of Ranga and Radha Mitra Mandali in promoting Dasari's 'Fools' (fools is a family entertainer with no caste related storyline)?
10th February 2003
Dasari Yadardham opposite Chiru's film?
Dasari Narayana Rao recently commented that the Tamil director has copied 'Bebbilipuli' - Dasari's blockbuster with NTR - and made it as 'Ramana' in Tamil and our producers were willing to buy that story by spending crores. Now Dasari is planning to make a film titled Yadardham with a caption of 'The Public Court' with Vijaya Santhi in the main lead. If the grapevine is to be believed, this film Yadardham would be the modern version of 'Bebbulipuli' and it is expected to be released during the time of Chiranjeevi's film Ramana's remake release.
Balayya dances to Lux Papa tune
Bala Krishna is always branded as a hero who does not mix with crowds. But with his excellent sportsmanship in the recently held Tollywood trophy, he proved that he is the gentlest of all the gentlemen out there. He has attended the private bash thrown by MAA TV and Rhythm Media Works at Durbar Hall of Taj Krishna on the night of 9th February. When the lady DJ invited him to shake his leg for the most popular song - Lux Papa from Narasimha Naidu, Balayya did not hesitate. He came on to the dance floor and danced for 2 and half minutes amidst the awesome cheers from all his colleagues.
Who are the babus referred by Krishna Vamsi?
In an interview to Teja TV, Krishna Vamsi mentioned that Bala Krishna, Nagarjuna and Venkatesh deserved to be called as babus as they are sons of legends of Telugu cinema. Since those guys grew up in film industry, everybody used to call them babu. What irritated Krishna Vamsi is that it has become a norm for every new comer to demand others to call them as babus. It is reliably learnt that the babu satire in Khadgam was aimed at three youth heroes. One of the heroes is a child artist turned hero. Another one is a grandson of legendry actor and the third one the guy with no film background and also the heartthrob of girls.
7th February 2003
Princely gesture
A youth hero who has shown his power to the world of Telugu cinema recently with a blockbuster has not taken any remuneration during the making of that film. Incidentally that film was the costliest Telugu film made so far. During the making of the film, this prince of Telugu Cinema seems to have told that producer that he is not interested in taking remuneration, as the film's budget was huge. He said that after the film's release, if that film becomes a hit then the producer could give 5 - 10 lakhs. Such was the noble and kind heart of the youth hero, who is incidentally the son of a super star who has loyal fan following from Telugu people around the globe. The same prince did not take any remuneration for the film that was released during the pongal of last year too.
Sex bomb sends a shock wave
A sex bomb who was successful in Malayalam field has recently entered Telugu film industry with comedy oriented roles. She is giving jitters to the audiences with her bloated body. She is also giving jitters to the unit members with her make-up room antics. The production boys are in the state of shock whenever they enter her make-up room. She appears with cigarette in one hand and a wineglass in another.
30th January 2003
Manmadhudu sets a new trend in lipstick usage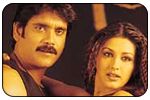 The dialogue writer Trivikram might have just experimented when he made the hero try his lipstick on his eyes. But that experiment seems to have become a reality recently when using lipstick on eyes has become the fad in party circles in Hyderbad. Lots of beauties are seen partying after encircling their eyes with lipsticks of various colors. Even the famous danseuses Sarala kumari advises that it's cool to encircle the eyes with lipstick. Nagarjuna is definitely a man who is keenly followed by the babes from party circles.
Neeta Lulla designs Mahesh wardrobe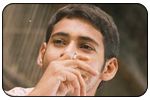 Famous Mumbai dress and fashion designer Neeta Lulla has taken the onus of designing hero Mahesh Babu's wardrobe. Neeta Lulla designed wardrobe for over 300 Bollywood films so far that include Lamhe, HDDCS, Taal, Yaadein, Devdas etc. Hence we can expect a brand new and lovely Mahesh Babu in his forthcoming film (to be tentatively titled as 'New' or 'Naani') to be producer by his sister Manjula Swaroop in the direction of SJ Suryah.