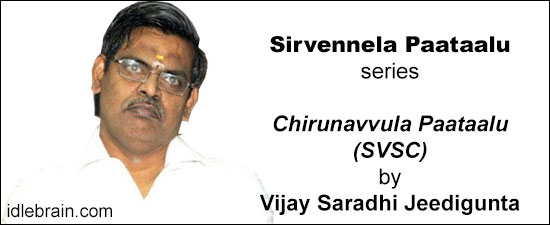 Sirivennela is the living legend of Telugu cinema. He stands as a living testament of uncompromised standards of Telugu lyrics of Telugu cinema. Idlebrain.com is starting a series called 'Sirivennela Paataalu (Sirivennela lessons)' written by Vijay Saradhi Jeedigunta.
This is my third article of the Sirivennela Paataalu series. I immensely enjoyed writing this and even more while listening to the songs of this genre from Guruvu Garu over the years. The phenomenal success of Seethamma Vaakitlo Sirimalle Chettu and the message it is spreading among the theatre thronging crowds through Prakash Raj's Character that you can overcome many trivial matters with a simple smile is so beautifully put in simple words by Sastry Garu in the song 'Maree Antagaa' made me chose this group of songs for this article. I thought there is no better time to analyze these 'CHIRUNAVVULA PAATAALU' than now. So let us go through some of the best songs that Sastry Garu wrote on 'The Power of Smile'
I somehow have a gut feeling that the lead scene to this song in the movie wherein Prakash Raj's Character asks Anjali to look at the mirror when she gets upset and starts crying telling her to see how horrible she looks while crying was conceived after the Song was penned by Guruvu Garu . It surely appears that way, as the line ' Musthabey Chedaraalaa ninu chooadalatey Addam Jadiselaa…. (ముస్తాబే చెదరాలా..నిను చూడాలంటే అద్దం జడిసేలా...)'
What a beautiful expression, instead of we seeing ourselves in the mirror the mirror is trying to see us…. If Srikanth Addala conceived the scene first and then Guruvu Garu wrote that line to reflect it then too it is a testimony to the Genius of him. I know for a fact there were many brilliant scenes and montages that were created after Guruvu Garu provided the lyrics of the songs in many blockbuster films. Irrespective of which was conceived first, this song has become very popular among the audience and there is a reason for that. The song exudes positive energy in simple words letting us know the value of a simple smile which can do wonders for our lives. Following is the complete lyrics of the song in both English and Telugu scripts.
English :
marI antagA.. mahA cintagA.. moham muDucukOkalA....
panEm tOcaka parEshAn gA gaDabiDa paDaku alA..
matOyentagA.. SRtE pencaka vicArAla vila vilA...
sarE cAlika.. alA jAligA tikamaka paDite elA..
kannIrai kuravAlaa.. mana cuTTU unDE lOkam taDisElaa...
mustAbE cedarAlA..ninu cUDAlanTE addam jaDisElA...
ekkiLLE peTTi EDustunTE kashTam pOtundA.. kadA.. marenduku gOla..
ayyayyO pApam anTE Edo lAbham vastundA vRdhA prayAsa paDAla..
marI antagA.. mahA cintagA.. moham muDucukOkalA....
sarE cAlika... alA jAligA tikamaka paDite elA..
enDalanu danDistAmaa.. vAnalanu nindistAmA.. calineTO tarimEstAmA.. chI pommanI...
kassumani kalahistAmA.. ussurani vilapisAmA..rOjulato rAjI paDamA.. sarlemmanI...
sATi manushulatO mAtram sAganani enduku pantam...
pUTakoka pEcI paDutU Em sAdhistAmanTE Em cebutAm..
ekkiLLE peTTi EDustunTE kashTam pOtundA.. kadA.. marenduku gOla..
ayyayyO pApam anTE Edo lAbham vastundA vRdhA prayAsa paDAla.
camaTalEm cindincAlA.. SramapaDEm panDincAlA.. pedavipai cigurincElA.. cirunavvulu..
kanDalanu karigincAlA.. konDalanu kadilincAlA.. cachchi cheDi sAdhincAlA sukha sAntulu...
manushulanipincE Rjuvu.. mamatalanu pencE Rtuvu..
manasulanu tericE hitavu.. vandELLayinA vADani cirunavvu..
ekkiLLE peTTi EDustunTE kashTam pOtundA.. kadA.. marenduku gOla..
ayyayyO pApam anTE Edo lAbham vastundA vRdhA prayAsa paDAla.
Telugu :
మరీ అంతగా.. మహా చింతగా.. మొహం ముడుచుకోకలా....
పనేం తోచక పరేషాన్ గా గడబిడ పడకు అలా..
మతోయెంతగా.. శృతే పెంచక విచారాల విల విలా...
సరే చాలిక.. అలా జాలిగా తికమక పడితె ఎలా..
కన్నీరై కురవాలా.. మన చుట్టూ ఉండే లోకం తడిసేలా...
ముస్తాబే చెదరాలా..నిను చూడాలంటే అద్దం జడిసేలా...
ఎక్కిళ్ళే పెట్టి ఏడుస్తుంటే కష్టం పోతుందా.. కదా.. మరెందుకు గోల..
అయ్యయ్యో పాపం అంటే ఏదొ లాభం వస్తుందా వృధా ప్రయాస పడాల..
మరీ అంతగా.. మహా చింతగా.. మొహం ముడుచుకోకలా....
సరే చాలిక... అలా జాలిగా తికమక పడితె ఎలా..
ఎండలను దండిస్తామా.. వానలను నిందిస్తామా.. చలినెటో తరిమేస్తామా.. చీ పొమ్మనీ...
కస్సుమని కలహిస్తామా.. ఉస్సురని విలపిస్తామా..రోజులతొ రాజీ పడమా.. సర్లెమ్మనీ...
సాటి మనుషులతో మాత్రం సాగనని ఎందుకు పంతం...
పూటకొక పేచీ పడుతూ ఏం సాధిస్తామంటే ఏం చెబుతాం..
ఎక్కిళ్ళే పెట్టి ఏడుస్తుంటే కష్టం పోతుందా.. కదా.. మరెందుకు గోల..
అయ్యయ్యో పాపం అంటే ఏదొ లాభం వస్తుందా వృధా ప్రయాస పడాల.
చమటలేం చిందించాలా.. శ్రమపడేం పండించాలా.. పెదవిపై చిగురించేలా.. చిరునవ్వులు..
కండలను కరిగించాలా.. కొండలను కదిలించాలా.. చచ్చి చెడి సాధించాలా సుఖ సాంతులు...
మనుషులనిపించే ఋజువు.. మమతలను పెంచే ఋతువు..
మనసులను తెరిచే హితవు.. వందేళ్ళయినా వాడని చిరునవ్వు..
ఎక్కిళ్ళే పెట్టి ఏడుస్తుంటే కష్టం పోతుందా.. కదా.. మరెందుకు గోల..
అయ్యయ్యో పాపం అంటే ఏదొ లాభం వస్తుందా వృధా ప్రయాస పడాల.
YOUTUBE LINK : http://www.youtube.com/watch?v=upZa_3rlG8M
As most of Guruvu Gari Songs. the lyrics of this song too is applicable universally in the sense that even without the visuals on the screen and the tune of the song, it conveys a message as a beautiful poem … The pallavi of the song establishes what exactly is the content of the song, tells us that let us not get upset for trivial things and shed tears unnecessarily which in turn make our faces look horrible for others to see including the mirror.
The first charanam is written as an analogy on how much do we adjust with the days that are not in our control yet fail to adjust with the things that are very well in our control. We just cannot drive away the three seasonal changes like hot weather, rainy weather and winter weather by fighting against them but can only adjust ourselves to them on a regular basis. Even then we keep cribbing about the nature of fellow human beings in every segment of the day (పూట) without really benefitting anything from it.
The second charanam describes the Power of smile which is so easy to acquire. You need not sweat out or do hard labor in order to bring a smile upon your lips. You don't need to use muscles or move mountains or need to kill or become evil in order to attain happiness and peace. A simple smile that can last for hundreds of years without getting faded in fact proves that you are born as a human being (the point to be noted here is Human beings are the only species that are born with the ability to smile or laugh, no other living creature has that characteristic). A Simple Smile can also improve the human relationships and is like a good sermon that opens up our hearts. If in the first charanam Guruvu garu stuck to the theme of not being able to complain about nature in our daily routines, he says that we can easily overcome the stresses of those trivial things by a simple smile.
If you are a fan or admirer or been following Sirivennela Seetarama Sastry Gari lyrics over the years you can easily recollect many other gems through which he voiced his philosophy of 'The Power of Smile'. The following are some of the best that I can think of. There are many others too which are not listed in here and you are welcome to point them. All these songs are written with simple Telugu words and are self-explanatory. So am not venturing into providing the meaning of the whole song but am mentioning the best lines of them along with my understanding of the philosophy behind it . As always am also providing the entire Telugu lyrics of the songs in my hand writing as attachments to this article.
1. maTTilOni ceTTuvELLa lAga unnachOTane unTAm (మట్టిలోని చెట్టువేళ్ళ లాగ ఉన్నచోటనె ఉంటాం..)
for the Film Dhoni (2012).
The reason that I have put this song as part of this CHIRUNAVVULA PAATAALU (చిరునవ్వుల పాఠాలు) genre though it explains about the common man mentality, is it kind of resonates the philosophy of 'Don't Sweat Over trivial things'. I personally like the lines 'eppaTikappuDu vErE kotta kathalu ceppamandAm bhEtAluDi mOtaitE bratuku prayANam (ఎప్పటికప్పుడు వేరే కొత్త కథలు చెప్పమందాం భేతాళుడి మోతైతే బ్రతుకు ప్రయాణం)' . Those familiar with Chandamama magazine famous 'bhEtALa kathalu (భేతాళ కథలు)' can easily understand the meaning behind it. As Raja Vikramaarka carries the body of bhetAla he keeps breaking the silence too answer the questions of bhetaala and goes back to get the dead body again and again without losing his patience. So Sastry gaaru used bhEtAluDi mOta (భేతాళుడి మోత) as the burden of our lives and which will never go away but in order to keep us occupied let us keep looking for new avenues like Vikramarka does by asking bhEtAla to narrate a new story every time. Also notice the way Guruvu Garu used the words fakku (ఫక్కు) and vekki (వెక్కి) in the following lines :
fakku manakanTU dukhamaDDu paDitE ( ఫక్కు మనకంటూ దుఃఖమడ్డు పడితే)
vekki vekki navvutU kaLLu tuDucukunTE ( వెక్కి వెక్కి నవ్వుతూ కళ్ళు తుడుచుకుంటే)
visugetti manani viDici pOdA vishAdam ( విసుగెత్తి మనని విడిచి పోదా విషాదం )
Observe the way Guruvu Garu chose to use the word fakku (ఫక్కు) in the sentence that has dukham (దుఃఖం) and vekki (వెక్కి) with navvu (నవ్వు). Usually we use those adjectives in an opposite way like vekki vekki EDustU (వెక్కి వెక్కి ఏడుస్తూ) and fakku fakku mani navvutU (ఫక్కు ఫక్కు మని నవ్వుతూ). It shows his mastery over the Telugu expressions and doing experimentation without disturbing the beauty and meaning of the language.
YOUTUBE LINK : http://www.youtube.com/watch?v=lx6de1NCiRU
2. navvAlanTE sandEham mAni navvEyantE (నవ్వాలంటే సందేహం మాని నవ్వేయంతే)
for the Film Happy Happy Ga (2010).
I love this song very much and is very close to my heart as Guruvu Garu called and sang the lines when he got the lyrics in his mind from a train while travelling from Hyderabad to Tirupathi after the tune was given to him just the previous day by Manisharma Garu. Just check these lines, the philosophy of not to worry about trivial things is put again with different words and phrases and so beautifully.
taragani baruvaitE digulu jargavu sarigA E panulu (తరగని బరువైతే దిగులు జరగవు సరిగా ఏ పనులు)
tvarapaDi tarimEsEy adi manakavasaramA (త్వరపడి తరిమేసేయ్ అది మనకవసరమా)
manasuna koluvaitE gubulu mananodaladugA rEpagalu (మనసున కొలువైతే గుబులు మననొదలదుగా రేపగలు)
porabaDi cOtistE tadupari manataramA (పొరబడి చోటిస్తే తదుపరి మనతరమా)
nIkE nuvvu irukai pOvA YEkAntAna vunTe (నీకే నువ్వు ఇరుకై పోవా ఏకాంతాన వుంటే)
saradAlOni swaramai pOvA paduguri pakapaka vinTe (సరదాలోని స్వరమై పోవా పదుగురి పకపక వింటే)
I liked it immensesly for the beauty of the lyrics and the superb meaning in the entire song which concludes with another thought provoking expression with the lines 'vIcE gAli sontillandi andari gunDellonA.. onTari vALLu YevarunTAru inta prapancam lOnA (వీచే గాలి సొంతిల్లంది అందరి గుండెల్లోనా… ఒంటరి వాళ్ళు ఎవరుంటారు ఇంత ప్రపంచంలోనా)' . Just so simple in words but so much depth in the meaning. On a personal note I feel very happy that the song was picturized on Varun Sandesh's film and Guruvu Garu provided lyrics for all the songs of the movie. Unfortunately as does with so many of Guruvu Gaari great songs the lack of success of the film did not make this song reach more people than it did.
YOUTUBE LINK : http://www.youtube.com/watch?v=YshGK5g6upM
3. cikubuku pOri.. cikubuku pOri... (చికుబుకు పోరి.. చికుబుకు పోరి..)
for the Film Anji (2004)
Mega Star Chiranjeevi's introduction song in Anji also has the similar usage of words that Seethamma Vaakitlo Sirimalle Chettu (SVSC) song has. In fact the philosophy of two lines of the first charanam of this song was again reiterated by Guruvu Garu in two songs of SVSC though in different words and phrases. kashTAlostE EDupu valla jarigEdEmundi.. mukham lO glAmaru pOtundi talantA bhAram avutundhi.. (కష్టాలొస్తే ఏడుపు వల్ల జరిగేదేముంది.. ముఖం లో గ్లామరు పోతుంది తలంతా భారం అవుతుంధి.. ) again comes in the form of "mustAbE cedarAlA..ninu cUDAlanTE addam jaDisElA... ekkiLLE peTTi EDustunTE kashTam pOtundA.. kadA.. marenduku gOla.. (ముస్తాబే చెదరాలా..నిను చూడాలంటే అద్దం జడిసేలా... ఎక్కిళ్ళే పెట్టి ఏడుస్తుంటే కష్టం పోతుందా.. కదా.. మరెందుకు గోల..) for SVSC song. Also the same philosophy that comes in the line AkASam tegi paDitE Em cheyyAlannaTTu.. alA tega AlOcincaddu.. nuvvEdo ApEsETaTTu.. (ఆకాశం తెగి పడితే ఏం చెయ్యాలన్నట్టు.. అలా తెగ ఆలోచించద్దు.. నువ్వేదొ ఆపేసేటట్టు.. ) is used again in the form of 'AkASam viriginaTTu kAkUDanidEdO jariginaTTu kinkartavyam ani kalavarapaDaDam kondari tarahA... (ఆకాశం విరిగినట్టు కాకూడనిదేదో జరిగినట్టు కింకర్తవ్యం అని కలవరపడడం కొందరి తరహా...) ' in the song Em cEddAm... (ఏం చేద్దాం...) of SVSC. I very much like the pallavi of this song which I thought is very well written to describe the characterization of the protagonist and keeping in view the image of MEGA STAR.
cikubuku pOri.. cikubuku pOri...evarE atanu.. (చికుబుకు పోరి.. చికుబుకు పోరి...ఎవరే అతను..)
cUpunu cUsi cirutapulEmO anukunnAnu.. (చూపును చూసి చిరుతపులేమో అనుకున్నాను..)
ciTikelu vEstE cukkalu rAlE sUpar mEn itanu.. (చిటికెలు వేస్తే చుక్కలు రాలే సూపర్ మేన్ ఇతను..)
sUpar mEn ki TyUshan ceppina mAsTar vIrEnu... (సూపర్ మేన్ కి ట్యూషన్ చెప్పిన మాస్టర్ వీరేను...)
arerE ledanta sInu nE sUpar mEn ni kAnu.. (సూపర్ మేన్ కి ట్యూషన్ చెప్పిన మాస్టర్ వీరేను...)
atigA baDAyi pOnu simpul gA batikEstAnu.. (అతిగా బడాయి పోను సింపుల్ గా బతికేస్తాను.. )
jindagI annadi bottigA cinnadi (జిందగీ అన్నది బొత్తిగా చిన్నది )
okkaTE ChAnsidi vadilitE rAdidi.. (ఒక్కటే ఛాన్సిది వదిలితే రాదిది..)
hAyiga unDaka.. dEniki Tenshan.. nO nO nO nO nO... (హాయిగ ఉండక.. దేనికి టెన్షన్.. నో నో నో నో నో...)
laiTugA lAgincey bETA.. laifulO pratipUTA.. (లైటుగా లాగించెయ్ బేటా.. లైఫులో ప్రతిపూటా..)
sIriyas gA fIlayyEnta sInu EmundanTa.... (సీరియస్ గా ఫీలయ్యేంత సీను ఏముందంట....)
YOUTUBE LINK : http://www.youtube.com/watch?v=j9N5ELTU8Ww
4. nOrArA navvEddAm.. (నోరారా నవ్వేద్దాం..)
for the Film Navvutoo Bathakaaliraa (2001)
Another beautiful song with simple words yet powerfull expressions like 'nOrArA navvEddAm.. kharIdu lEdu cinnanavvuki.. kannArA nidarOdAm.. kharcEmi lEdu kanTipApaki.. (నోరారా నవ్వేద్దాం.. ఖరీదు లేదు చిన్ననవ్వుకి.. కన్నారా నిదరోదాం.. ఖర్చేమి లేదు కంటిపాపకి.. ). Even in the the sAki (సాకి which means the prelude to the song) of the song the line which says 'UpirunDE varaku usUrU manaka eppuDU navvutU batakAlirA..… (ఊపిరుండే వరకు ఉసూరూ మనక ఎప్పుడూ నవ్వుతూ బతకాలిరా..…)' echoes Guruvu Gari philosophy. The second charanam of the song that describes the Hero's attitude in the movie does justification to the title of the movie is something that tells being happy and spreading happiness is better than being rich.
santOshAnni minci AstIpAsti inka vErE endukanukunnA.. (సంతోషాన్ని మించి ఆస్తీపాస్తి ఇంక వేరే ఎందుకనుకున్నా..)
antE nErcukuni antE cAlu ani adE panci peDutunnA... (అంతే నేర్చుకుని అంతే చాలు అని అదే పంచి పెడుతున్నా...)
kOTalO rAju lA unDalEnu nEnasalU... (కోటలో రాజు లా ఉండలేను నేనసలూ..)
tOTalO oka pUvU lA unDanI cAlu... (తోటలో ఒక పూవూ లా ఉండనీ చాలు...)
YOUTUBE LINK : http://www.youtube.com/watch?v=mBVULRCOsII
5. santOsham sagam balam (సంతోషం సగం బలం )
for the Film Chirunavvutho (2000)
cuTTamallE kashTamostE kaLLanILLu peTTukunTU kALLu kadigi sWAgatincakU… okka cinna navvu navvi sAganampakunDA lEnipOni sEva ceyyaku…( చుట్టమల్లే కష్టమొస్తే కళ్ళనీళ్ళు పెట్టుకుంటూ కాళ్లు కడిగి స్వాగతించకు… ఒక్క చిన్న నవ్వు నవ్వి సాగనంపకుండా లేనిపోని సేవ చెయ్యకు…)
This is the best of the CHIRUNAVVULA PAATAALU (చిరునవ్వుల పాఠాలు) as far as I am concerned. I fell in love with this song ever since I saw the film. This song I feel should make anyone in depression to realize the power of smile and to move on with life without getting depressed for things that happen which are not in our control. I liked the way Guruvu Garu expressed this philosophy in the second charanam. What a way of expressing that thought..
ASalu rEpinA.. aDiyAsalu cUpinA... (ఆశలు రేపినా అడియాసలు చూపినా...)
sAgE jIvitam aDugainA AgadugA… (సాగే జీవితం అడుగైనా ఆగదుగా…)
ninna rAtri pIDakala nEDu talacukunTU nidra mAnukunTAmA.. (నిన్న రాత్రి పీడకల నేడు తలుచుకుంటూ నిద్ర మానుకోగలమా...)
enta manci swapnamaina andulOnE vunTU levakunDa vunDagalamA… (ఎంత మంచి స్వప్నమైన అందులోనే ఉంటూ లేవకుండా ఉండగలమా…)
I used to play it repeatedly in my car during my morning commute to work. It definitely used to up my spirits and look forward to the work day. This song in SPB's voice to Sastry Gaari lyrics in such a beautiful and melodious composition of Manisharma has definitely has a power to put you in good spirits even though you are in a very sad mood giving you abundance of positive energy with every line is my sincere opinion. If you don't believe please do listen to it, you may change your opinion.
YOUTUBE LINK : http://www.youtube.com/watch?v=Bp1XN7n6oKQ
6. okkasAri okkasAri navvi cUDayyO (ఒక్కసారి ఒక్కసారి నవ్వి చూడయ్యో… )
for the Film Chandralekha (1998)
The expressions 'okkasAri okkasAri navvi cUDayyO… andamaina jIvitAnni duvvi cUDayyO…. okkaTanTE okka laifU EDipincaku dAnni (ఒక్కసారి ఒక్కసారి నవ్వి చూడయ్యో… అందమైన జీవితాన్ని దువ్వి చూడయ్యో…. ఒక్కటంటే ఒక్క లైఫూ ఏడిపించకు దాన్ని) ' which translates to Life is beautiful.. just pamper it and keep smiling.. You get it only once so don't make it cry..…' is just awesome. My only complaint for this song is bad choice of singer otherwise just flawless.
Sastry gGaru again reminds us in this song that only human beings have got the ability to smile and laugh.. Notice the line 'galagalA navvagalagaDam manishikokaDikE telusanI.. (గలగలా నవ్వగలగడం మనిషికొకడికే తెలుసనీ..) '. It is so difficult to keep writing same content with different words of the same language and yet to be able to come out phrasing such wonderful lines which sounds fresh every time is the Hallmark of any lyricist. Sirivennela Seetarama Sastry Garu has a seat in front row of such an elite group.
YOUTUBE LINK : http://www.youtube.com/watch?v=pRdKMamSRTQ
7. suvvIsuvvamma suvvi suvvI hA.. (సువ్వీసువ్వమ్మసువ్వి సువ్వీ హా..)
for the Film Aaha ( 1998)
The way this song takes of with the following lines and gives an idea of Sastry Gari Outlook on Life.
navvulaina EDupaina taDisEnu kannulU... (నవ్వులైన ఏడుపైన తడిసేను కన్నులూ...)
navvinavvi taDikAnI nI kanTipApalu... (నవ్వినవ్వి తడికానీ నీ కంటిపాపలు...)
ekkekki EDcE kannILLu uppanA.. (ఎక్కెక్కి ఏడ్చే కన్నీళ్ళు ఉప్పనా..)
fakkumanna navvE oka tEne uppenA.. (ఫక్కుమన్న నవ్వే ఒక తేనె ఉప్పెనా..)
cikkulenni rAnI karigistundi cappunA... (చిక్కులెన్ని రానీ కరిగిస్తుంది చప్పునా...)
This is one of the finest songs in terms of expressing happiness in life. Like in SVSC song 'Maree Antaga.. ' in which Guruvu Garu mentioned about three seasons 'enDalanu danDistAmaa.. vAnalanu nindistAmA.. calineTO tarimEstAmA.. chI pommanI...(ఎండలను దండిస్తామా.. వానలను నిందిస్తామా.. చలినెటో తరిమేస్తామా.. చీ పొమ్మనీ...) ' and emphasizes the fact that we cannot do anything but adjust ourselves to them, in this song he uses the same three seasons to let us know how to celebrate them 'mAvi paLLu ivvadA manDuvEsavi… pairupATa pADadA vAna pallavi.. mancu bATlO sankurAtiri testundi kAdA calI… (మావి పళ్ళు ఇవ్వదా మండువేసవి… పైరుపాట పాడదా వాన పల్లవి.. మంచు బాట్లో సంకురాతిరి తెస్తుంది కాదా చలీ… )'. He extends the same thought by adding few more beautiful lines to strengthen the meaning further. kALarAtri lO kAntiravvalai vastundi dIpAvaLi... (కాళరాత్రి లో కాంతిరవ్వలై వస్తుంది దీపావళి..) panDugalannI kanuvinduga allI Rtuvula hAram andincE kAlam.. (పండుగలన్నీ కనువిందుగ అల్లీ ఋతువుల హారం అందించే కాలం..) dEvuDu pampina dIvena anukunTE .. I jIvitamannadi navvula jEganTE.... (పంపిన దీవెన అనుకుంటే .. ఈ జీవితమన్నది నవ్వుల జేగంటే...). I love the second charanam too very much. Just go through it while listening Chitra and Unnikrishan's voices.. I guarantee you too would fall in love…
Could not find the Youtube Video Link. Here is the Audio Track of this song.
http://smashits.saavn.com/audio/player.cfm?vt1xD5gO1JUKj11ZvTbEi7cQh+Gk/s//
8. ennOennO rAgAlunDE (ఎన్నోఎన్నో రాగాలుండే)
for the Film Pelli Chesukundaam (1997)
I like this song because of the fact that Sastry Gaaru used the situation in which the parents are spending time with their kids in a family outing and Guruvu garu chose it as a platform for writing this song through which the value of finding happiness in simple things being taught to the children . It kind of got related to me big time while going on long drives with my family . The crux of the song is in the following lines E pUTainA hyapI gA undAm.. manakoddu antaku mincina vEdAntam… (ఏ పూటైనా హ్యపీ గా ఉందాం.. మనకొద్దు అంతకు మించిన వేదాంతం…) E bATainA paravAlEdandAm.. samayam tO sAgaTamE mana simpul sidhdhAntam... (ఏ బాటైనా పరవాలేదందాం.. సమయం తో సాగటమే మన సింపుల్ సిధ్ధాంతం...) which tells us to take life as it comes with don't worry be happy policy.
No youtube link.. but found a video of this song at this link
http://withfriendship.com/videos/zulekha/enno-enno-raagalundi-song-from-pelli-chesukundam.php
9. kilakilA navvAli.. vennelE cindAli... (కిలకిలా నవ్వాలి.. వెన్నెలే చిందాలి...)
for the Film Once More (1996)
This song too was written for the same kind of situation as was the song from Pelli Chesukundaam, Guruvu Gaaru wrote the same content in different words but comes with another poetic masterpiece. Love the Bhasha (use of words) and Praasa (rhyming of words) in the lines 'gaDicETi pratipUTa lO .. naDicETi pratibATa lo.. viDicipOni tODUnIDA nI cirunavvE... (గడిచేటి ప్రతిపూట లో .. నడిచేటి ప్రతిబాట లొ.. విడిచిపోని తోడూనీడా నీ చిరునవ్వే..) very much.
Could not find the Youtube Video Link. Here is the Audio Track of this song :
http://www.sultn.com/home/mainindex/15&catType=8&lang=1#detail_8_15_Once More_undefined_1
10. sarElE UrukO.. parEshAn endukO.. (సరేలే ఊరుకో.. పరేషాన్ ఎందుకో..)
for the Film Little Soldiers (1996)
One of the best songs of Guruvu Garu and is picturized on Dr. Brahmanandam. I am very sure that Brahmanandam garu must be considering this as one of the proudest roles of his career. Especially this song. Guruvu Garu used a different analogy as the situation demanded for promoting his philosophy of tackling things with a simple smile. The best lines of the song for me are " kOkilamma AkalainA TyUnu mAtram mArcadE.. (కోకిలమ్మ ఆకలైనా ట్యూను మాత్రం మార్చదే), rAmacilaka rAtirainA kIcurAyai kUyadE (రామచిలక రాతిరైనా కీచురాయై కూయదే), alAgE nI pedAllo navvuneppuDu mAranIyakE EmainA (అలాగే నీ పెదాల్లో నవ్వునెపుడు మారనీయకే ఏమైనా), kashTamostE KEru ceyyaka navvutO tarimEyavammA (కష్టమొస్తె కేరు చెయ్యక నవ్వుతో తరివేయవమ్మా). These lines must have been penned by Guruvu Gaaru keeping the characters of the song in mind as the language Sastry Garu used in the song so aptly fits the characters. Just check the lines ' ETilOna digudAm Italu koDadAm (ఏటిలోన దిగుదాం ఈతలు కొడదాం) written for an illiterate villager followed by baffellOskadi bAtrUm kAdA mari (బఫెల్లోస్ కది - బాత్రూం కాదా మరి ) for a 4 year old girl. I not only love this song but also love the Film so much. Must have seen it more than 30 times or so over the years. Gunnam Gangaraju Garu won two Nandi awards for directing this film. Perhaps the last time the AP Government thought the Best Debut Director can also be the Best Director.
YOUTUBE LINK : http://www.youtube.com/watch?v=6jH4X_oUAwI
11. ayyOlu ammOlu... intEnA bratuku... (అయ్యోలు అమ్మోలు.. ఇంతేనా బ్రతుకు)
For Television Serial – Amrutham (First Aired in 2001)
I don't think anybody will have any complaints in me choosing this song of Guruvu Garu in this genre for this article. Though this song is not written for a film, Sastry Gaari integrity and committment towards his profession is visible in every word he wrote for this Television Serial Song as he does not compromise on quality a wee-bit for penning this lyrics. Another brilliant point that will not escape your mind is that Guruvu Garu in the pallavi used so many words related to Televison keeping in mind his target audience. His usage of words remote control, programmes. Vaarthallo headlines and then iodine tho ayipoye.. ( a popular commercial on TV) yet coming out with the philosophy of 'do not take unnecessary stresses over small and trivial things in the life is simply superb. I especially love the way he put those TV related words in the expression 'Ayyaolu Ammolu… inthenaa brathuku…uhhUhu (అయ్యోలు అమ్మోలు.. ఇంతేనా బ్రతుకు)' as ayyOlu, ammOlu and uhhuhu are usually are the sounds expressed for pain… then AhhAlu OhhOlu.. unTAyi vetuku...hahhaha (ఆహ్హాలు ఓహ్హోలు.. ఉంటాయి వెతుకు... హహ్హహ..) as AhhA, OhhO and hahhaha are the sounds that are expressed for happiness. Then to reiterate his philosophy that we can just ignore the trivial issues and chose to be happy he writes - mana cEtullOnE lEdA rimOT kanTrOlU iTTE mArcEddAm EDupugoTTu prOgraamlu… (మన చేతుల్లోనే లేదా రిమోట్ కంట్రోలూ ఇట్టే మార్చేద్దాం ఏడుపుగొట్టు ప్రోగ్రాంలు… ). No wonder it became extremely popular as the theme song of the Serial and still very much in the minds of the audience. The best lines for me are ' eTO veLLipOtU ninu cUsindi anukOvA Trabulu hallO how DU yU Du... ani anTondi anTE nI levelu... (ఎటో వెళ్ళిపోతూ నిను చూసింది అనుకోవా ట్రబులు.. హల్లో హౌ డూ యూ డు... అని అంటొంది అంటే నీ లెవెలు..) in the first charanam and 'orey AnjanEyulu.. tega AyAsa paDipOku cAlu.. manam IdutunnAm oka cencADu bhava sAgarAlu… (ఒరెయ్ ఆంజనేయులు.. తెగ ఆయాస పడిపోకు చాలు.. మనం ఈదుతున్నాం ఒక చెంచాడు భవ సాగరాలు… ) in the second charanam.
YOUTUBE LINK : http://www.youtube.com/watch?v=S2zcMnbQKN4
I would like to conclude this article with the opening paragraph that Guruvu Garu wrote in his book ' SIRIVENNELA TARANGAALU (సిరివెన్నెల తరంగాలు)' for the section 'ASAntarangam (ఆశాంతరంగం)'
antA bAvunTE, santOsham anE mATaku ardham lEdu. dIpAniki viluva cIkati paDinappuDE. sanToshAniki, cirunavvuki uniki eppudanTE cuTTU samasyalu cIkaTi valayamlA allukunnappuDu A cIkaTi valayAnni ChEdhincaDAniki ani nammutAnu nEnu. (అంతా బావుంటే, సంతోషం అనే మాటకు అర్ధం లేదు. దీపానికి విలువ చీకతి పడినప్పుడే. సంతోషానికి, చిరునవ్వుకి ఉనికి ఎప్పుదంటే చుట్టూ సమస్యలు చీకటి వలయంలా అల్లుకున్నప్పుడు ఆ చీకటి వలయాన్ని ఛేధించని డాని కి నమ్ముతాను నేను.) . He declares that this is what his philosophical outlook towards life. Coincides with many of us too.
PS : Please do let me know if there are any favorite songs of yours that did not feature in this article that you think should be part of this genre. Thank you all for your continued support which keeps me going.
VIJAY SARADHI JEEDIGUNTA.