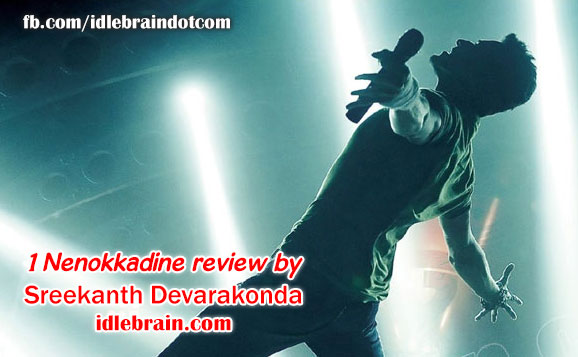 18 January 2014
Hyderabad
1 – Nenokkadine has been one of the most awaited movies of TFI in recent times. Boasting a combination of Superstar Mahesh Babu, directorial genius Sukumar, 14 reels (and) in-form music director DSP, this movie definitely deserved the media attention and pre-release hype.
This is the role of a rock star that suffers from a mental disorder and is hallucinating about his parent's killers. The story is how the hero character avenges his parents' death and finally manages to find out their identity. While the first half revolves around the hero trying to differentiate between the real and unreal, the second half focuses on the hero hunting down his parent's killers and finding out the identity of his parents.
I am a man of average intellect but neither had difficulty nor confusion in understanding the movie or its flow. Although non-linear in narration, the story telling appeared very clear and stylish.
Mahesh Babu: Kudos to Superstar Mahesh Babu for accepting this movie. It is apparent that Mahesh worked very hard for this movie and acted with a feeling of closeness for the role. Be it, the action sequences or energetic dances, Mahesh dazzles in the role. His performance during the climax while viewing his parent's photos was fantastic and one of the best I have seen from him. Irrespective of the final box office proceeds, this is a role Mahesh and his fans can be truly proud of.
Sukumar: Sukku sir, meeru great andi! I saw the first teaser close to 1000 times. I loved the shot where you show the hero standing outside a police station with a broken bottle and following frame where the hero character passing his fingers over his forehead with a fixed gaze. I would put this in a loop on YouTube and watch it over and over again. These are very simple shots but presentation along with the RR makes all the impact.
Coming to 1 – Nenokkadine, Sukumar who is known for his atypical presentation achieves bigger height with this film. Hero suffering from a mental disorder is not a new concept. Ghajini, Aparichitudu and lesser known Naa Oopiri showcased a hero suffering from a mental disorder or being a borderline schizophrenic. But it's all about presentation with style that makes the difference. The concept and execution of the movie is brilliant. Sukumar shows his genius in many scenes.
1. Opening sequence where Gautam is running from his parent's killers
2. Mahesh trying to differentiate between the real and unreal – Kriti's scenes in Goa
3. Pre-Interval fight sequence
4. Killing of Kelly Dorjee in a rest room and Mahesh's performance in that scene. "Sound raakoodade" dialog was hilarious.
5. Cracking Nazar's phone number from series of photographs
6. Twist in villainy between Pradeep Rawat and Nazar
7. Gautam/Mahesh using mother's song to follow directions to home
8. Putting Gautam and Mahesh in one frame during climax
9. Mahesh's performance in climax while viewing his parent's photo
On the downside, Sukumar's usual slick narration and presentation takes a backseat; the movie pace seemed slow. The chase sequences are long and make you squirm in your seat. Usually, songs in Sukumar's movies are situational and beautifully presented but it was not the case in this movie.
Kriti Sanon makes a debut to Telugu films and does well. She has an excellent screen presence and matches Mahesh in height and persona.
DSP comes up with excellent RR for certain scenes of this movie. As aforementioned, camera work and action sequences deserve a huge applause. Some visuals are simply breathtaking. Color grading for flash back sequences gelled well to the narration.
All in all, 1 – Nenokkadine is an excellent attempt by Mahesh Babu taking cue from Sukumar's "unrealistic" concept. It may not be a universally acceptable movie but will certainly appeal to class movie lovers. A must watch just for its atypical concept and presentation, production/technical standards, Sukumar and Mahesh Babu.
Sreekanth Devarakonda
[email protected]