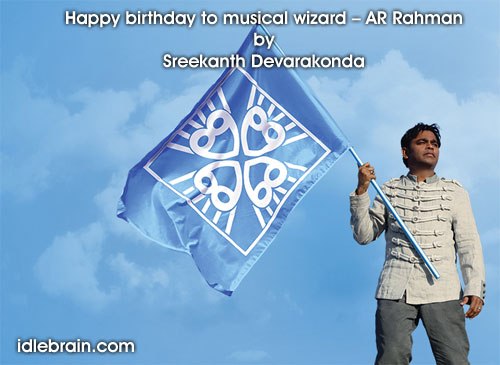 "When the world celebrates your birthday, it means you have become a great man" said an intellectual. January 6th will be revered and celebrated by music lovers all over the world; it is the birthday of the modern day pied piper who has been mesmerizing his countless fans all across the world and whose career is regarded as the turning point for Indian film music. Today (6th January) is the birthday of our own AR Rahman, the undisputed emperor of music.
Humble Beginnings
AR Rahman was born as Dileep Sekhar, in a musically affluent family. His father RK Sekhar was a music composer and conductor in the Tamil and Malayalam film industry. After losing his father at the tender age of 9, Dileep quit his education and began working with various musicians. He garnered expertise over Keyboard, Harmonium, Piano, Synthesizer and Guitar and went on to work with leading Telugu and Tamil music directors as a keyboard player. Few personal experiences made the family embrace Islam; Dileep became AR Rahman, a name which would attain him worldwide fame.
AR Rahman started his own recording studio, Panchathan Record Inn, a music recording and mixing studio. In the future course, it would become the most sophisticated and high-tech recording studio in India. He initially composed scores for documentaries, advertisements and Indian Television channels. His music for the spirit of unity concerts and Allwyn ad is well remembered by music lovers.
Entry into Films
When India's best film makers Mani Ratnam approached a young 25 year old for scoring music for his 1992 film Roja, the audience was pleasantly surprised. But when the audio released, surprise turned into euphoria amongst the audience who exulted with pure joy and ecstasy. The music created a sensation and introduced a musical storm into the South Indian film industry. Time magazine listed the film's soundtrack in its top 10 sound tracks of all time and also won AR Rahman the coveted national award for best music director, the first time for a debutant.
The AR Rahman euphoria gathered strength with each passing day like an avalanche. Media heralded AR Rahman as the 1-100 amongst the music directors in South India. With Rangeela, the avalanche extended into Bollywood and AR Rahman conquered the length and breadth of India.
Contributions
AR Rahman brought revolution in music composition by mixing traditional instruments with latest electronics sounds and digital technology. His creative talent at composing tunes coupled with his tech savvy nature brought a new innovation in film music.
AR Rahman's entry and subsequent success encouraged many to consider the music industry as a career. Before the Rahman era, especially in the South Indian film industry depended on a handful of playback singers. Songs of a film were rendered by one male singer and one/two female singers. It was difficult to obtain entry or enjoy continued success as a singer. One reason might have been the possibility of benchmarking against the existing singers, who had attained legendary status. Music directors at that time were simply not willing to take the risk of entrusting their compositions to new singers fearing rejection from the audience who were accustomed to hearing a particular singer.
AR Rahman splintered this myth and scattered it to the winds. He was instrumental in breaking the "single-card" concept and brought many lesser known yet talented singers into main-stream. It is jocularly mentioned that if a well-known singer was not available for a song, Rahman would look around his studio and give the song to a chorus or a track singer. This trend was followed by many contemporaries and future musicians, who introduced new talent into the industry. Rahman was one of the first musicians who insisted on including names of all his orchestra team on the inlay card.
International Fame
AR Rahman wrote music for Bombay Dreams and Lord of the rings musical. In the year 2003, he composed music for a Chinese film titled Warriors of Heaven and Earth, which won him applause for its rich background score. Some of his well-known tunes were used for Hollywood movies as well. I was pleasantly surprised when I heard "chaiya chaiya" song as the title music for Denzel Washington's Inside Man. Other such endeavors include appeared in such films as Inside Man, Lord of War, Divine Intervention and The Accidental Husband. In 2007, AR Rahman scored for his first Hollywood movie called Couples Retreat.
Rahman's musical score for Slumdog Millionaire (2008) won him a Golden Globe and two Academy Awards. He also scored for Danny Boyle's biographical survival movie 127 Hours (2010) that won him another Oscar nomination.
Awards & Philanthropy
AR Rahman is a proud recipient of two Academy Awards, two Grammy Awards, one BAFTA Award, one Golden Globe, four National Film Awards, fifteen Filmfare Awards, thirteen Filmfare Awards South and numerous other awards and nominations.
Apart from attaining name and fame as the most respected music composer of the land, AR Rahman is associated with various humanitarian causes from fund raising concerts for 2004 Tsunami, Earthquake relief in Haiti and his association with Save the Children project. Most notably, AR Rahman also served as a global ambassador of Stop the TB partnership (WHO). It is suggested that AR Rahman's mother is the guiding force behind his philanthropic and humanitarian activities.
AR Rahman's life is inspirational to every individual and makes him an ideal candidate to be awarded the BHARATA RATNA. His journey from such an abyss like situation to an Oscar win is true testament of an individual's will power and indomitable fighting spirit. Most importantly, despite all his success and accomplishments, AR Rahman continues to be a humble genius.
Happy birthday AR Rahman sir!
Sreekanth Devarakonda
Devarakonda at hotmail dotcom