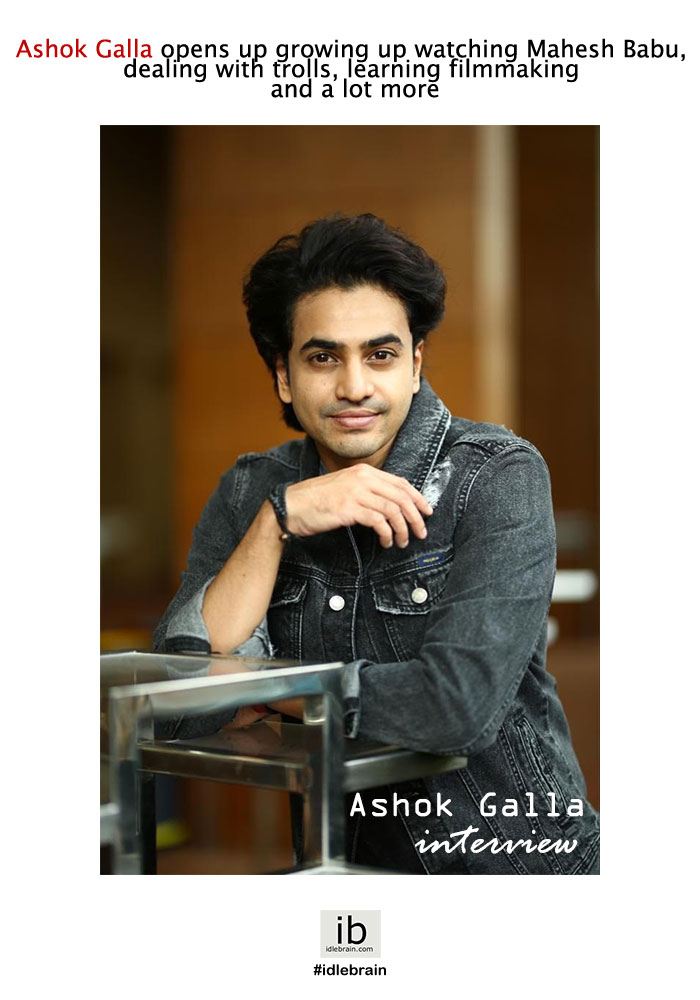 14 January 2022
Hyderabad

This youngster grew up watching films and he has always been enthralled with the process. Being grandson and nephew of two superstars from Telugu film industry, this young lad some high ambitions on his debut. He worked hard, went to film school, learnt dance, and put in all the efforts into making a hero out of himself. Struck the right chord? We are talking about Ashok Galla, who is all set to make his debut with 'Hero' which is releasing tomorrow.
When a newcomer's film is hitting the screens, there would be expectations on him. And when Superstar's nephew is making his debut on the silver screen, then the expectations would touch the sky. Here is a candid interview with this handsome lad.
Growing up in a family full of actors, how was your childhood?
Exciting it was. Oh I grew up watching their films. I used to go to Padmalaya with mom and there used to be hundreds of cassettes of his films. I used to watch whatever I want. And when it comes to mama (Mahesh Babu), he made his debut right when I started watching films. It was always surprising to watch them at home, and then on screen again. It took a long time to realise my people were such big stars. I don't get inspiration from anywhere else because I have it at home already.
You pursued a film degree, right?
Yes. I did a Radio, Television and Film Course in Texas University. It was time for my admissions in college, and my parents wanted me to study in either USA or UK. That's when I told them I am passionate about films and want to give a try. They were so encouraging that my father asked me to study filmmaking itself. Since then, I never looked back.
So you always wanted to become a Hero, isn't it?
I think it was somewhere in my mind always since childhood. When I was 9, acted in a film with thaathagaru. That experience was more like a picnic to me. And then I played a small role in mama's Nani movie. That's was quite a different experience and started learning that acting, and being an actor means something. Studied in a boarding school from 7th to 12th where I attended theatre. Learnt dance too. All I can say is that, since then, I have been waiting for the right time.
So is there any pressure that you are dealing with ahead of the film's release?
No no. Not at all. Initially I did have. But once I started working, the pressure was to finish the film at the earliest. It is obvious there would be expectations on me and I have to live up to them. I want that to go with the flow and so I never took pressure out of it.
How did you handle trolls and criticism?
Oh yes! (laughs). On the day of the film launch, I was quite nervous to talk to the media. It was the first time and I was falling short of words. That's when trolls started focusing on me. Initially, I didn't feel nice and started wondering why they would do that because I just started my career. But soon, trolls and criticism didn't bother me. I decided to only focus on the best I can give to my work.
So both thaathagaru and mama watched the film?
That's the best moment I can say (excited). Thaatha said this is the perfect film for the Sankranthi season and he appreciated me for my work. I was so happy when I heard those words from me. Mama also appreciated and wish good luck to all of us. Mom was too busy with the editing, final copy, and a lot of other stuff. So even though she watched, she really didn't watch (laughs).
What is that one aspect in 'Hero' which made you connect?
There was scope for performance and prove my mettle not just in acting, but in dance and action sequences as well. It is a new age love story and is an out and out entertainer. It is more appealing to the b & c centres. I am happy it is releasing during Sankranthi.
- Bhavana Sharma